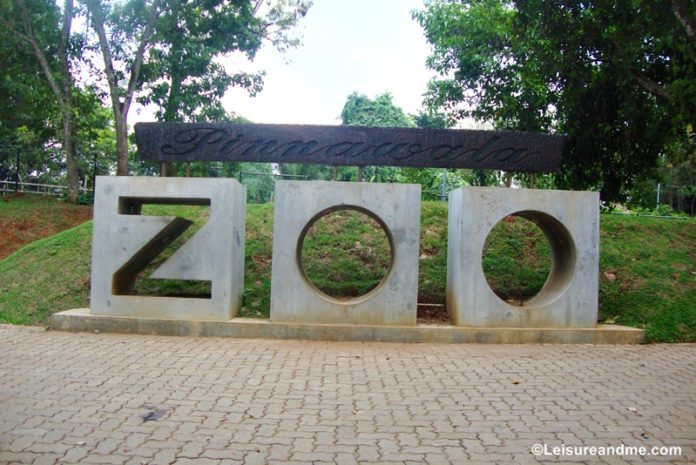 When it comes to travelling with kids, a visit to a zoo is always exciting and interesting for them. That is why we decided to visit Pinnawala Zoo during our recent Sri Lanka holiday thinking this would be a good experience for our kid. When it comes to Pinnawala Sri Lanka, we cannot miss a visit to the popular attraction of Pinnawala. That is the elephant orphanage of Pinnawala. After our visit to the Elephant Orphanage then we visited the Pinnawala open-concept zoo which is a kind of mini zoo. This zoo is located within a few minutes walking distance from the Pinnawala elephant orphanage. If you look for visiting an open zoo in Sri Lanka, then Pinnawala Open Zoo is an ideal place.
Still, the zoo is with few exhibits, but is beautiful and looks natural. Although buildings and structures look new, the landscapes are really beautiful. Our kid enjoyed the Pinnawala zoo more than the elephant orphanage. He loved to watch the animals and enjoyed his time running here and there along the beautiful and spacious footpaths of the zoo. For a family bonding time, it is really worth visiting this Pinnawala open zoo.
Just see some of our moments and photographs from the Sri Lankan open zoo!


Here are some more moments from our visit.
Is it worth visiting the Pinnawala Zoo Sri Lanka?
Well, this is my opinion. Still, this zoo is with few animals. So, if you really want to watch different animals, this is not the zoo you have to visit. Instead, Colombo zoo is with a lot of different species. However, if you like to spend time with kids and family or if you love to enjoy your time among the beautiful and spacious landscapes, then this mini zoo in Pinnawala is ideal.
If you live in Sri Lanka, Pinnawala can be an ideal getaway for a holiday or even on a weekend. Other than this Pinnawala Zoo, there are a few other attractions in Pinnawala including Elephant Orphanage and Pinnawala Iperanigama Theme Park. You can easily spend a day in activities with the family and kids.
If you are travelling with kids to Sri Lanka and if you visit Pinnawala Elephant Orphanage while you are on the way to Kandy,  then Pinnawala Zoo can be a good place to entertain the kids. My kid loved this zoo more than the elephant orphanage.
However, if you are in Sri Lanka for a really short or few days' holiday, then there are many other attractions that are ancient and unique to Sri Lanka. I believe visiting such ancient sites which are along the Colombo Kandy road is worth considering the short period of time you stay in Sri Lanka. We also visited places such as Gadaladeniya Viharaya, Lankathilaka Viharaya, and Ambakke which are with some ancient value.
But, it seems this open zoo is still under development. It will be a major attraction in Pinnawala in near future!
How to reach Pinnawala Zoo?
Pinnawala open zoo is located along Rambukkana Road just near the Elephant Orphanage.
You may need at least 2 hours to cover this zoo.
Have you been to Sri Lanka before? How was your experience among the attractions?
Other attractions from Pinnawala, Kandy Road
Kadugannawa natural views
Lankathilaka Viharaya
Ambakke Devalaya
Highway Museum at Kiribathkumbura
Don't forget street art including these murals in Warakapola town
If you travel as a family with young children, please prepare for road trips. Below are some posts that are worth reading to get ready for a road trip in Sri Lanka.
Read these Tips for Surviving a Long Road Trip with Kids . Our travelogue about road trip to Kandy will share with you what to see along the Kandy road. Don't forget to stop at Kadugannawa when you are on a road trip to Kandy.
Have you been to Sri Lanka before? How was your experience among the attractions? Anuradhapura, Kandy, and Polonnaruwa are some other main cities to visit in Sri Lanka.