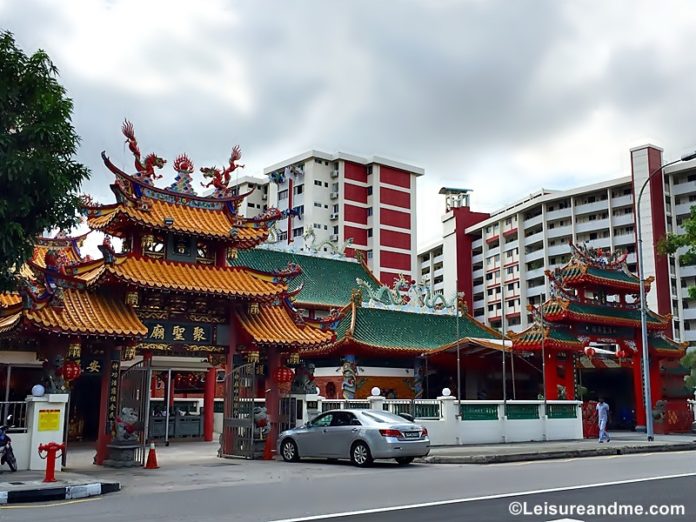 Chu Sheng Temple is one of the temples located in Ang Mo Kio.
Living in Singapore, I always get the opportunity to see different cultural activities and places. Chinese temples are one of such places I really like mainly because of the beautiful and colourful architecture. Whenever I see a Chinese temple, I like to watch the bright coloured roofs and the dragons on it.
So far I've visited some of the Chinese temples in Singapore and Bright Hill temple is one of the most attractive temples I've seen. The Buddha Tooth Relic Temple of Singapore is another place which is full of details and patterns of Chinese architecture. Although there is no temple, Chinese Garden highlights most of the pagoda and landscape designs from Chinese architecture.
Chu Seng Temple is another such Chinese style temple which is located near to the place where I live. I see this temple whenever we go out. I admire the views of the roofs and structures. We always see and hear the sound of cultural activities which are going on in this temple. But, so far I couldn't capture a photo of this beautiful Chinese temple.
Chu Sheng Temple Singapore – Bit of history
Chu Seng Temple is a combination of 3 temples namely Ji Fu Gong, Hua Tang Fu and Long Quan Yan which are hailed from the villages of Yio Chu Kang. During the development process of Singapore government, and during land acquisition, these three temples combined together and formed a new temple. Chu Sheng Temple is the new temple formed in 1978 collaborating with those 3 temples.
Capturing the photos of Chu Sheng Temple
As I shared above, I couldn't share about this temple so far. One of the reasons is that we always pass this temple when we go for other places. There are times I walk around with my son, but taking a photo with a good view is not easy as there are vehicles around and the temple is faced to the main road.
Also read about this Burmese Buddhist temple which is another beautiful temple in Singapore.
However, capturing the roof details and views of this temple was in my wish list and finally I have few captures from this beautiful temple which is located along the Ang Mo Kio Street 61.
Chu Sheng Temple Location : (How to get there )
Address: 48 Ang Mo Kio Street 61, Singapore 560000
Nearest MRT : Yio Chu Kang MRT
#VantagePoint project
In this same post I want to share a photo which I captured to join with the #VantagePoint project. Actually, when I heard about #VantagePoint project, I decided to capture a photo of Chu Seng temple which is located near to the place we live. I always like and admire the photos which I capture using my DSLR camera. But, nowadays I use my phone camera or small digital camera to capture the moments mainly because of its easiness to carry inside the bag.
Finally, the photo I share for the #VantagePoint project is also an iPhone capture, but do you know, if I wait for a DSLR capture, that will never happen.
The innovative camera introduced by Light sounds fantastic to capture high-quality photos using a small device. With new technology; the L16 compact camera gives DSLR quality photos from a compacted slim camera body. Hope I will be able to own such a camera one day! Check light.co for more details about this camera.
How about your week? Did you capture any special moments? Do you have a photo story to share with us? If so, please share below.
Also please let us know how you capture your moments. Do you only use DSLR cameras or do you use all camera types you own including phone cameras?
Save
Save
Save
Save
Save
Save
Save
Save
Save
Save
Save
Save
Save
Save