This is another interesting temple in Singapore. We visited the Singapore Buddha tooth relic temple recently and these captures are just to show how beautiful the temple is.
If you go to Chinatown, you'll find this wonderful attraction which is based on Tang dynasty architectural style. Opened in 2007, now this temple has become one of the most popular attractions in Chinatown, Singapore.
Although it is a Buddhist temple, regardless of the religious views, this temple is a good place to see many attractive statues and architectural details.So,here is a photo walk through the temple.
Mountain Gate-Singapore Buddha Tooth Relic Temple
At the time we visited,the temple was undergoing some construction work.So,I couldn't capture a clear photo of the entrance gate as there were some safety hoardings.Also as always,it was another rainy day!
Anyway,the first storey is for the temple and the entrance gate is named as 'Mountain Gate' which has 3 large, heavy and red lacquered doors.These doors are with traditional style of Tang Dynasty doors.
If you noticed clearly,the middle gate is closed in above Mountain Gates.Entry through the center gate is restricted and is reserved for important guests.
Next attraction you must notice before entering into the temple is the guardians who stand in the sides of the Mountain gates. With their fierce face and strong looking body, they stand on the sides of the gates to protect the temple.
Hundred Dragons Hall-Singapore Buddha Tooth Relic Temple
After walk through the Mountain Gates,you'll enter into the temple which is named as Hundred Dragons Hall.
This hall is mainly accommodate the Buddha Maitreya statue which is 15-feet in height.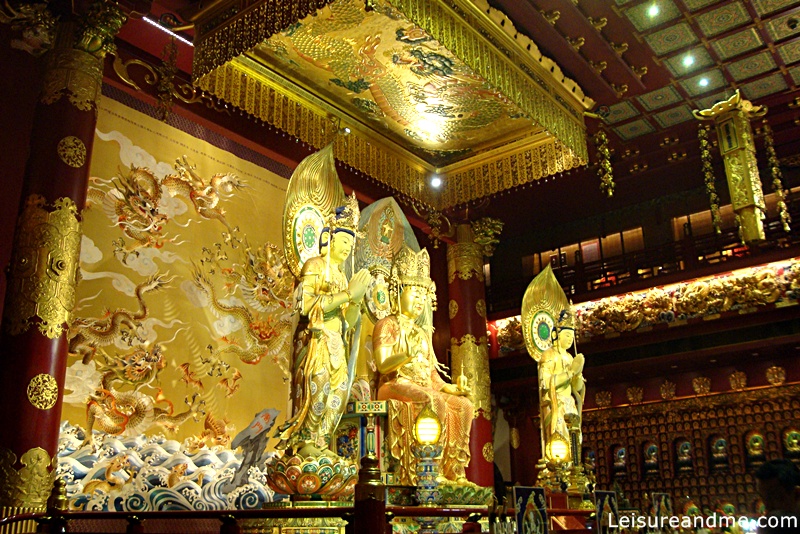 Maitreya Trinity in Buddha tooth relic temple and museum
On the sides of the temple,you'll see lot of Buddha statues of different Buddhas.(Hundred Buddhas)
Universal Wisdom Hall
Well,next is another hall with giant statues.The hall is named as Universal Wisdom hall
Here you'll find a giant statue of Bodhisattva Cintamanicakra Avalokitesvara.
Actually this temple is an interesting place to pay a visit.I really like to see the different architectural styles from Chinese culture which reflect different dragon symbols and colours.
Below is a capture of the bell tower we noticed inside the temple.
After visiting the temple at storey 1,we visited the Sacred Tooth Relics Chamber which is situated in the fourth floor of the temple.
Museum
In another storey,there is a museum with a huge collection of replicas from different Buddhist culture and architecture styles.Here are some of my captures.
This is not my first visit to this temple and museum.In my previous visits I noticed a huge bronze exhibit of 'Foot prints of Lord Buddha' which is received from Sri Lanka.Unfortunately,I didn't notice it this time.Anyway,the temple is also going on a renovation at the time we visited.
If you visit Singapore and to and to China Town,then visit this temple.There are many things to see inside the temple.
Getting there: Nearest MRT is China Town MRT
Have you been to any Chinese Temple? Read this article on Burmese Buddhist Temple in Singapore which is another temple in this sunny island.