Singapore Burmese Buddhist temple is another Buddhist temple of Singapore which reflects the traditions and culture of Myanmar.
I visited Singapore Burmese Buddhist Temple again.(Maha Sasana Ramsi Burmese Buddhist Temple/Myanmar Buddhist temple). And it was really interesting because I visited with a friend who is also a Myanmar national. (Burmese).
Singapore is a multi-cultural society where there are many nationalities live in harmony. Living in Singapore, I always experience new places and new traditions while making good new friends. Buddhist temples are among some of the frequent visited places for me from the beginning of our arrival to this country.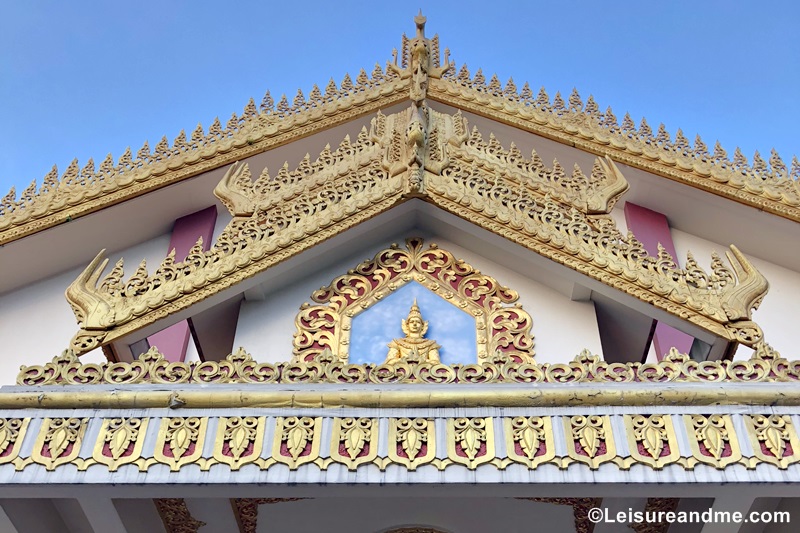 Burmese Buddhist Temple in Singapore is one of the Buddhist temples which I used to visit frequently. However, after our visit to this temple in a Vesak day about 2 years ago, I couldn't revisit although I planned few times. It was all a surprise when one of my Myanmar friends invited me to join with her on a Buddhist program arranged during the last year July full moon day.(Esala Poya day). It was a great opportunity for me to visit this Myanmar tradition Buddhist temple with a Myanmar friend. So, she could explain me more interesting things about the temple.
Bit of history about Burmese Buddhist Temple
Founded in 1875, Burmese Buddhist Temple is known as the oldest Theravada tradition Buddhist temple in Singapore. It was located in Kinta Road and later in 1988, this temple was moved to the current location in Novena, Tai Gin Road.
This Burmese Buddhist temple was founded by a person named U Thar Hnin in 1875 in its original location at Kinta Road.
Visiting Burmese Buddhist Temple
Things to do and see in Maha Sasana Ramsi Burmese Buddhist Temple/Myanmar Buddhist temple
It was almost evening when we reached the temple. We entered into the main hall of the temple to worship the Buddha. However at the entrance of the main hall, there is a giant incense stick burning pot which we stopped for a while. We offered few incense sticks for Buddha before entering into the main hall.
This temple reflects traditions and designs of Myanmar. The Buddha statue inside the main hall of Burmese Buddhist temple is one of the main attractions of this temple. The ceilings and walls of the main hall are painted with moments of Buddhist stories and history.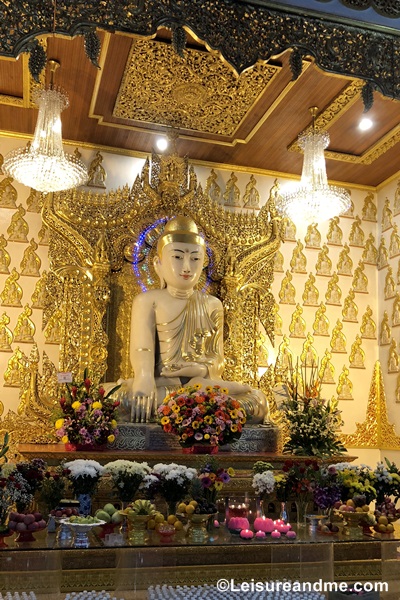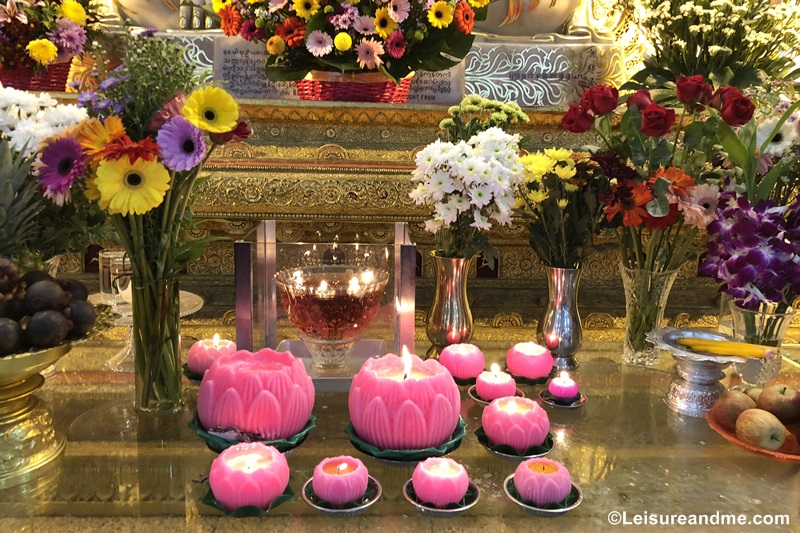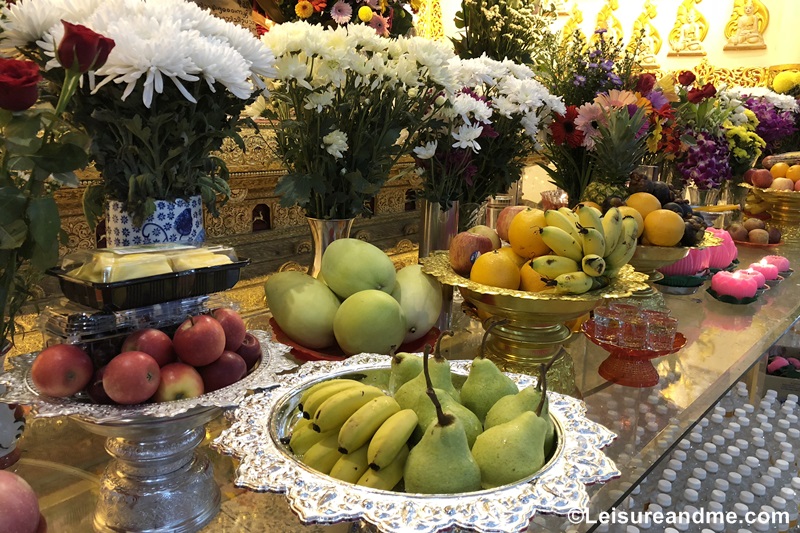 In this temple, we always get the opportunity to talk and receive blessings of Buddhist monks. It was same in this day too. After worshiping in the main hall, we met Buddhist monks to receive the blessings.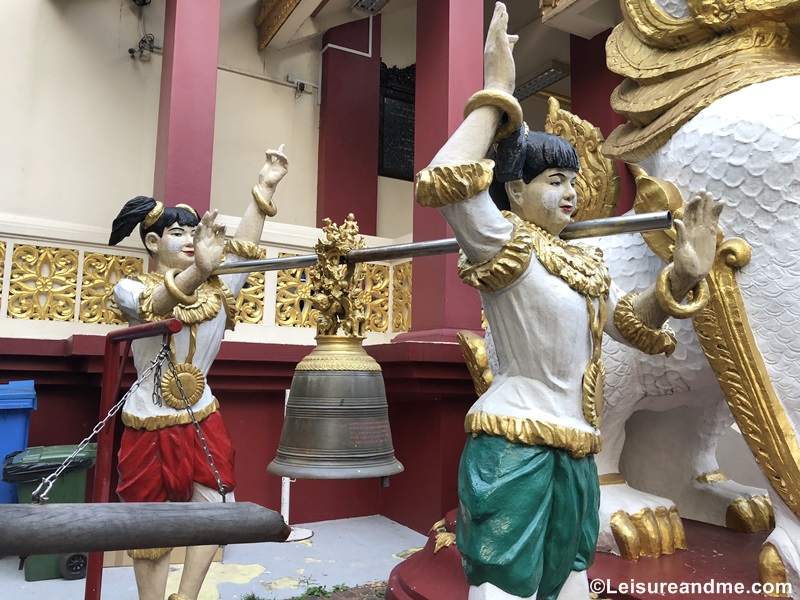 Outside the temple, there is a huge bell. This temple bell is a symbol of a traditional Buddhist temple and in this temple,it is supported by statues of young women.
If you notice further,these young ladies also wearing 'Thanaka' which is a feature of Myanmar culture.Thanaka is a yellowish white paste which Myanmar ladies apply on their face/cheek as a cosmetic.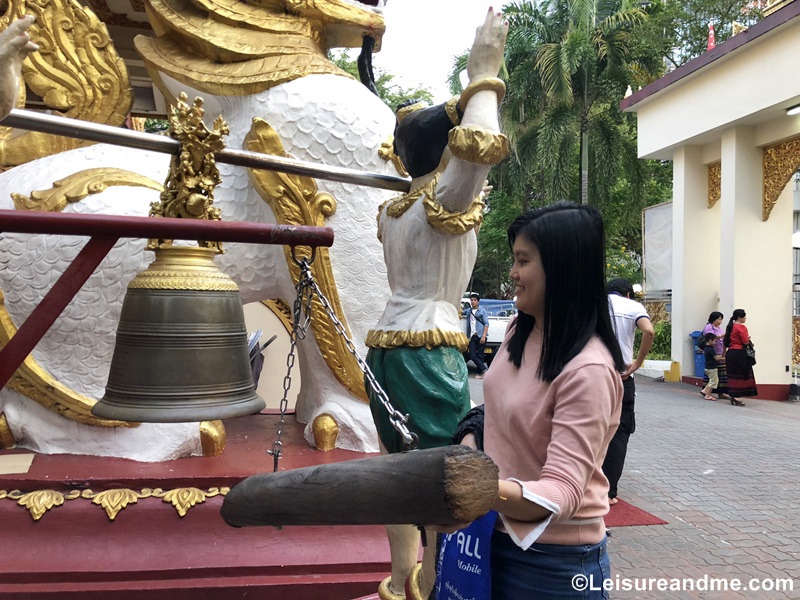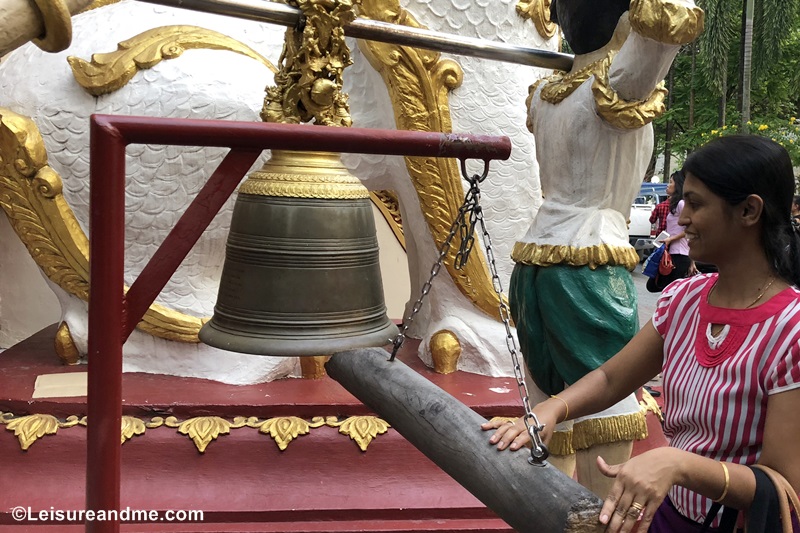 We spent some time walking around the Burmese temple although it was a crowded day.
After our dinner, we went to the upper storey of the temple to join with the Buddhist program.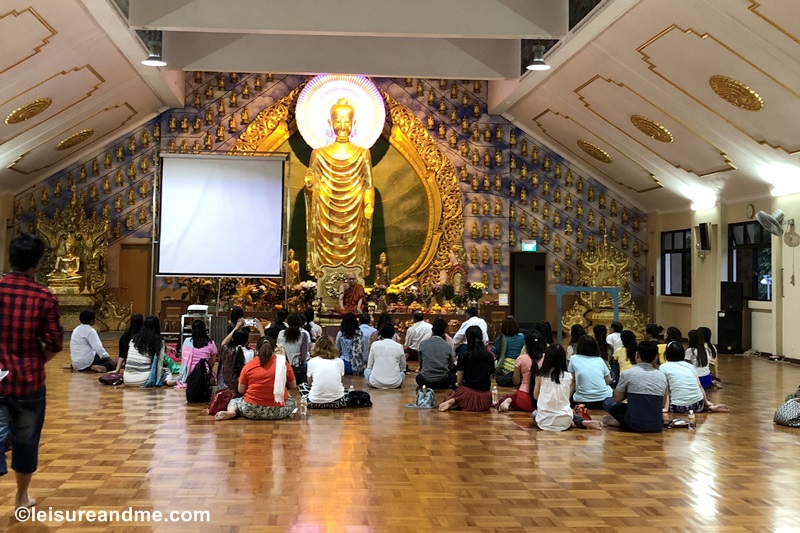 The 3rd floor of the temple is with a spacious hall which is the place for Buddhist discussions, programmes and ceremonies.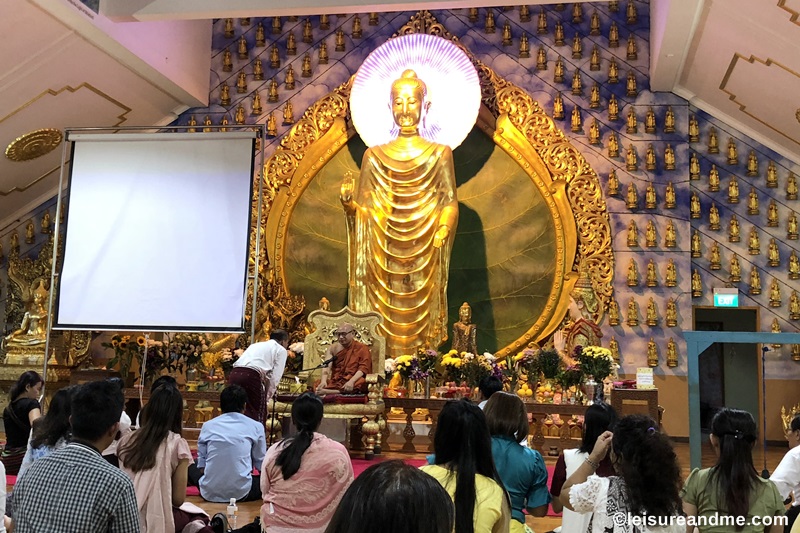 Although I am a Buddhist, and most of the chanting are same as we follow in Sri Lankan Buddhist tradition, I couldn't catch their accent until few minutes. But lately I joined with the Buddhist chanting program with my friend.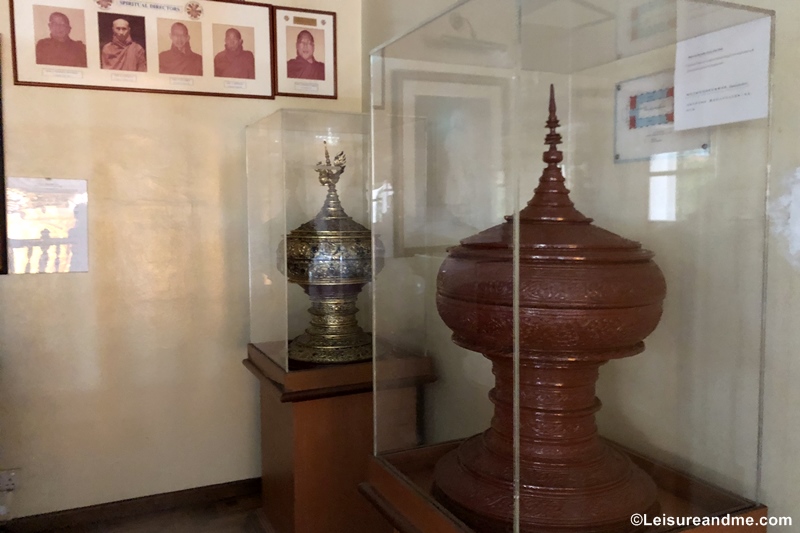 On the third floor there are different displays from Myanmar culture. These displays include artefacts from Burmese traditions which is a good opportunity to any visitor to learn a bit about Burmese culture.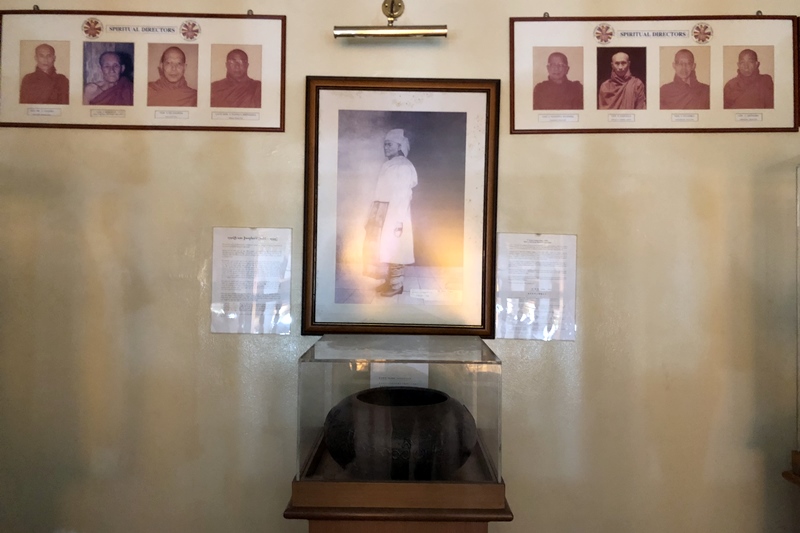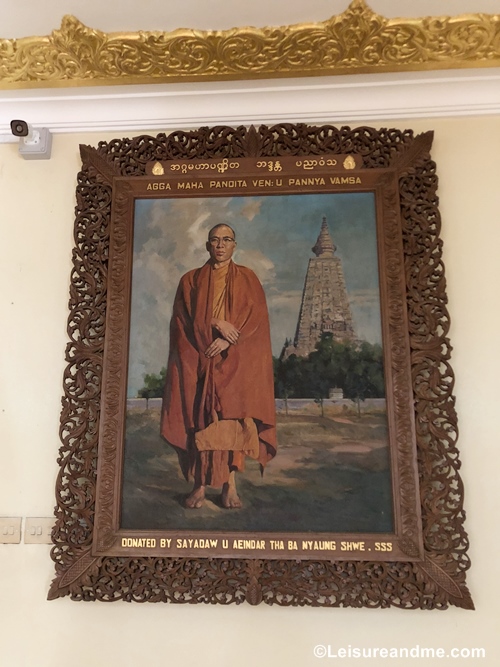 At the temple grounds,you can see a Bodhi tree (Ficus religiosa )which is one of the important items for a Theravada tradition Buddhist temple.
This Bodhi tree is grown from a seed of Mangala Vihara Buddhist temple of Singapore which is another Theravada Buddhist Temple with it's origin to Sri Lanka.It is also known that the bodhi tree of Managala Vihara is from a sapling of Sri Lanka Sri Maha Bodhi tree.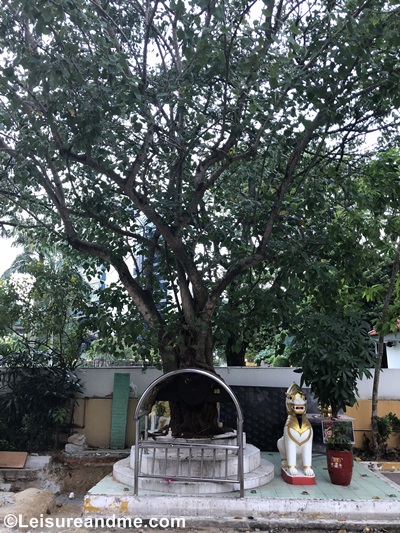 Outside the temple there is also a place for deities.Devotees to the temple worship and offer to these local deities expecting protection from them which is also a part of Buddhist culture.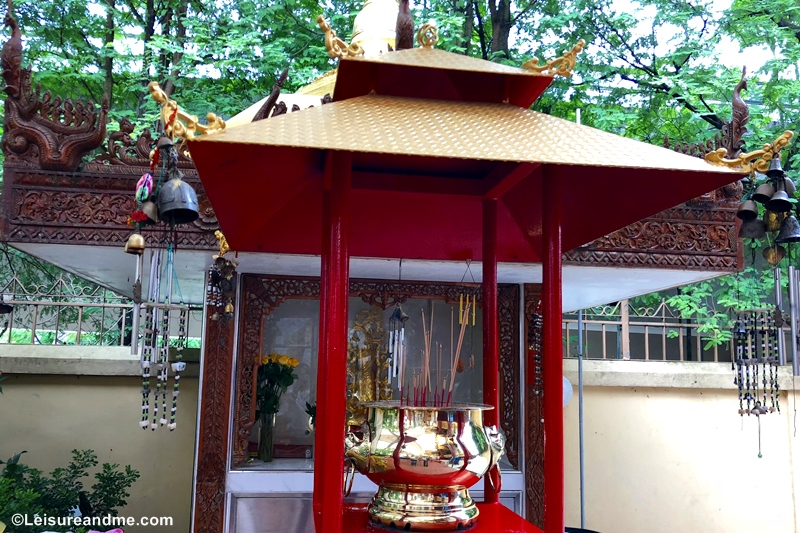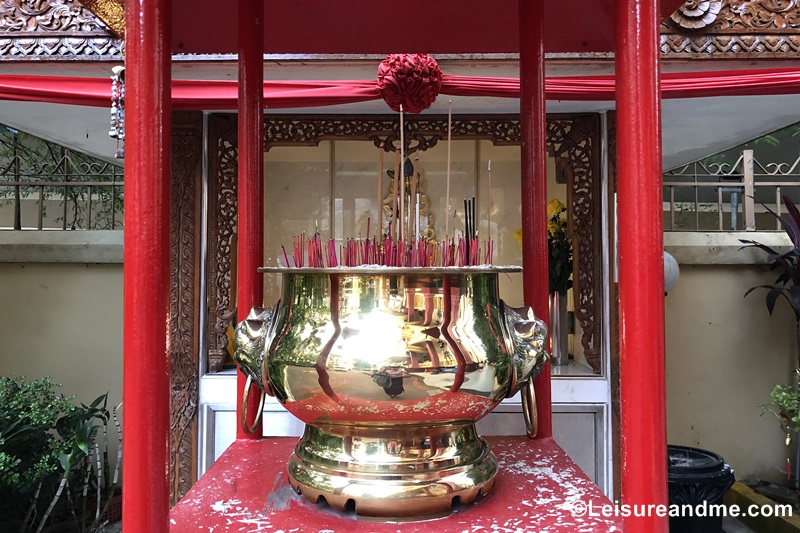 It was an unforgettable evening for me to spend time in this Myanmar tradition Buddhist temple in Singapore. After spending few hours in religious activities, I left the temple with the hope of revisiting soon.
Burmese Culture
This Buddhist temple is one of the best places to involve with traditional Burmese cultural activities.Myanmar nationalities join with the temple to celebrate traditional festivals such as water festival and other Buddhist religious festivals including Vesak day and Kathina celebration.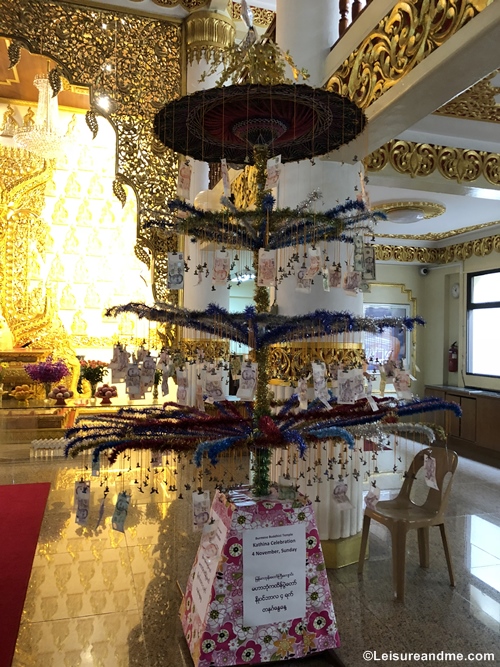 As it was a day of Buddhist Programme, the temple was crowded with many Myanmar nationalities. Therefore behind the temple, visitors could enjoy dinner before they join with the programme.
I visited there with my friend to enjoy some Myanmar food. They were cooking some traditional Myanmar food which was interesting for me.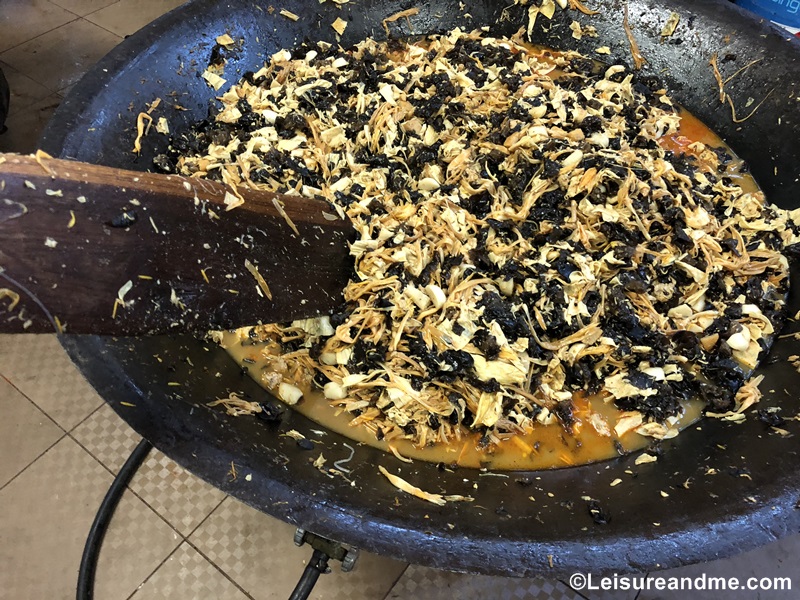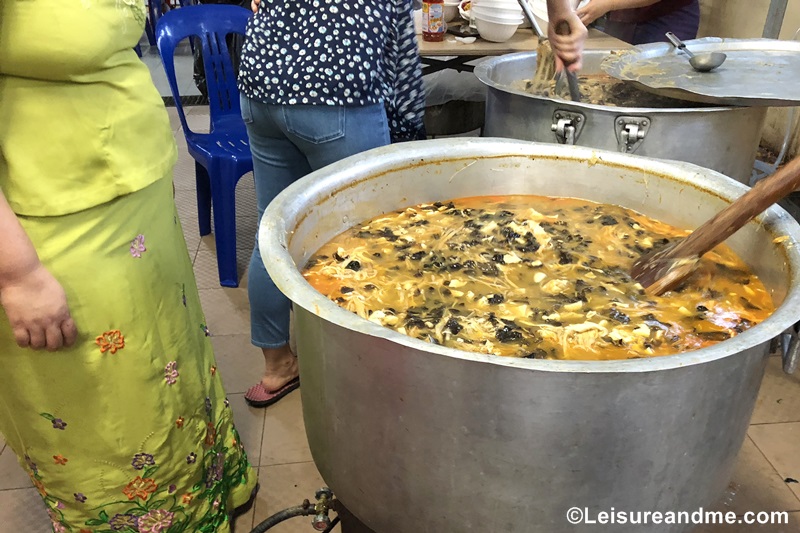 How to Reach Burmese Buddhist Temple Singapore
Addres: 14 Tai Gin Road, Singapore 327873
You can reach this temple by taxi,by bus or by train.
Nearest MRT is Toa Payoh.Take bus number 139 or 145 to reach the temple.It is just a few stops away.
Opening hours of Burmese Buddhist Temple Singapore: opens daily from 6:30 am to 9:00 pm
Have you been to a Burmese Buddhist temple?
Now it is your turn.Have you been to a Burmese Buddhist Temple in Singapore or in another country?Please share your experience with Burmese temples or even with another Buddhist temple visit.
Read more travel stories: