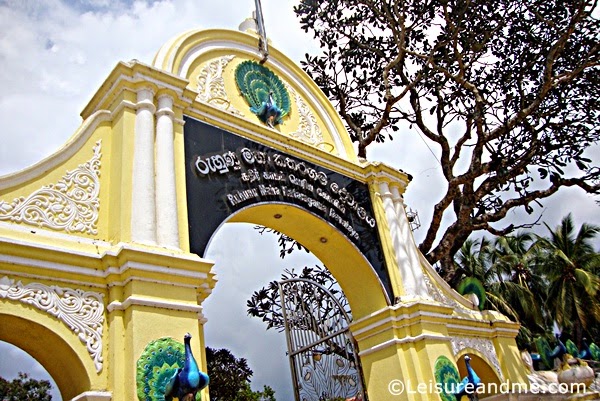 Sri Lanka, the tiny teardrop island in the Indian Ocean is full of attractions to visit, be it a historical attraction or a place with natural beauty or even a place for shopaholic; you'll find a place to visit. During our Sri Lanka holidays, we usually visit few interesting places and here is another place we visited recently.
Kataragama is a place where you'll find Buddhist attractions and also places which are favourited by Hindu people in Sri Lanka. Kataragama Devalaya is such a place where both Buddhists and Hindus visit, worship and expect blessings of God Kataragama.
Today I am sharing some of the pictures from 'Kataragama Devalaya', however this place is more popular as a Buddhist pilgrimage site as it is one of the 16 places visited by Lord Buddha in past. I will share about the main Buddhist attraction in Kataragama, which is 'kiri wehera' in a future post and this is about the devalaya which we see at the entrance before entering to the kiri vehera area.
As stated earlier in this post; Kataragama is popular among all religions in Sri Lanka including Buddhists, Hindus and Veddas(indigenous people of Sri Lanka). It is believed that God Kataragama lived in the jungles near the Menik Ganga.(River of gems).Usually devotees have a bath from this river (Manik Ganga) before they enter into the pilgrimage site. However during the season we visited, I noticed the river looks so muddy, but still some people were using water for washing and bathing.
As a tradition, people offer fruits to the Kataragama God or it is same for any other God they believe. Although anyone can bring fruits from other places, usually people buy fruits and offerings from the nearby stalls. Even in Kataragama, you'll find lot of such stalls to buy a prepared plate of offerings ('pooja watti' )
These Pooja watti include few fruits such as banana, watermelon ,pineapple and some sweets, a beetle leaf and few joss sticks(incense) .
People keep some money as a donation for the devalaya (shrine) on top of this fruit tray and offer to the god.A colourful garland is a special offer to the god.You'll find a garland on top of the pooja watti.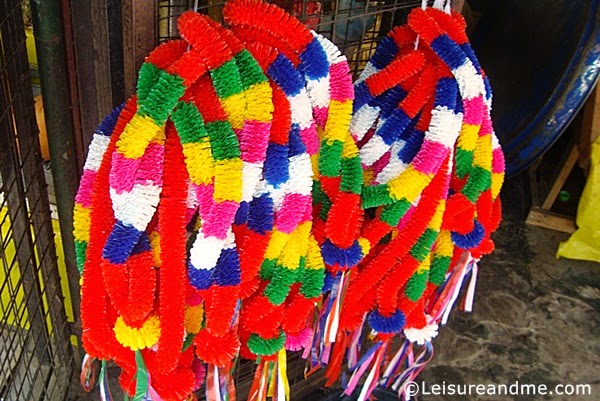 Colourful Garlands-Kataragama
The people who run these stalls near the shrine are experts on preparing these plates and thus,usualy devotees buy a pooja watti(a plate with all offerings) before they visit the devalaya.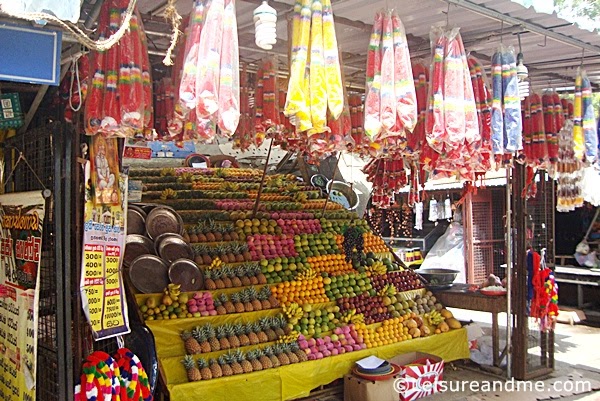 Basically Kataragama Devalaya is a shrine with hindu traditions where you'll see lot of statues of god Kataragama. I wanted to participate for the 'pooja' (worshiping ceremony) just to see how it is going. Inside was completely crowded and jam packed, although I was in front with my little son, after few minutes I decided to leave as it was sweating and I was scared if my son started crying it is a big disturbance for the other people.
Below is a photo of Ruhunu Maha Kataragama Devalaya-Sri Lanka.
People believe that God Kataragama is a powerful god which he can help people to get rid of their problems. So, for most of the people in Sri Lanka, it is a tradition to visit Kataragama devalaya to get blessings in their tough times or even if they start a new business or buy a new vehicle etc. Most people have the habit of visiting this place each year.
We had a good time there, worshiped and offered a Pooja watti to the God Kataragama. It was almost noon and was very sunny and hot.After spending few hours there,we proceeded to the temple, Kiri Vehera.
Wait for my next post. I'll share some interesting information and some of my captures of kiri vehera in my next post.