Built in 2nd century BC by King Kawantissa, Tissamaharama Temple (Tissamaharama Raja Maha Viharaya)  is one of the historical places of Sri Lanka. As per historical data, Lord Buddha visited this place during his Sri Lanka visit. This temple is a major worshiping place for Buddhists, and also a historical attraction for other tourists and non-Buddhists.
Tissamaharama is a town with lot of historical attractions. Not only that, this area is a beautiful place surrounded by lot of paddy fields. Yala National park is few kilo meters away from Tissamaharama, so this town is always flooded with both local and foreign travellers.
We spent some time there freely and could capture few photos of the temple.
The stupa of this temple is one of the biggest stupas in Sri Lanka. Here are some captures of this historical place/temple.
Attached to the stupa, there is a worshiping place with statues of Lord Buddha. We entered into it with the purpose of worshiping and to offer flowers as Buddhists do.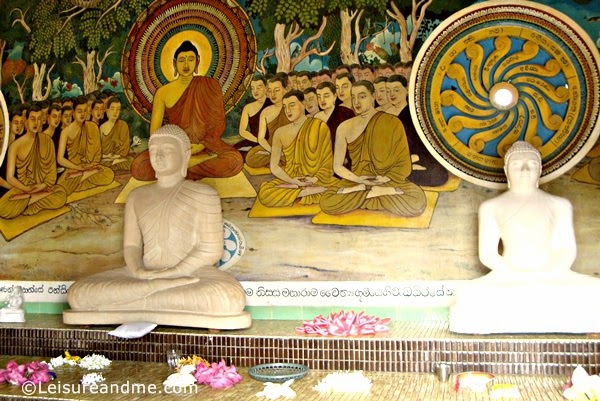 Inside the temple is with beautiful and colourful paintings.
Next to stupa, it was a huge statue of Lord Buddha and was a newly built statue.
Next to this Buddha statue,there were statues of Kings who built this Stupa,and these statues were facing the stupa.
Surrounded area of the temple was calm and quiet,from one side of the place we could see another stupa too.
Read all the posts of this road trip in below links,
Ruhunu Maha Devalaya-Kataragama