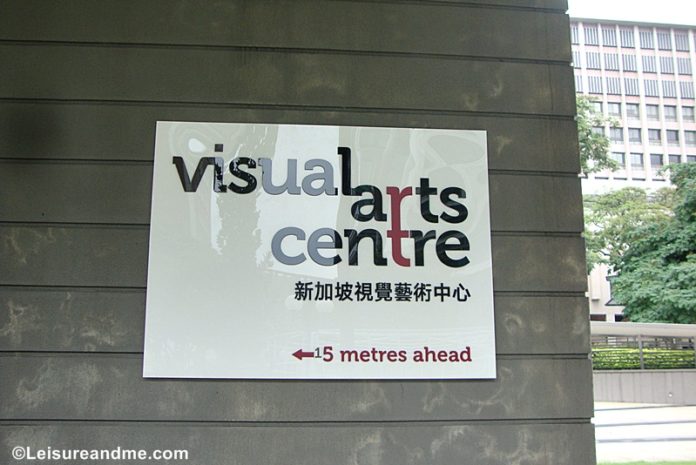 Spending time in an art gallery is one of the happiest moments for me. But, I didn't get such a chance until last week my visit to Dhoby Ghaut for some another reason. After my tasks done, I spent my time walking around the area with my son. While he was having a nap I visited the Visual Arts Centre which is an exhibition gallery located near the Dhoby Ghaut Green. If you are looking for things to in Dhoby Ghaut,Singapore,this Visual Arts Centre can be a place to unwind from your tired mind.
Visual Arts Centre – Dhoby Ghaut ,Singapore

The Visual Arts Centre is a glass house gallery which is located in the hearts of Dhoby Ghaut making it a place to spend time among breathtaking arts.
Other than the exhibition venue, you can also find art courses and trial sessions from the Visual Arts Centre. On the day we visited there, there was an exhibition going on and I could experience the moments among the beautiful paintings.
Contemporary 2016 – APAD's 45th Art Exhibition
Contemporary 2016 is  the 45th art exhibition of APAD (The Association of Artists of Various Resources, or Angkatan Pelukis Aneka Daya) . There are beautiful art works displayed in the art gallery including oil paintings and batik designs.Here are some captures from the Contemporary 2016.Let's have a photo walk!
I love my time among the creative arts while spending peaceful quality time on my own.
Do you have any idea about the middle exhibit of the above picture?Does it highlight the celebrations and what happens to the chickens ?
I like batik designs.Those are usually colourful.Above exhibits feature the different batik designs as pieces of arts.
There are exhibits which feature the beautiful buildings of Singapore such as shop houses.These exhibits highlight the historical information of Singapore.
Here are some other exhibits from the Contemporary 2016 exhibition.
And,below is one of my favourites from the Contemporary 2016 exhibition at Visual Arts Centre, Singapore.It attracts my eye in terms of interior decoration ideas.I love to have such a piece of art at my home.It is a batik design and could make my mind calm and happy!
Important information about Visual Arts Centre, Singapore
Location:
10 Penang Road,
#01-02 Dhoby Ghaut Green,
Singapore 238469
Opening Hours:
Monday to Sunday: 11am – 8pm
Closed on Public Holidays, except by appointment.
How to get there:
It is easy to get there by MRT. Alight at Dhoby Ghaut MRT. The Visual Arts Centre is located in front of the Dhoby Ghaut Green.
Admission: Depends. There are art courses and workshops which you can buy. The exhibition I viewed is free admission.
Website: http://visualartscentre.sg/
Do you like to visit such Art Centres?
Also please share your photo stories from the last week.
Save
Save
Save
Save
Save
Save
Save