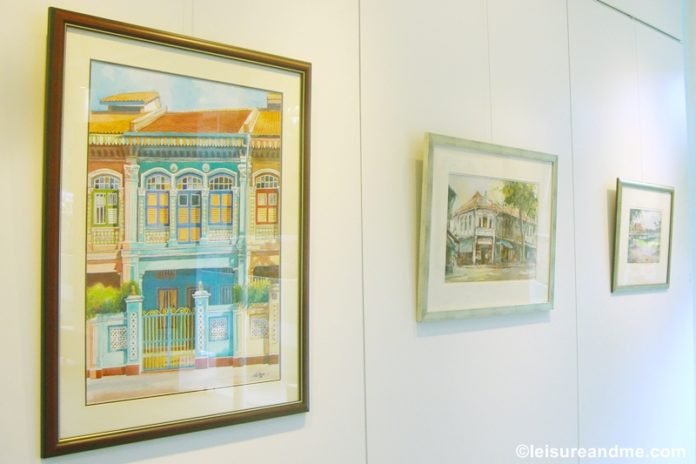 Singapore is one of Asia's cultural centers and is home to a large number of museums, exhibitions, and galleries.
"Drunkard" by Ong Kim Seng
Ong Kim Seng, born in 1945, is a famous self-taught Singaporean artist, who creates his works using watercolor paints.
Ong began painting as a child, but at the time, his mother did not want him to pursue a career in art. She wanted him to have a stable job and become a teacher or a clerk. Nevertheless, Ong did not give up on his dream. Every Sunday he gathered outdoors with other artists. In 1969, to further the quality of watercolor painting, they established the Singapore Watercolor Society. One year later their first annual exhibition was held. In 1990, Ong Kim Seng became the first Asian member of the American Watercolor Society.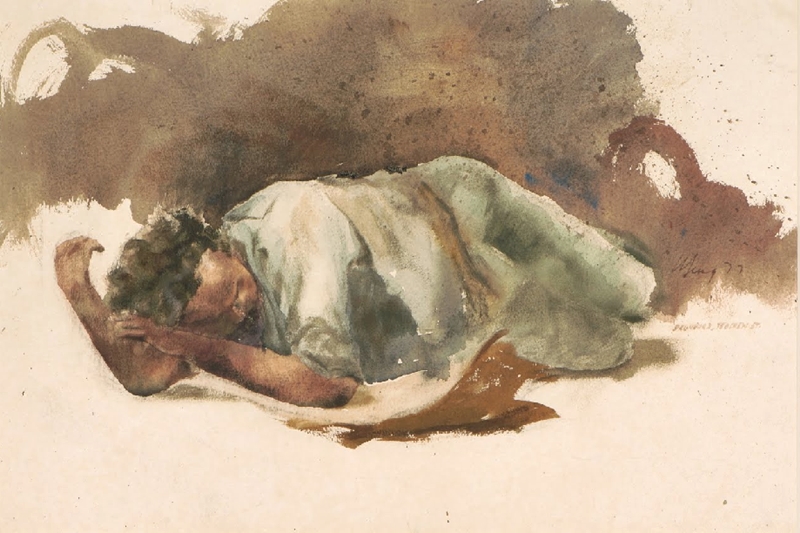 The painting "Drunkard" was created in 1977 and depicts a sleeping man, whom the artist noticed in the corridor of a shophouse in Chinatown. The man had a strong smell of toddy, a cheap alcoholic drink made from the coconut palm that was popular among poor men in those days.
This painting is especially interesting because it is quite different from Ong Kim Seng's other works. The artist mostly depicts landscapes, architecture, and inanimate objects. People are sometimes featured in his paintings, but they are rarely the main subject of his compositions. But in his painting "Drunkard" Ong assigns this man as the main subject. The painting can be found in the National Gallery Singapore.
"Singapore River" by Lim Cheng Hoe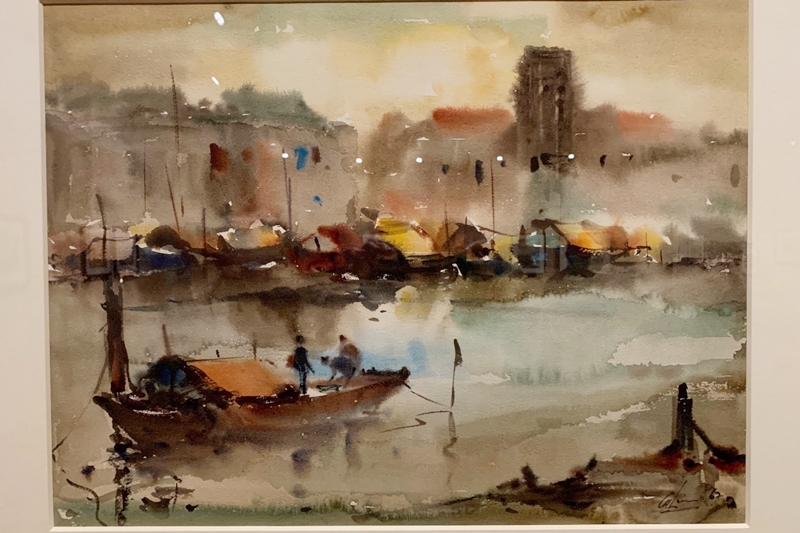 Lim Cheng Hoe (1912-1979) is one of the first Singaporean watercolorists. He had no formal education in art and was self-taught. Every Sunday he organized plein-air paintings, usually by the Singapore River where he was soon joined by other watercolorists. The Singapore River was Lim Cheng Hoe's favorite spot for outdoor painting and is depicted in many of his works. He eventually became the first teacher for many artists, including Ong Kim Seng. These informal meetings soon became popular and as a result, the Singapore Watercolor Society was founded.
Painted in the late 1960s, the landscape "Singapore River" is one of Lim's most recognizable works. The painting is dominated by muted brown and gray tones, however, the artist adds life to the composition by adding bright colors to the row of boats selling goods. Lim Cheng Hoe uses a wet-on-wet technique that creates a soft and watery image and gives the river a romantic aura. The painting "Singapore River" can be found in the National Gallery of Singapore.
"Drying Salted Fish" by Cheong Soo Pieng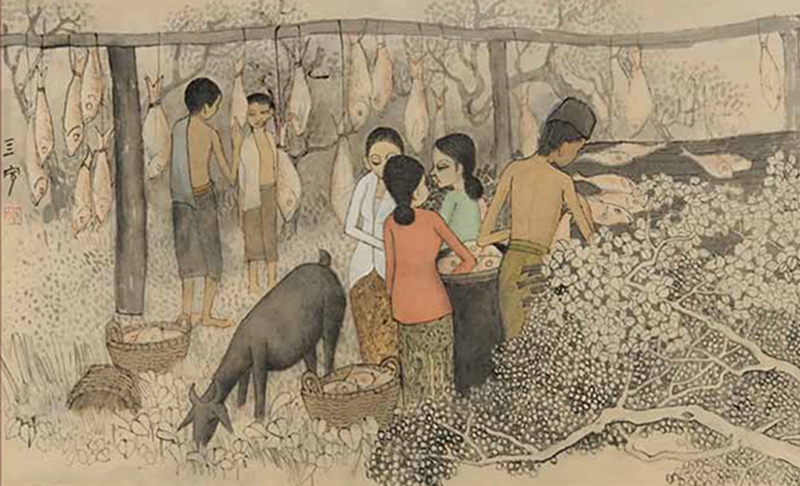 Cheong Soo Pieng (1917-1983) was born in China, where he spent his childhood and graduated from two prestigious art academies. At the age of 29, he moved to Singapore and, encouraged by his former teacher, began teaching at the Nanyang Academy of Fine Arts.
Cheong Soo Pieng is considered to be one of the first so-called Nanyang artists to work in the Nanyang style. This style is a mixture of Eastern traditional painting (using ink and brush) and the modern Western painting (using oil paints). The Nanyang style depicts scenes from traditional Chinese life: villages, temples, domestic utensils, local landscapes, ethnic groups, rituals, and daily work.
The painting "Drying Salted Fish" is an excellent example of the Nanyang style. Pieng depicts a scene of an ethnic group's everyday work. The artist paints in his unusual technique, portraying people with elongated bodies, limbs, almond-shaped faces, and eyes. This iconic painting is on display at the National Gallery of Singapore and can be also found on the $50 Singapore banknote.