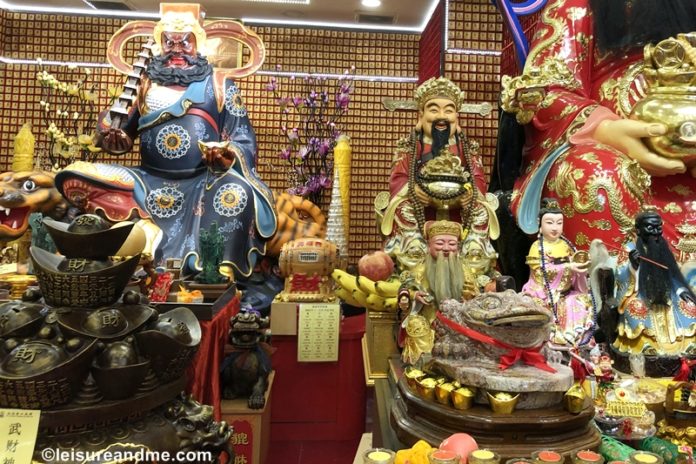 If you like to experience culture during your trip to Singapore then you should visit Bugis. While Chinatown is in most of the Singapore itineraries, Bugis is another neighbourhood to visit for cheap shopping, good food and cultural activities.But,what are the things to do in Singapore Bugis? Let's explore what you can do in Bugis while enjoying a walking tour.
In this post I want to share our experience with walking tour around Bugis while mentioning the things to do there while you are in this amazing location.If you were looking for attractions in Bugis then I am sure this walking tour is helpful for you.
Things to do in Bugis,Singapore (Walking Tour)
1.Shopping at Bugis Street
Bugis street is famous for its budget shopping.You can start your day by visiting Bugis street and buying some souveniers if you like to bring back as memories.Check our experience on shopping at Bugis street for more details.
After our shopping experience at Bugis street, we spent time walking around Bugis watching the attractions. Bugis is also popular for many attractions. Below are some of other activities to do when you visit Bugis street. In our Bugis walking tour, we experienced these activities or we saw these as memories from Singapore.
2. Rickshaw Tour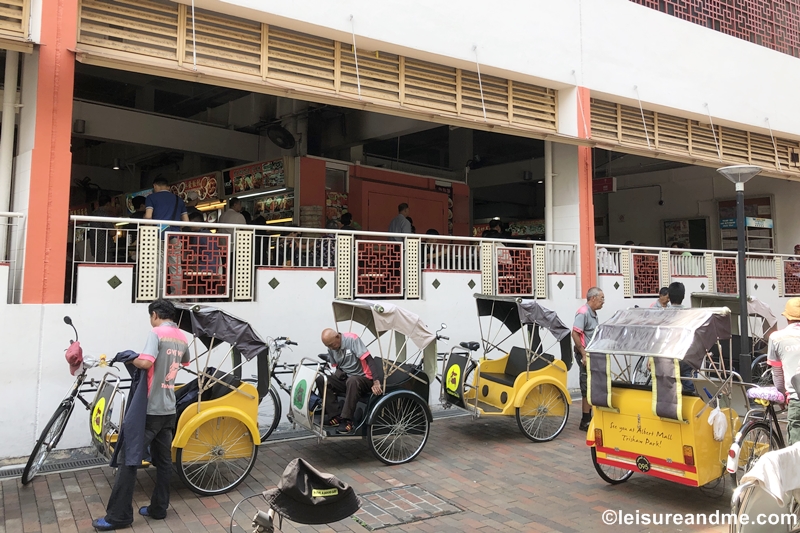 Bugis is one of the best places in Singapore to experience Rickshaw rides. You can hire rickshaws for a guided tour or to see around the city. We saw parked rickshaws near the Albert Food Centre although we didn't experience any rides.
3. Experience Palm reading or talk to a fortune teller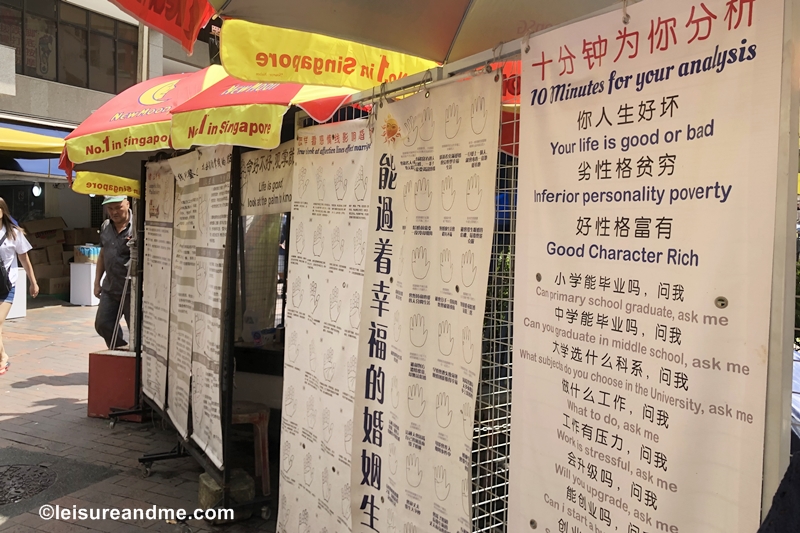 Bugis is also a popular place for palm reading, fortune telling and such related activities. There are stalls which you can experience such services.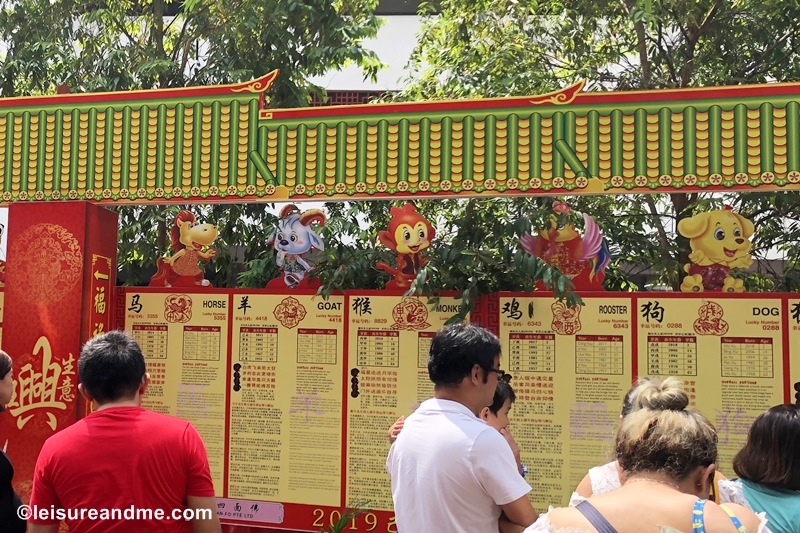 4. Buy souvenirs
After experience things around Bugis street we entered into the area where prayer items are to be sold. This is the best place to buy Buddha statues, prayer items or any things spiritual. We found huge statues of Buddha and other gods In front of most such shops.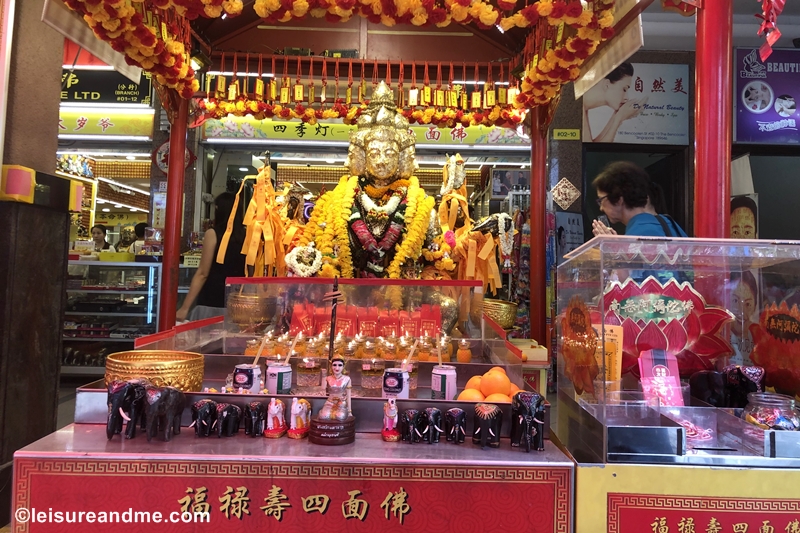 5. Experience Buddhist Culture
Before we go inside such shops, my mom liked to involve in activities such as bathing prince Siddhartha. (Bodhisathwa)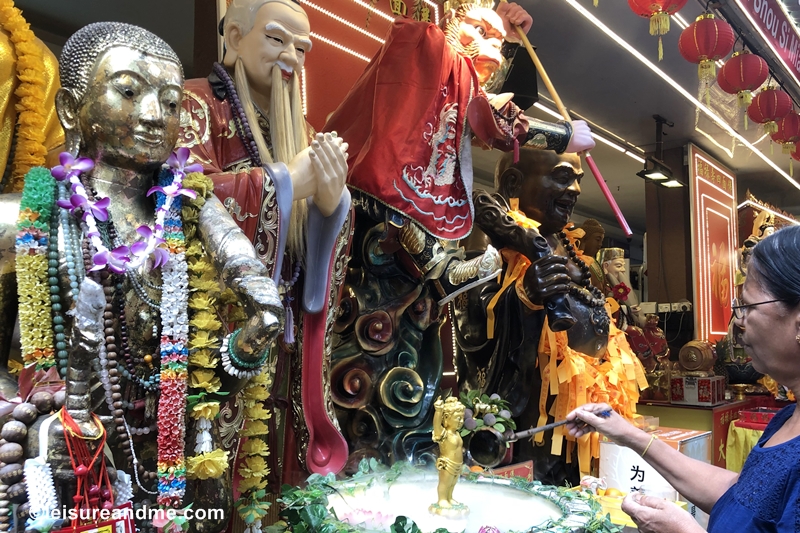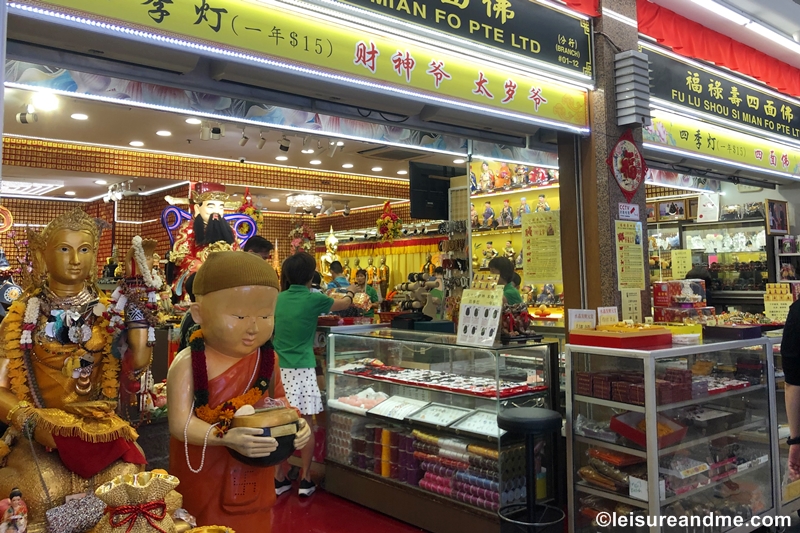 6. Dry food,herbs and herbal tea
This area is also famous for buying dry food and herbals. We tasted herbal teas and it was perfect time to satisfy our thirst that time. Luckily we visited this area, so my mom could buy some souvenirs to the Buddhist temple near our home in Sri Lanka.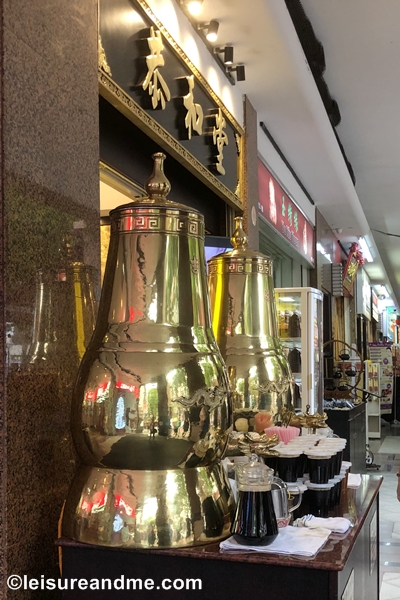 Bugis is a place to experience cultural activities. Other than experiencing the views of prayer shops, fortune tellers and tasting herbal drinks this is also a place to see performers. In my every visit to Bugis, I see performers who showcase their talents.
7. Encounter living statues
Bugis is a popular place to encounter living statues.We were fortunate this time too to see a living statue.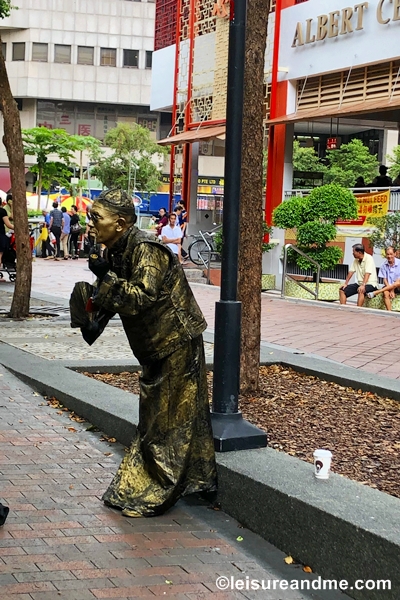 This person looks like a statue, but not really!It is a living statue!
8. Visit Kuan Yin Thong Hood Cho Temple
Next we headed towards the famous Kuan Yin Thong Hood Cho Temple in Bugis which was crowded on that day. There are stalls and vendors who sell flowers, incense sticks and other prayer items to the people who visit the temple.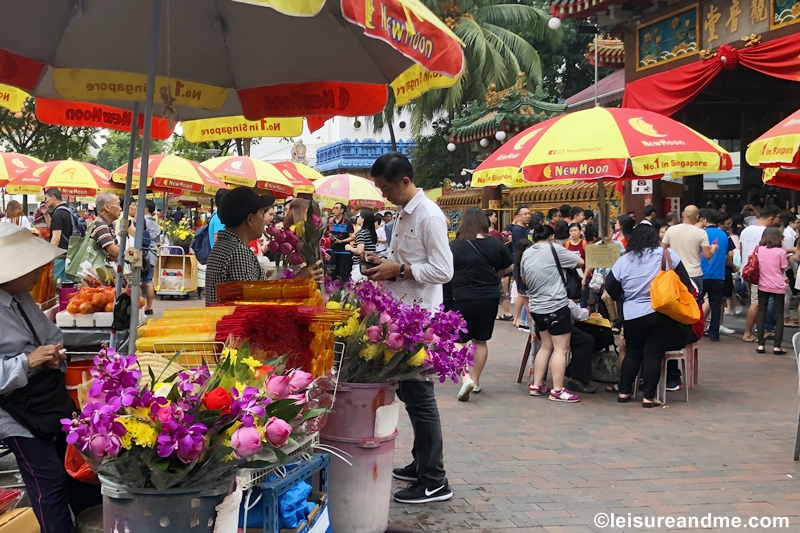 We visited the Kuan Yin Thong Hood Cho Temple, but it was really crowded. It is also prohibited to take photos inside the temple.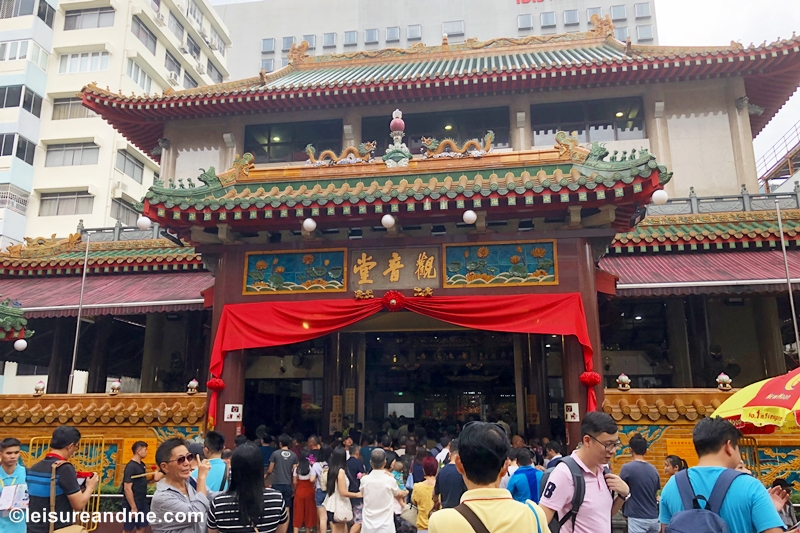 This beautiful temple is built in 1884 and it is dedicated to Avalokitesvara or Goddess of Mercy. Representing oriental traditional Chinese temple architecture, this is a wonderful place to visit in Bugis. However the temple can be overcrowded during periods such as Chinese New Year.
9. Visit Sri Krishnan Temple
After coming out from the Chinese temple, we found the Sri Krishnan Temple in Bugis which is situated next to the Kuan Yin Thong Hood Cho Temple.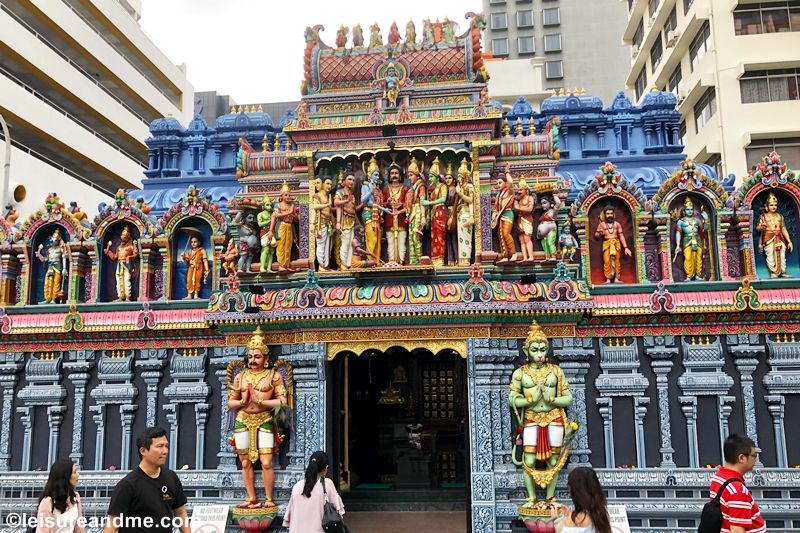 This temple is decorated with Hindu religious murals and paintings which represents Hindu culture. The murals and paintings were a very colourful sight which pleased our eyes.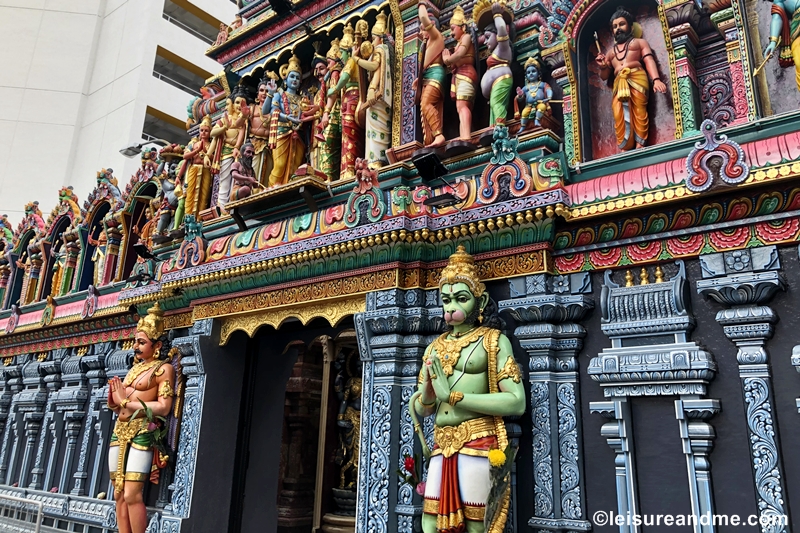 After roaming around the Hindu temple in Bugis, it was time for us to return.But we decided to walk a little more towards Little India to have our lunch.But if you visit Bugis,there are plenty of places for enjoying food in Bugis including Albert food Centre.
We spent an exciting day walking around Bugis. It was not a place just for shopping, but also for experiencing the multicultural activities of Singapore.
And,activities you can do while enjoying a walking tour are not over.There are many other things to do and see in Bugis including Arab Street,Haji Lane and Malay Heritage Centre.
How to reach Bugis?
Getting in to Bugis is easier in all forms of transportation available in Singapore.You can reach Bugis by car or taxi.
If you travel by train,then take Green line and alight at Bugis MRT.
Have you been to Bugis Street or Bugis town of Singapore? Please share your thoughts.