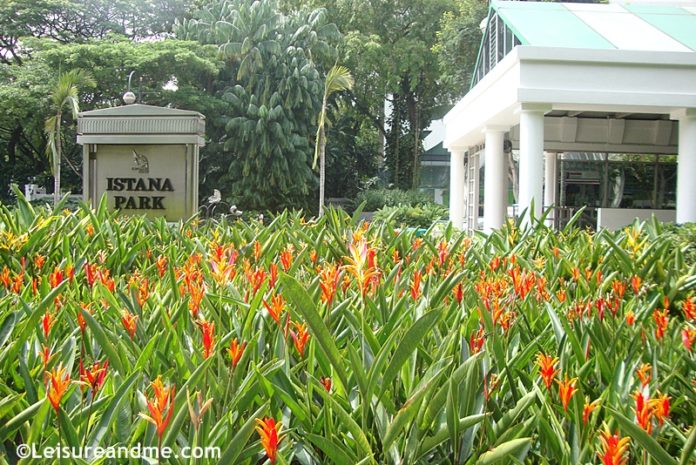 Istana Park is another oasis I found in the busy city, Dhoby Ghaut, Singapore. After our visit and stay around the Dhoby Ghaut Green, then we visited this beautiful lush green garden. Istana Park is absolutely full of beautiful trees and foliage.
We entered to the Istana Park from gravel area of Dhoby Ghaut Green. However, it is located facing the main Istana Gate making it a good viewing point for Istana monthly changing of guards' ceremony.
Below are some of the attractions inside the Istana Park, Singapore. Hope you like to have a photo walk through the park with me. If you visit Dhoby Ghaut Singapore, don't forget to visit this park as this is one of the main attractions of Dhoby Ghaut.
Beautiful trees
Istana Garden is full of green views. Even it was mid noon of the day; we had comfortable time among the trees and plants.
Flora and Fauna
Among the huge trees, there are other plants which give eye pleasing views for anyone who enter into this small stretch of park along the Orchard Road.
Festival Arch
The main attraction of Istana Park is its Festival Arch. The park fronts the main gate of Istana. At this main point of the park, the Festival Arch is located.
As a 26m long structure this Festive Arch design symbolizes the railings and gate posts of the Istana entrance.(Istana is the official residence and office for the President of Singapore, In Malay Istana means 'Palace', it is also the working office for Singapore Prime Minister)
Butterfly trail
Istana Park is one of the biggest spots of the Butterfly Trail along the Orchard road. It is a surprise. This park is actually with lot of butterflies of different colours and sizes. They were happily roaming here and there around the flowers in Istana Park making it a pleasing sight. However, capturing a butterfly was not an easy task for me.
Well, instead of trying to capture butterflies, I spent great time with my son showing him beautiful butterflies.
The Pond
Among the trees, flora and fauna there is a beautiful pond in one side of the park making it more attractive. Although this park stretches in a small narrow piece of land, Istana Park is with lot of attractions to see.
Art & Dining
My Art Space is a great spot inside the Istana Park which you can spend time among the arts and dine at the same time. This place provides the facilities to learn about art and it is also a great place to chill out.
Above are some of the attractions and things to do which we found in our visit to Istana Park Singapore. Actually it is a free attraction which you should have a look in Singapore. Surprisingly all these green views are along the busy Orchard Road and on the other side, it is Penang Road.
Useful information to visit Istana Park, Singapore
If you visit during day time, sunscreen, hats and water may be useful as the Festival Arch and butterfly trail area is really hot and sunny.If you travel with kids it is good to carry a stroller or a good baby carrier for babies.I always found this as helpful for me to spend time among the attractions without getting tired.You can find more tips and learn more at kokopax.com on finding the right baby products for travelling.
Park lighting hours: 7.00pm to 7.00am
How to get there: It is easy to visit Istana Park By MRT, alight at Dhoby Ghaut station and this park lies along the Penang Road. It is next to Dhoby Ghaut Green gravel area.
Location: Istana Park, 31 Orchard Road, S238888