Batam is not only for food,shopping and massages.There are many other attractions that you can visit when you are in Indonesia Batam island.This Maha Vihara Duta Maitreya Temple is such a must visit attraction in Batam which can add peace to your holiday.
We recently visited the beautiful Batam island of Indonesia. Our 3D2N Batam itinerary was full of exciting activities including visit to a temple. Although we planned our Batam getaway to visit few temples in Batam we ended up visiting only this Maha Vihara Duta Maitreya Temple.It is a large temple spread over a spacious land. As I found this temple is known as the biggest temple in Indonesia.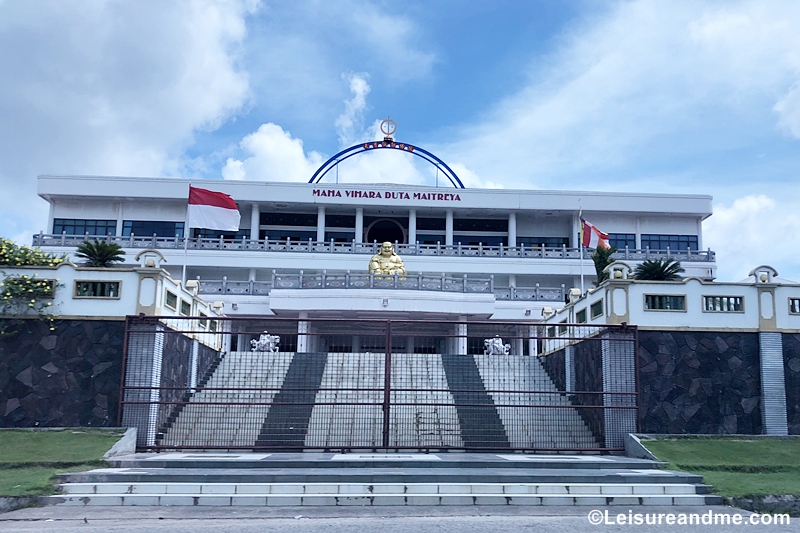 We hired a taxi from Nagoya Hill shopping mall to reach the temple. It was few kilometers away from the Harmoni Hotel Batam and more near to Batam Centre than Nagoya City.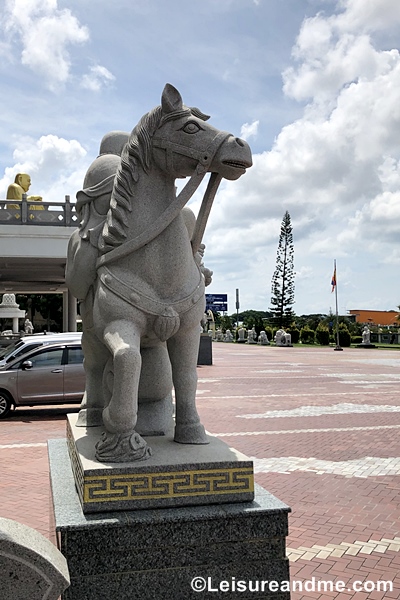 At the time we reached the Maha Vihara Duta Maitreya Temple in Batam, I was surprised with its peaceful environment. There are 3 main halls in this temple and there is a vegetarian food restaurant behind the temple.
First hall of Maha Vihara Duta Maitreya Temple
We entered in to the first hall after spending some time watching the statues at the entrance.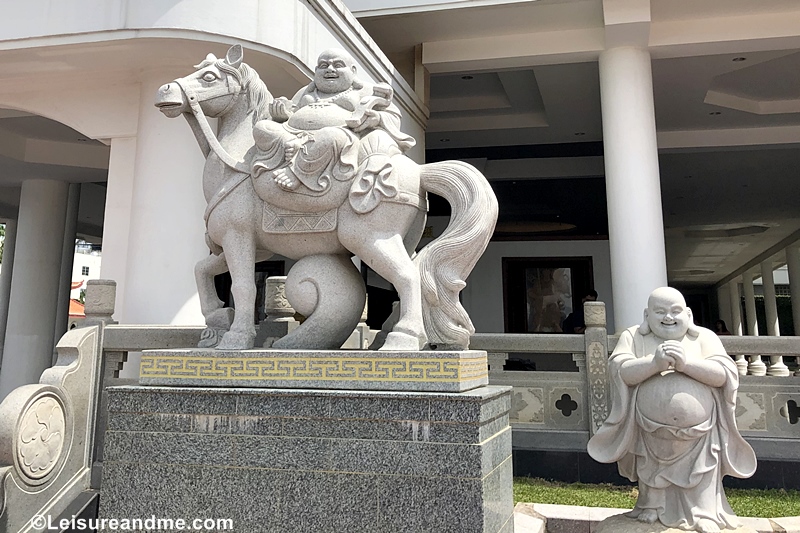 We saw a huge statue of Laughing Buddha when we entered in to the first hall. Some nuns were worshiping to the Laughing Buddha. So we proceeded to the inside of the hall.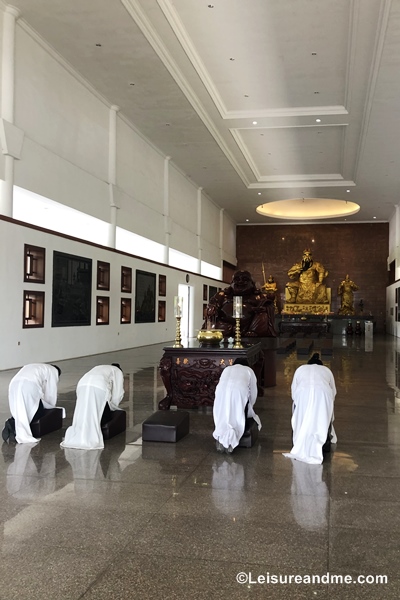 This temple in Batam is dedicated to Maitreya Bodhisattva who will be the next Buddha.As a Buddhist I am familiar with these legends and stories of Buddhism.However as per my understanding this temple follows Mahayana tradition.Therefore I couldn't identify some of the statues inside the temple other than Maitreya Bodhisattva and Gautama Buddha.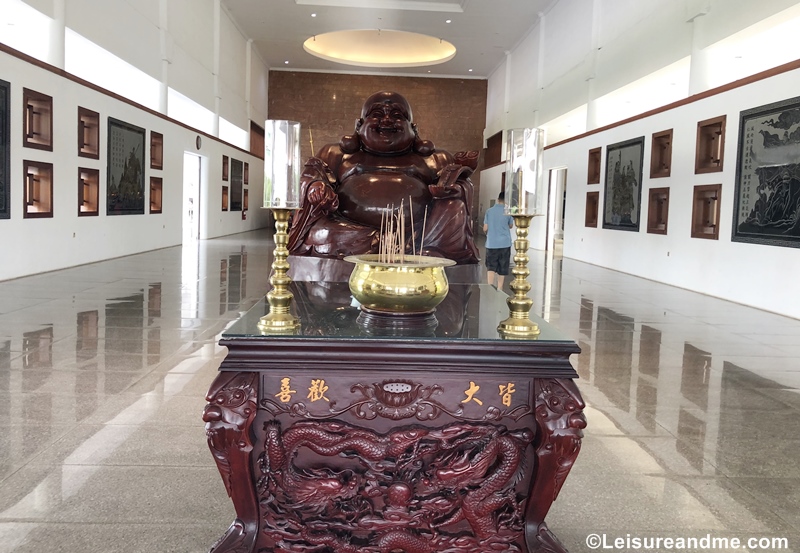 Inside the hall there was a place with incense sticks.One of the nuns who talked with us asked us to pray the Bodhisattva with 3 incense sticks.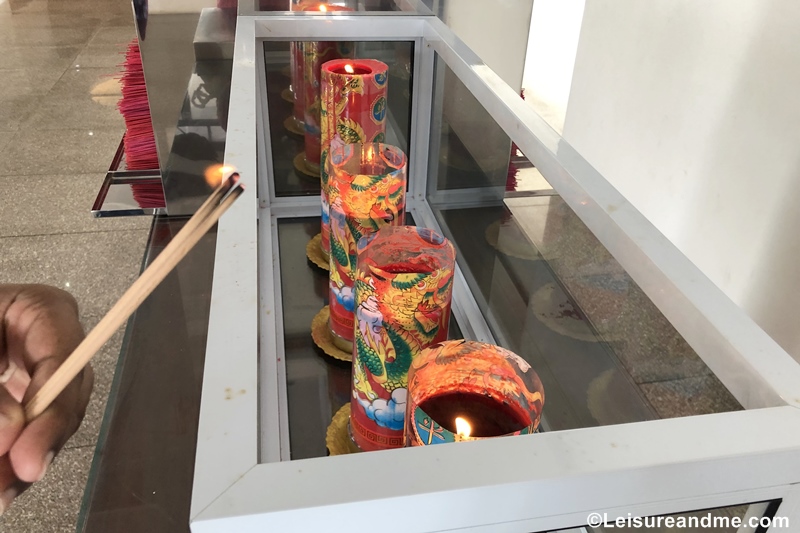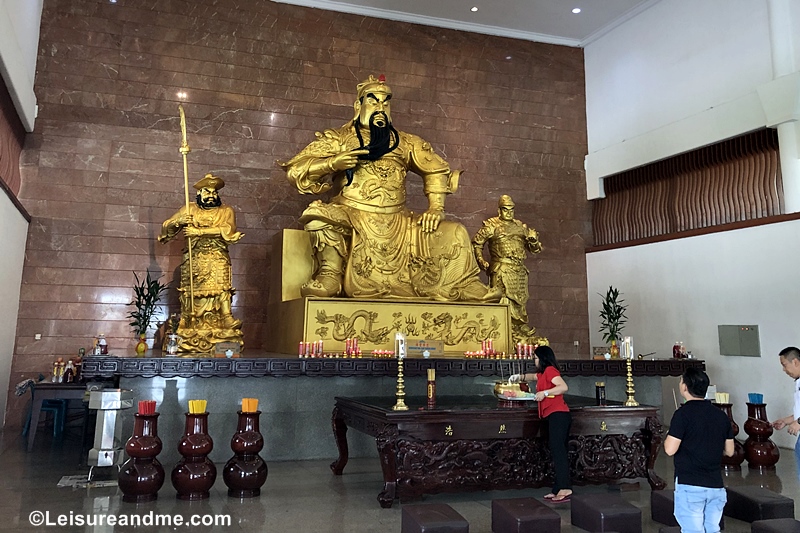 After the first hall,there is another hall which we walked through a beautiful courtyard.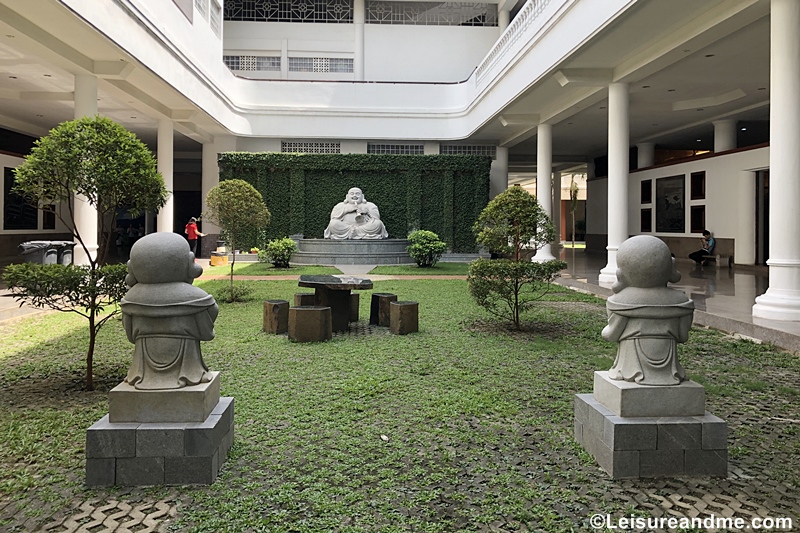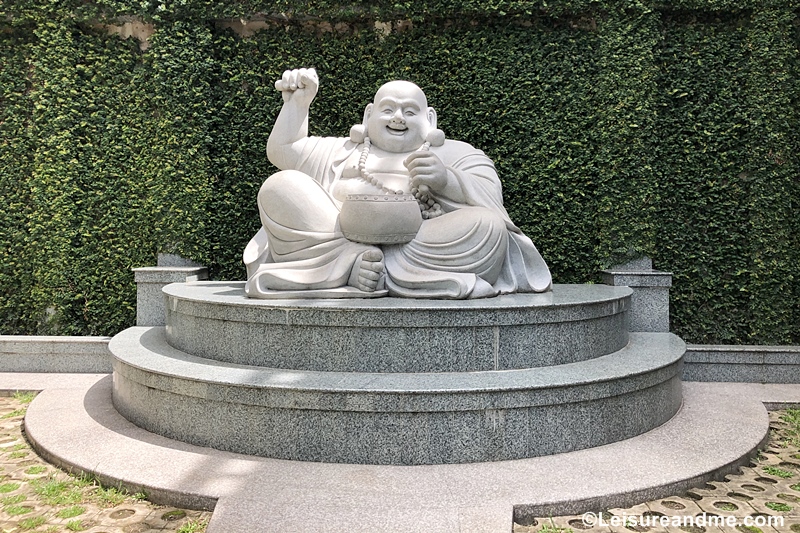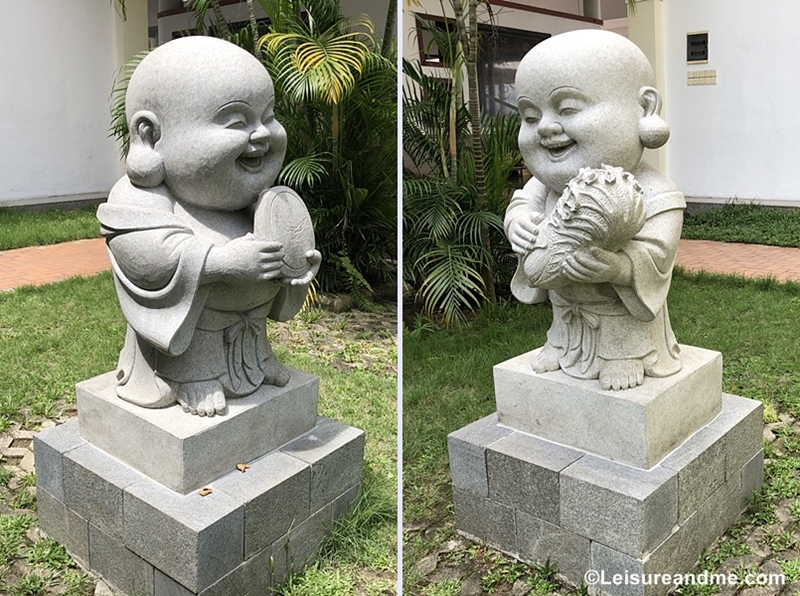 2nd Hall
We entered into the next praying hall.At the entrance of the hall there was a huge incense stick pot.Also there were two guard lions in both sides of the main entrance.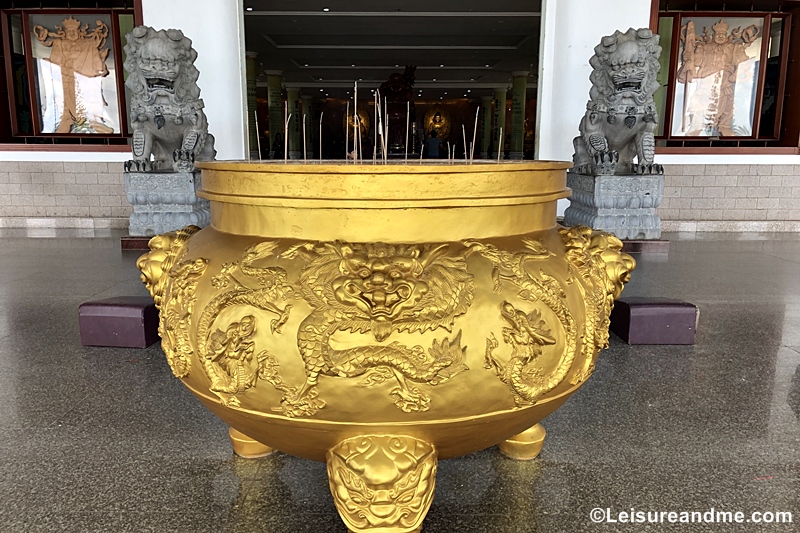 The guard lions and huge incense stick pots are most common in most Chinese temples.This huge guard lion is with decorative features which shows its strength and power!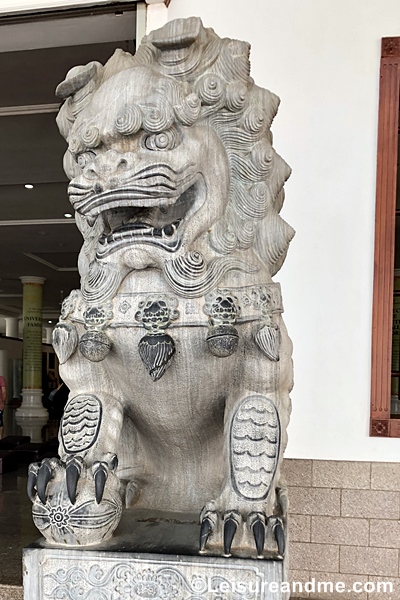 We entered in to the praying hall.As I identified,the statues are of Gautama Buddha.As a Buddhist who follows the Theravada tradition,I was happy to find this section of the temple.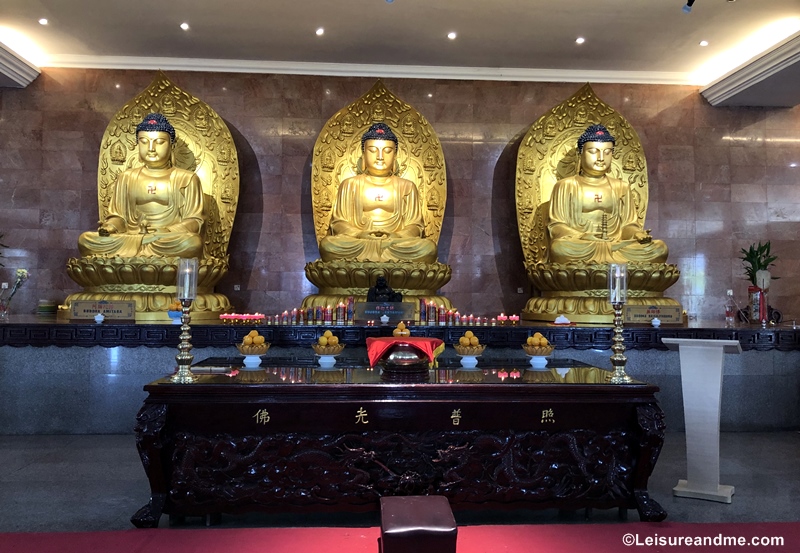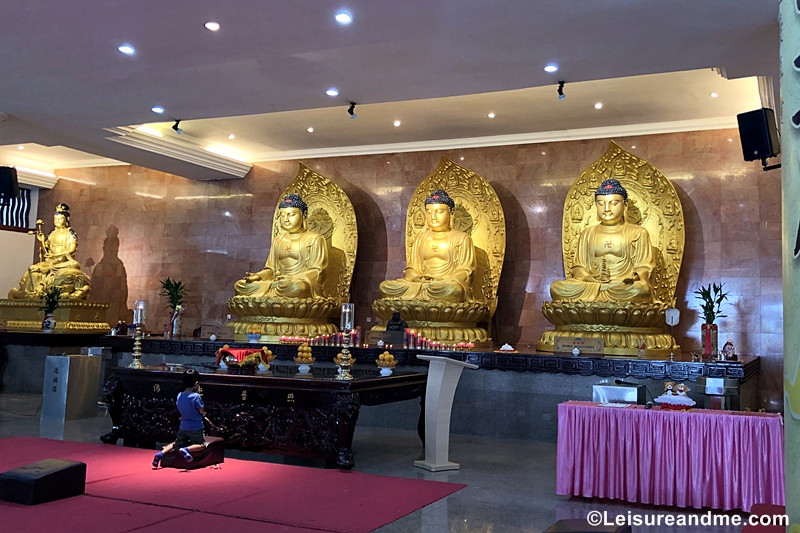 After spending time on this 2nd hall of the temple,next we entered in to the 3rd hall.It is another spacious praying hall.
3rd Hall
This section is dedicated to Avalokitesvara Bodhisattva .When we entered in to the praying hall,we saw a huge statue of Avalokitesvara Bodhisattva.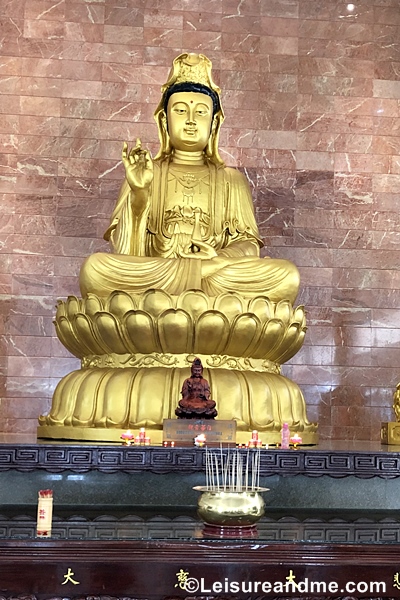 This section is dedicated to Avalokitesvara Bodhisattva.There was a oil lamp which we could add oil.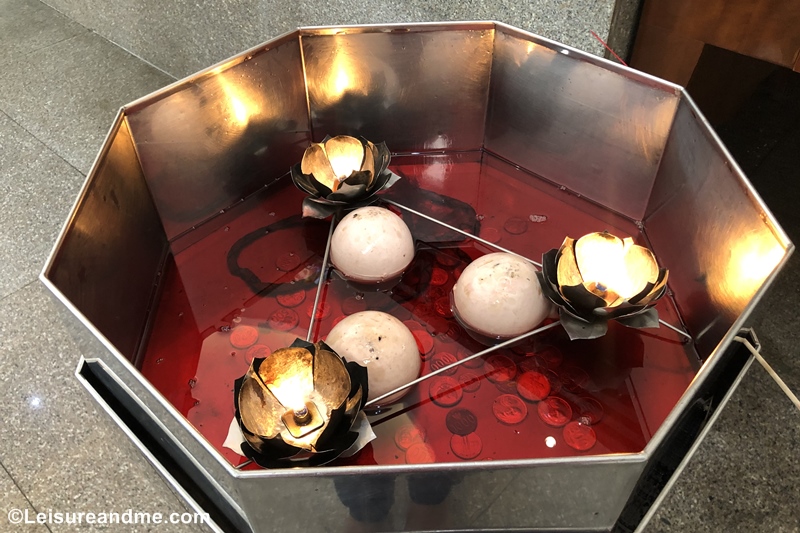 We spent time in this spacious temple.Kid was happy as he could walk here and there freely.
In the garden of the temple,there were many statues.But it was almost noon and it was very hot outside.Therefore we didn't go near the statues.A little bit regret now! 🙂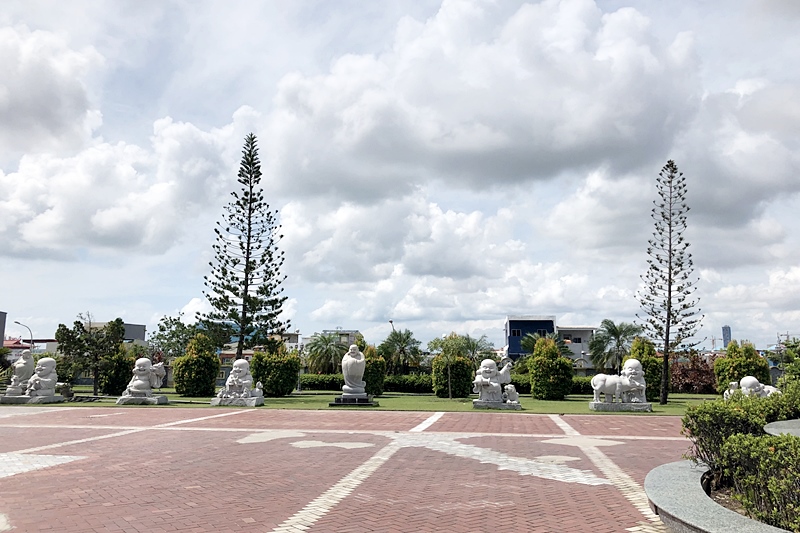 Important information before visiting Maha Vihara Duta Maitreya Temple
Opening hours : 8am-8pm Daily
Entrance fee : Free admission.
Address: Jl. Bukit Beruntung, Sei Panas, Batam Center
Things to note:
Be sure to maintain silence inside the praying halls.
If you visit Batam,don't forget to include this beautiful temple to your travel plan.It is a peaceful place which can make you relaxed.
Do you like to visit such peaceful and relaxing places in any holiday?Have you been to Buddhist temples? Please share your thoughts.