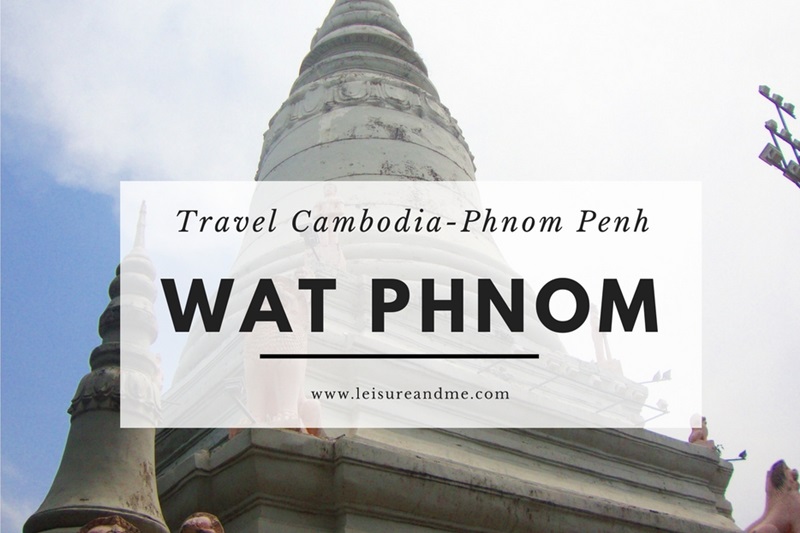 Wat Phnom is another must visit attraction in the busy city of Phnom Penh, which is the capital of Cambodia. On our 3rd day of Phnom Penh trip, we planned to visit this beautiful Buddhist temple right in the morning. We started our journey by hiring a tuk tuk and reached the Wat Phnom temple in around 15 minutes. Tuk tuk rides are exciting and we found it as a good way to tour around Phnom Penh city.
Anyway, before writing about our experiences in this sacred temple of Phnom Penh, below is bit of the history as I found from Wikipedia. Nowadays Wat Phnom is a sacred temple for Buddhists and others who are in Cambodia for many offering and worshiping activities.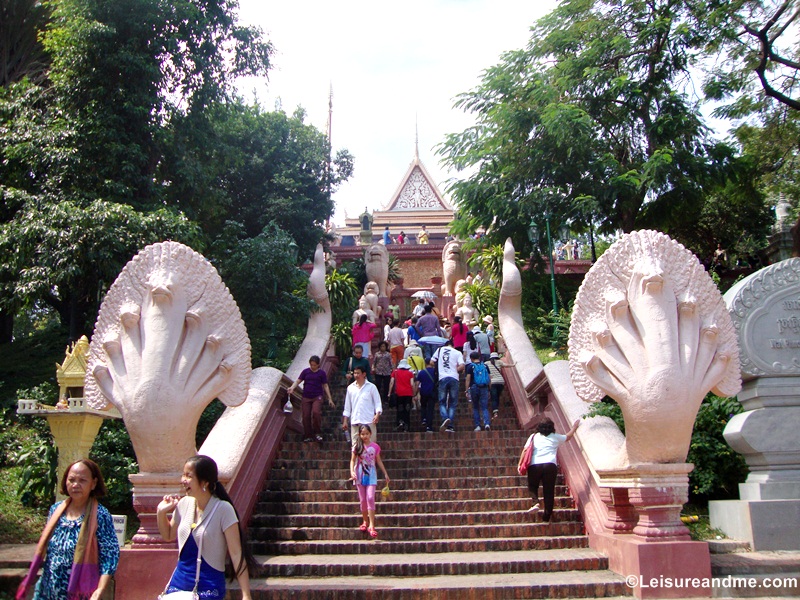 Bit of Wat Phnom history:
As per the legends, Lady Penh found a floating tree from the river which contained many Buddha statues. She built a shrine on a small hill which was manmade and kept these Buddha statues for worshipping. Lately this small shrine underwent different phases of construction and became one of the sacred places in Phnom Penh where people gather for celebrations and offerings.
Our visit to Wat Phnom – Phnom Penh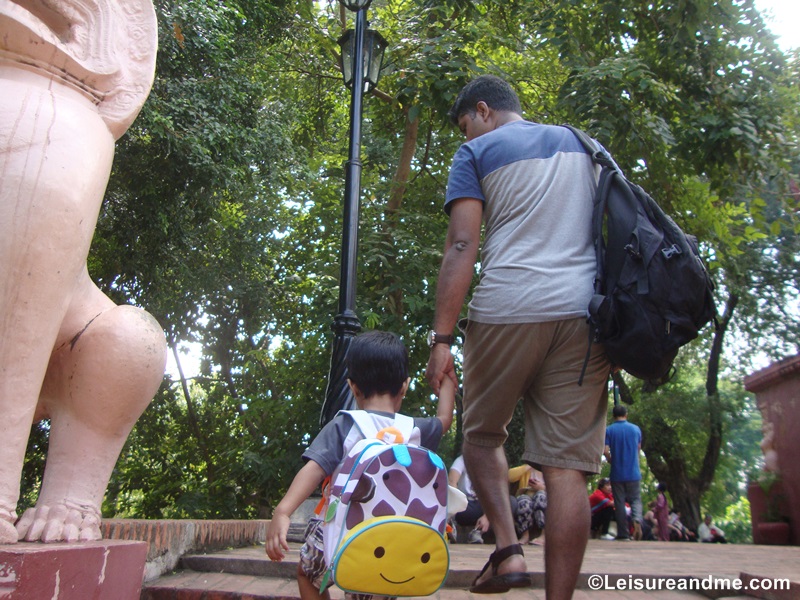 After our breakfast at Frangipani Royal Palace hotel, we started our day to visit around the city. We hired a tuk tuk and we also had a plan to see the city during the tour. When we reached Wat Phnom, it was around 11 am. It was a sunny day. But, the grounds of Wat Phnom were shady with trees.
We had to buy tickets. But it was $1 for 1 adult ticket at the time we visited. (in 2017)
At the entrance, there is a stairway leading to the temple and pagoda. The entrance stairway is with huge statues which reminded me the guard stones of Sri Lankan Buddhist temples. I had the same feeling of entering into another Buddhist temple although this is a temple in Cambodia.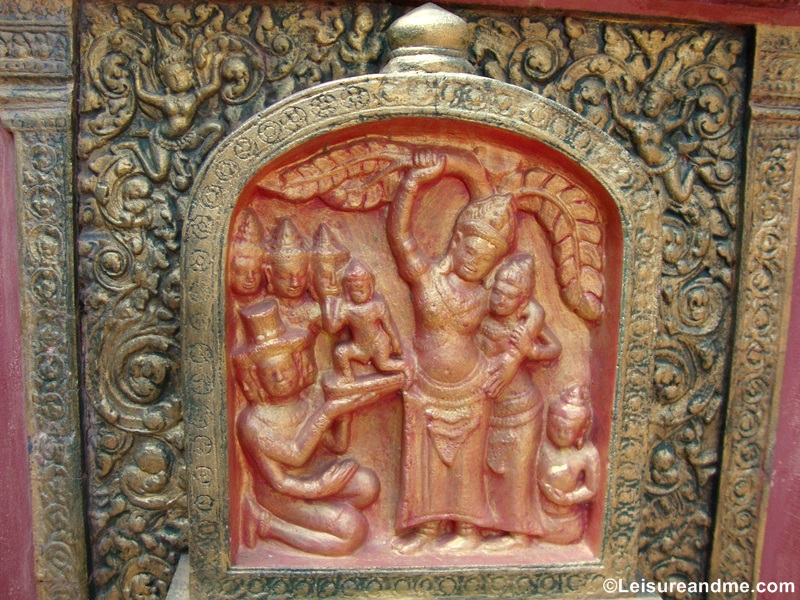 We climbed the stairs. Before we reached the main pagoda, we passed a wall with beautiful murals.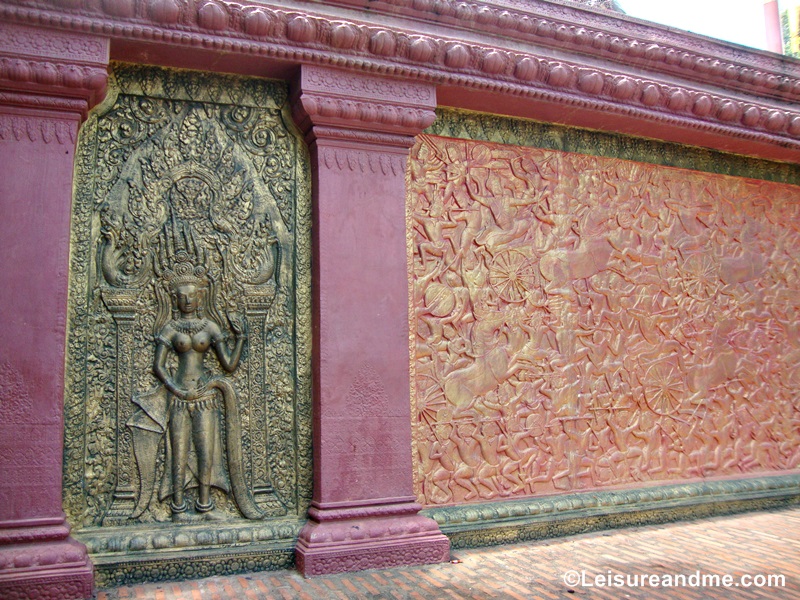 After passing the murals, then we entered in the main pagoda area.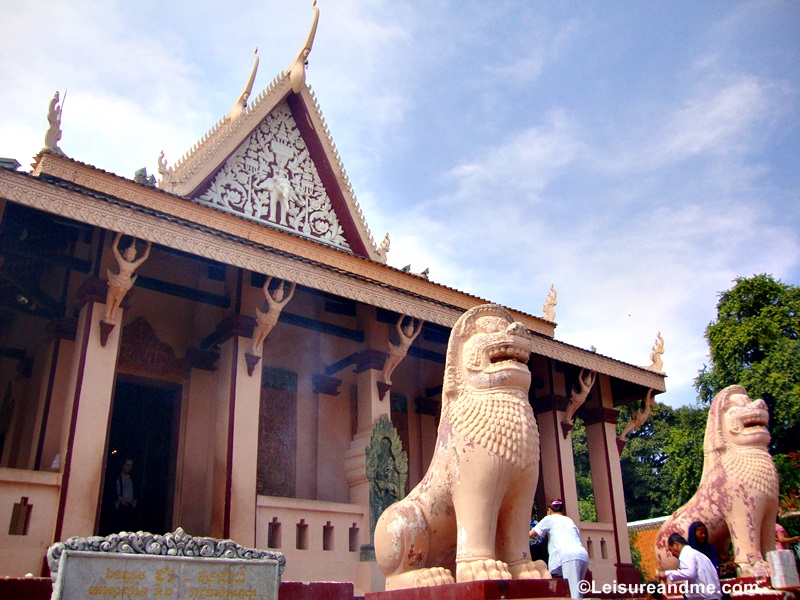 Most of devotees and tourists to this temple were walking here and there in the grounds of main pagoda. So, I also had a chance to look around the temple.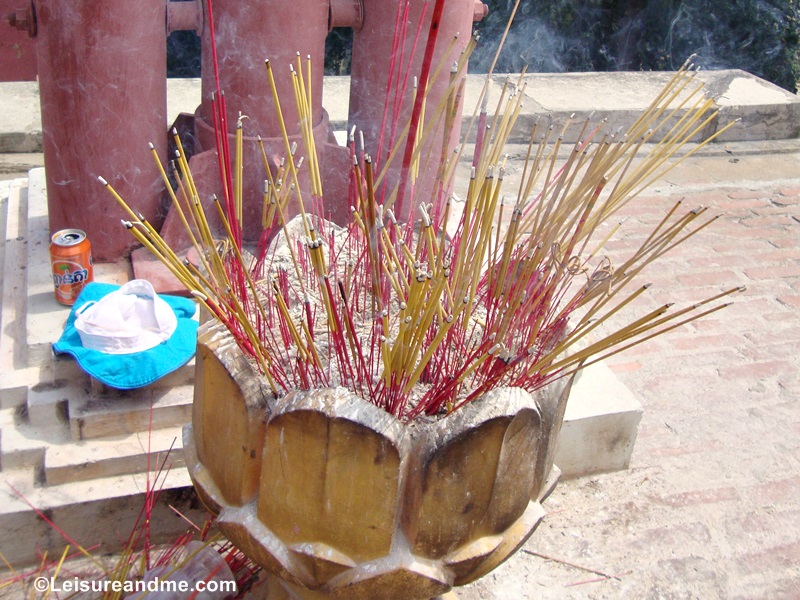 While walking around the Wat Phnom temple grounds,I found these trapped birds.This sight didn't make me happy.Vendors charge money to free these birds.If you like to free a bird ,you have to pay the vendor.Then you can free a bird.Till someone pay for free a bird or birds,they will be trapped here.Not a good sight to see in such temple…. 🙁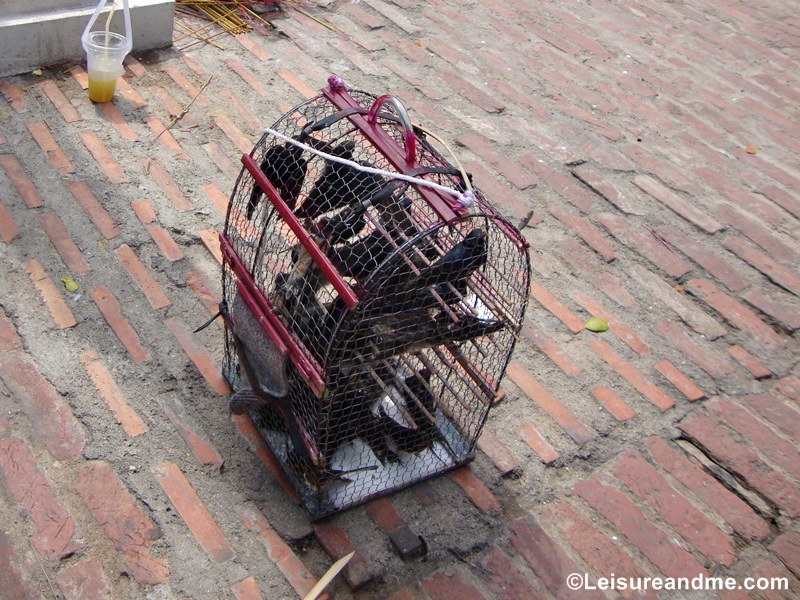 After walking around, then we entered into the shrine room. It was a beautiful temple with lot of Buddha statues. Although it is bit dark inside the temple, we could walk around viewing the paintings and Buddha statues.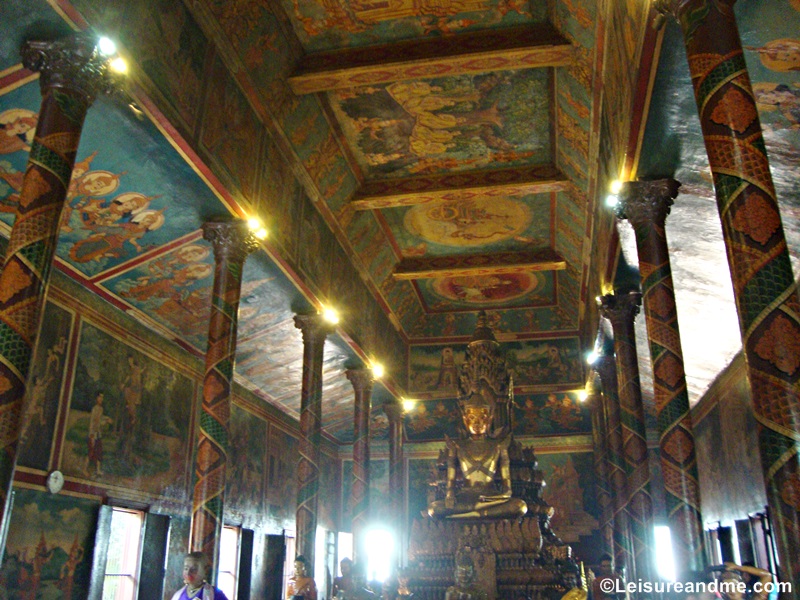 Walls and ceilings of the Wat Phnom temple were decorated with paintings. As a Buddhist I could understand some of the paintings and related stories from the Buddha life.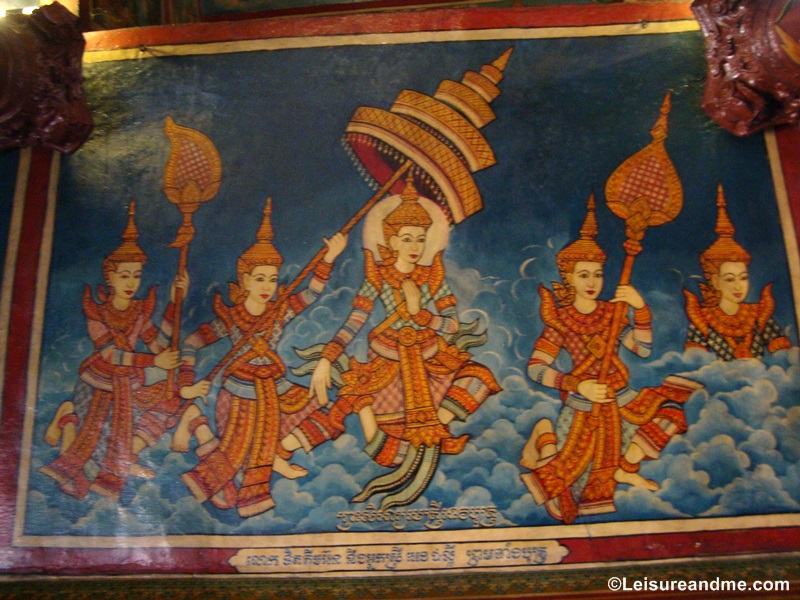 On the day we visited Wat Phnom, there were many other people who had visited this temple to worship Lord Buddha. As the main temple is bit small in space, it looked like bit crowded. But, that did not annoy or disturb us from visiting the temple.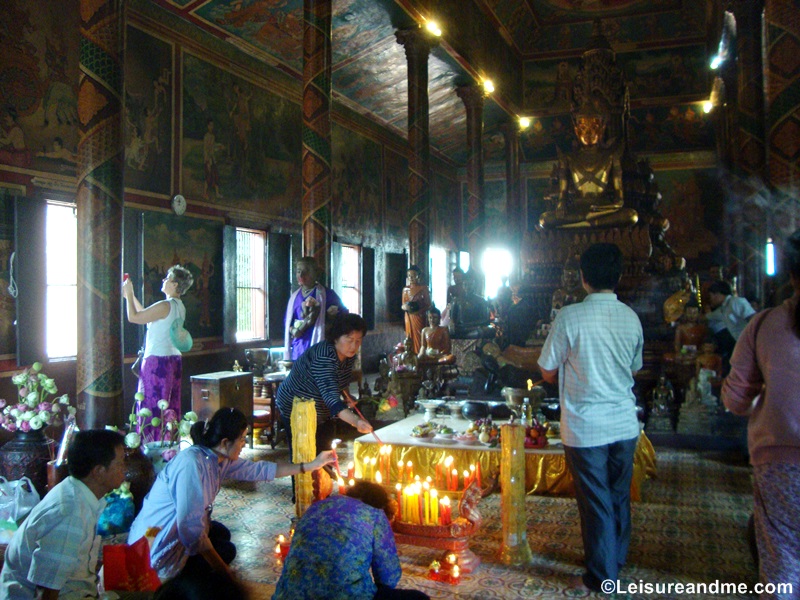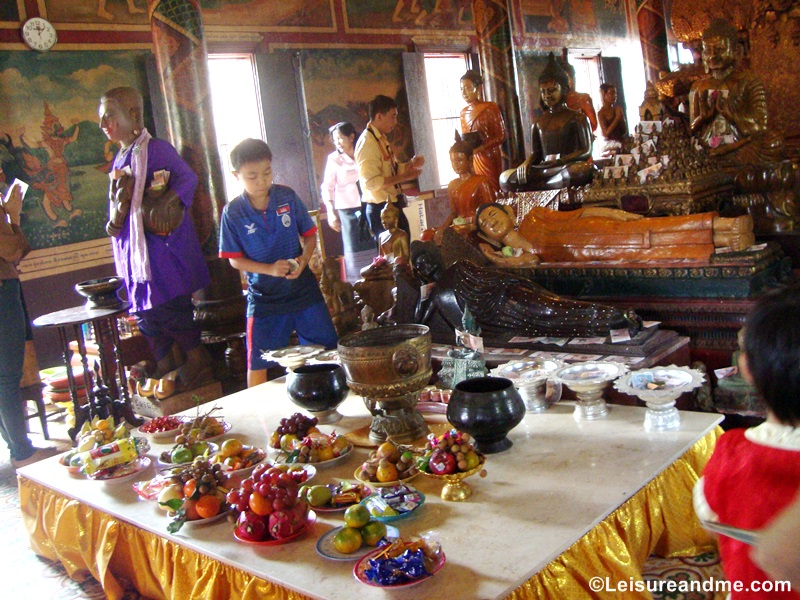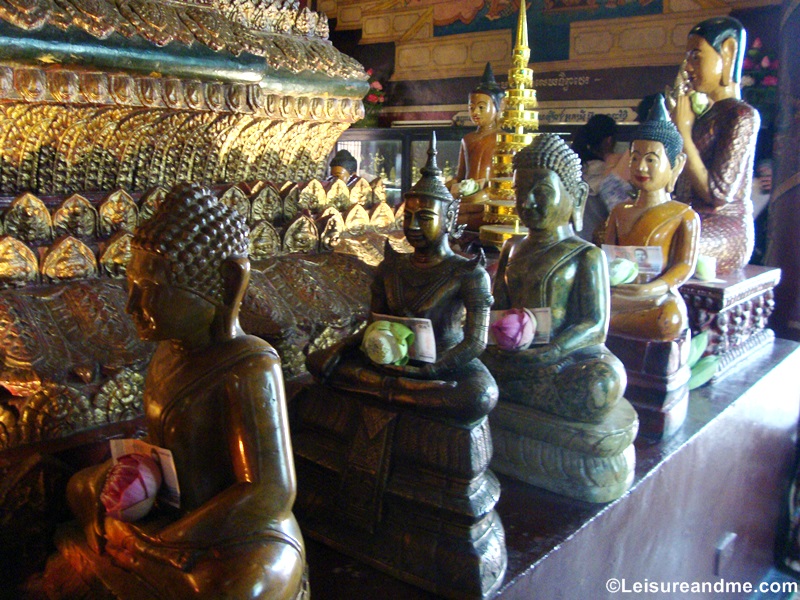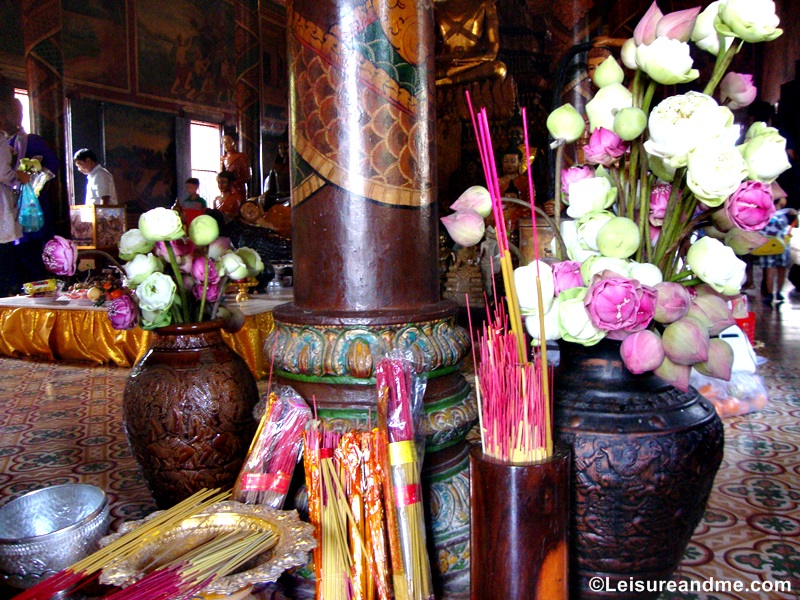 Outside the temple, there were people who sell incense sticks and flowers for those who visit Wat Phnom. There is also a Chinese Shrine in one level of the hilly area. Other than that, we also found some souvenir shops in one side of the temple premises making it easy to buy some memorable things from Phnom Penh visit.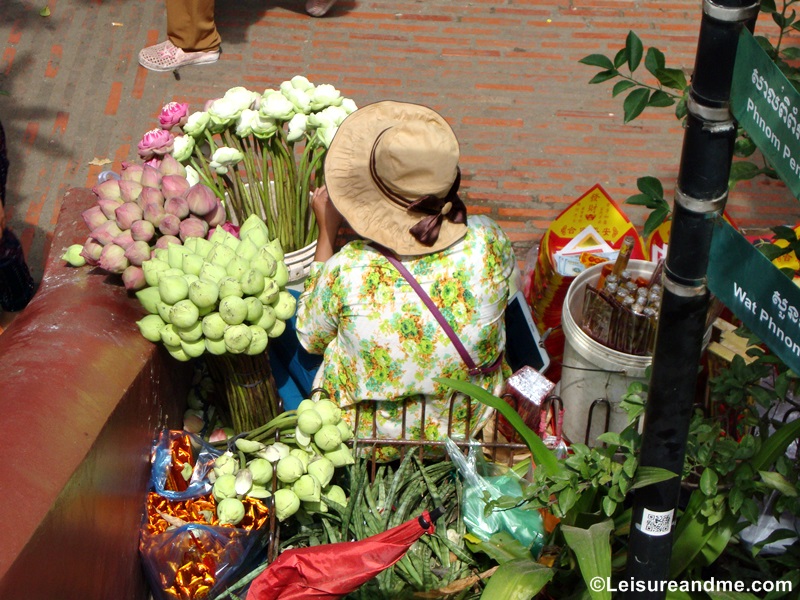 We did not spend much time in Wat Phnom as we had few other places to visit during the day.Sadly it was our last day in Phnom Penh. However, Wat Phnom is a really attractive temple in Phnom Penh which you must see if you visit Cambodia's capital!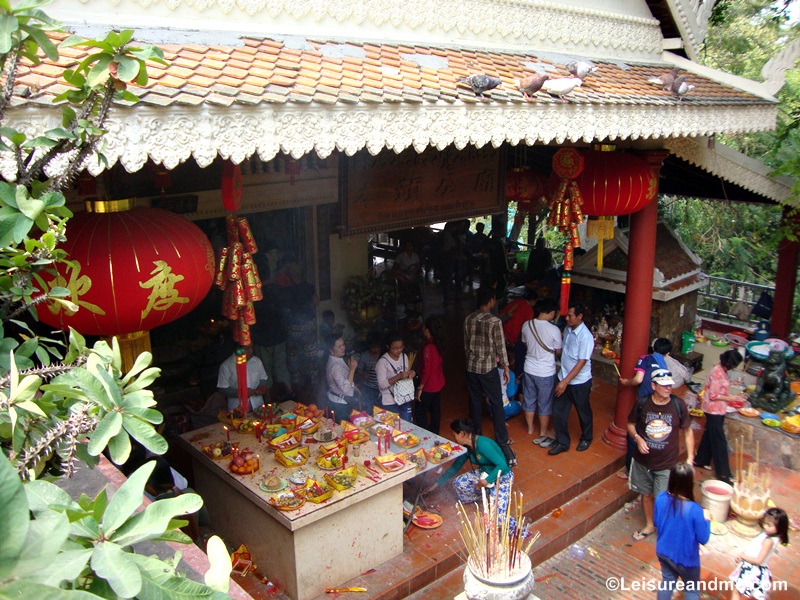 Important information to visit Wat Phnom
Admission fee for Wat Phnom : 1 USD for adults. As I remember kids can enter free. (Entrance fee is for foreigners only, this is considered as a contribution for the temple)
How to reach Wat Phnom : You can reach Wat Phnom by hiring a Tuk Tuk. Usual Tuk Tuk rate to reach places around the city is around 3-4 USD.
Central Market of Phnom Penh is very near to Wat Phnom. So, you can plan your itinerary with these attractions including a city tour around Phnom Penh.
If you need a guide, most of the Tuk Tuk drivers work as guides too.
Wat Phnom dress code: Dress properly as this is a Buddhist temple in Cambodia. Check these tips about visiting a Buddhist temple.
Morning is the best time to visit this temple to avoid the heat of the sun.
Wat Phnom Opening hours: 07:30 AM – 05:00 PM
Time required visiting the temple grounds and attractions: You need at least 1-1.5 hour to spend in this temple
Safety : Phnom Penh is safe if you know these safety tips to visit Phnom Penh.
Have you been to Wat Phnom temple before? Or have you been to Cambodia? Please share your thoughts below.