Accommodation plays a major part in any trip. With comfortable accommodation, you will sure enjoy your holiday. It was same for us when we were in Phnom Penh few weeks ago. We were lucky to spend 3 comfortable nights at Frangipani Royal Palace Hotel Phnom Penh with our 3 years old son. Why I mentioned about the kid? Parents who travel with kids know why your accommodation should be kids friendly when you travel with kids. When the kid enjoys the place, parents automatically get the comfortable and relaxing holiday experience. I guess I am correct!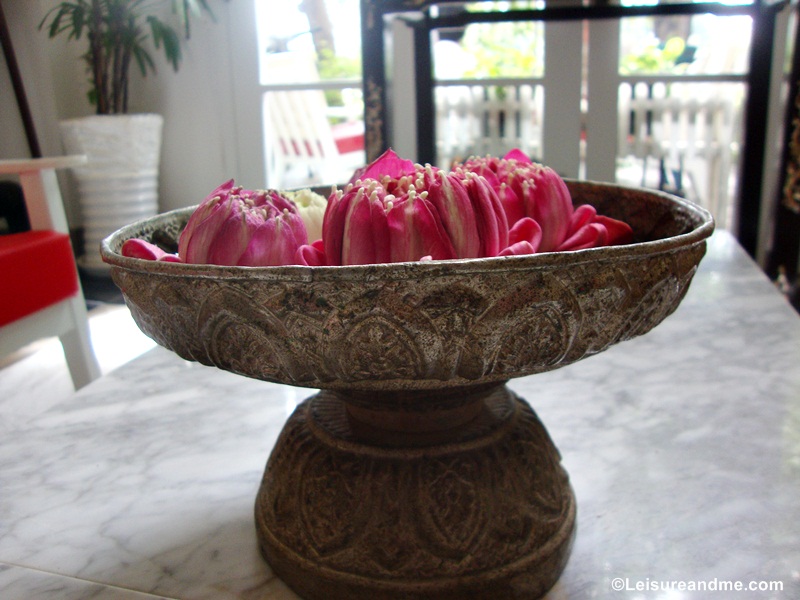 Well.it was another holiday and we planned to visit Cambodia. As mentioned in our Phnom Penh itinerary, we spent 3 nights in Phnom Penh visiting the major attractions. As Frangipani Royal Palace Hotel is strategically located near most of the major attractions in Phnom Penh, we could easily visit those places daily without getting much tired or without wanting to travel much distance.
Where to stay in Phnom Penh?
Where to stay in Phnom Penh?This was our one of the first concerns at the time we were planning our Phnom Penh holiday.Among the many hotels in Phnom Penh Cambodia,finally we decided to book Frangipani Royal Palace hotel based on the reviews and views of the rooms we found over the web.Our decision was not wrong.It is one of the best hotels phnom penh cambodia which is comfortable and cozy!
Our Stay in Delux Double Room of Frangipani Royal Palace Hotel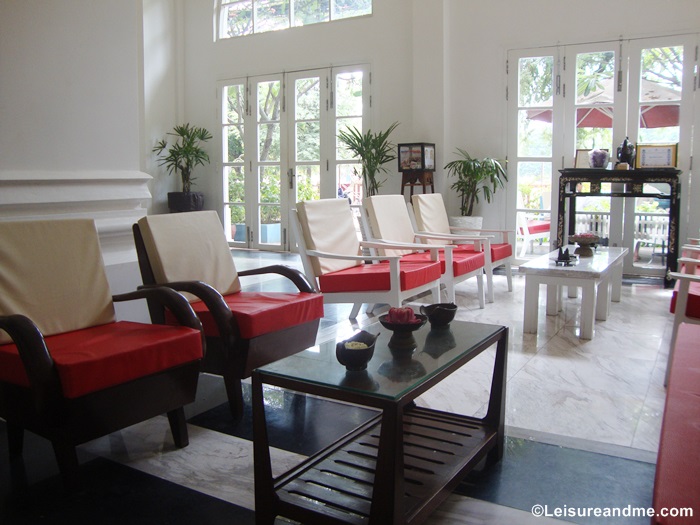 We booked our Phnom Penh accommodation through Agoda. However, as always we were in doubt until we saw the actual location. The day we entered into this hotel in Phnom Penh, I was truly amazed with the beautiful interior. That is my concern always. I always look for calm and relaxing spacious places to stay during any of our holidays. Then for my husband, it was the location and services. Yes, I check for such things too.
When we entered into the hotel, the staff greeted us and welcomed with a drink. That was really helpful to satisfy our thirst after few hours flying and travelling. Then the room! That's the exciting part for any holiday!
The Room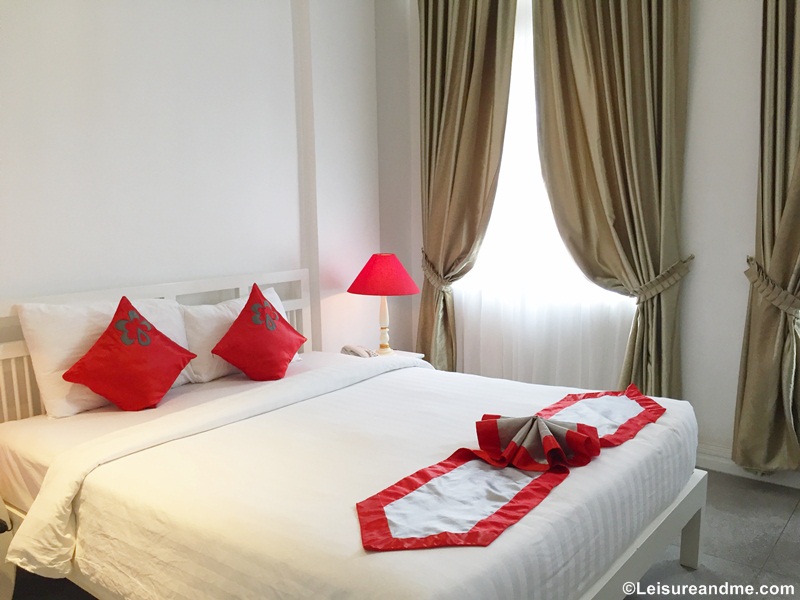 The room! Yes, it looked like Royal! The blend of red and white colours created the room a Royal appearance.it looked romantic and it looked energetic. At first sight I was attracted to it. And for our kid, it was a spacious room to run around.
Cleanliness was up to satisfied level. The bathroom in our room was clean, tidy and with pleasant look. The view from our room is just fantastic as it was faced to Wat Ounalom. I could watch sunrise early in the morning and beautiful city view with lights at the night time.
Check the current rates.
Food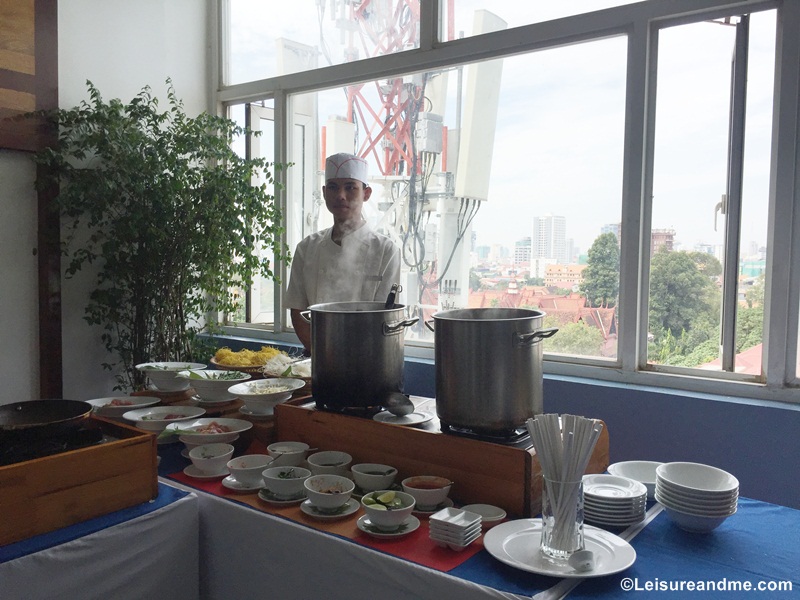 Our room rates came with breakfast. So we enjoyed breakfast from the hotel each day. The staff is really helpful and friendly. As my kid is talkative, he started talking with staff during these breakfast sessions making our trip memorable. 🙂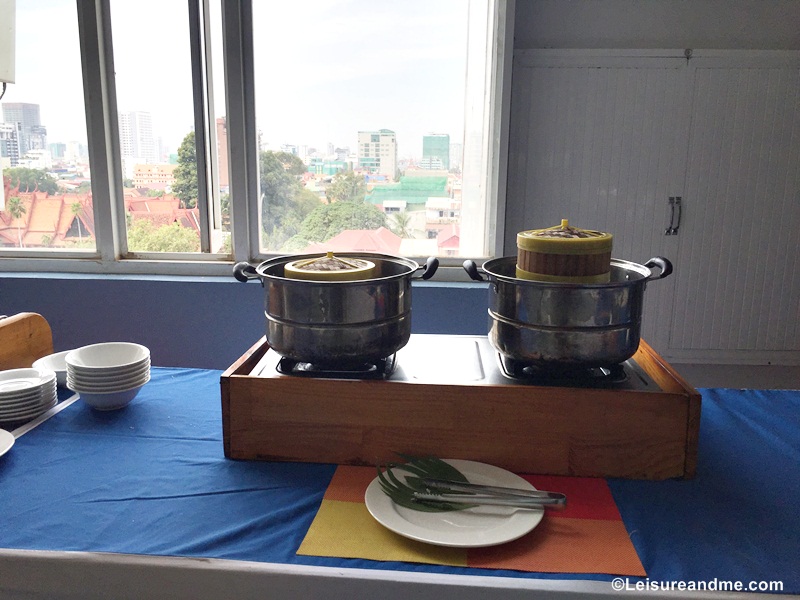 Breakfast Buffet was with different food choices including local food from Phnom Penh and other choices. Overall we are satisfied with our experience in Phnom Penh in Frangipani Royal Palace Hotel!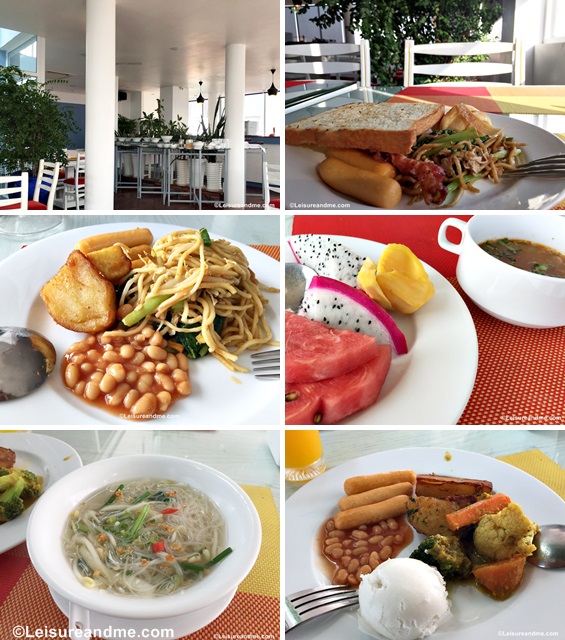 During our last night, we had dinner from the hotel restaurant. The restaurant at the roof top is excellent for having dinner with views of riverfront.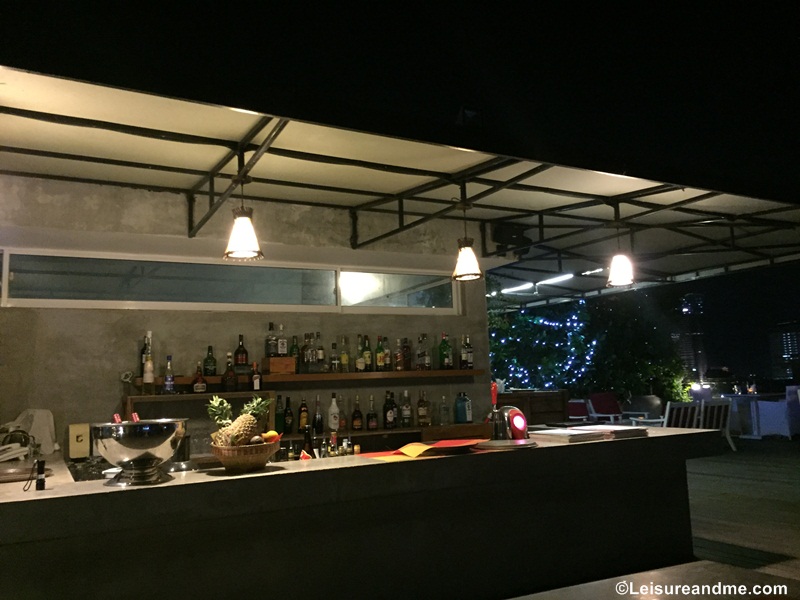 Location
If you visit Phnom Penh, this hotel is ideal to spend the night as it is located in walking distance to major attractions of Phnom Penh. The national Museum of Phnom Penh is less than 5 minutes' walk. The Royal Palace is also in around 6-7 minutes walking distance. Other nearby attractions include the Riverfront area and Wat Ounalom which is less than 10 minutes walking distance.
Other than these attractions, there are souvenir shops and other temples around the hotel area. We could hire Tuk Tuks easily whenever we visited the other attractions such as Wat Phnom. The cost for Tuk Tuk to other city areas was around $4 from this hotel.
Other facilities and services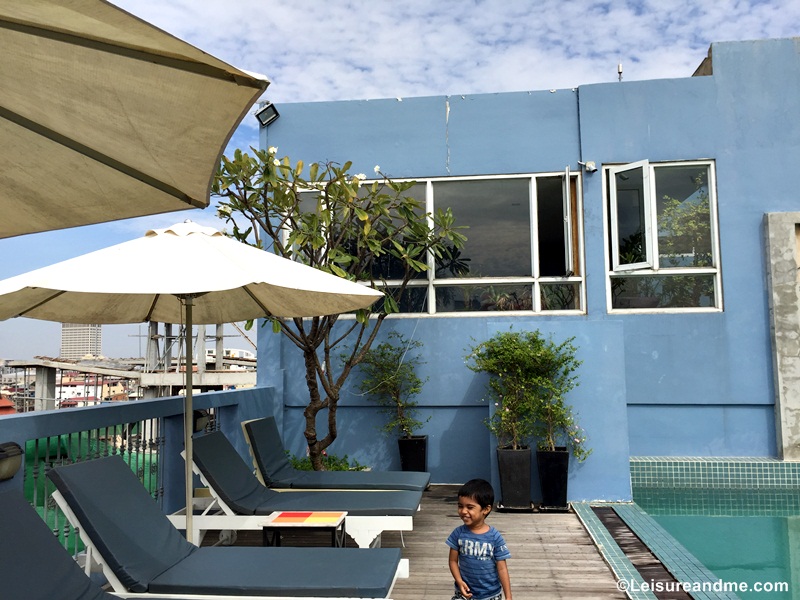 Frangipani Royal Palace Hotel is equipped with basic amenities which you look for in any comfortable hotel room. Other than that, this hotel is with a pool on roof top and also a spa.
We want to highlight the friendly staff. They were absolutely friendly and we were greeted with their best smile and service. This was our first time in Cambodia. So, this friendly staff gave us a hint of hospitality and friendliness of local Cambodian people. You will sure have memorable time there while talking with the staff during your stay if you visit Phnom Penh!
How to book Frangipani Royal Palace Hotel?
We booked our hotel room through Agoda.
You can also check Hoteltopia for the current rates.Check current rates of Frangipani Royal Palace Hotel.
This hotel is also available on AirBnb. Use this link to book and save up to $50 SGD travel credit.
Disclosure: We stayed at this hotel and we booked the room via Agoda.This review is based on our actual experiences and thoughts.Also this post contains affiliate links.