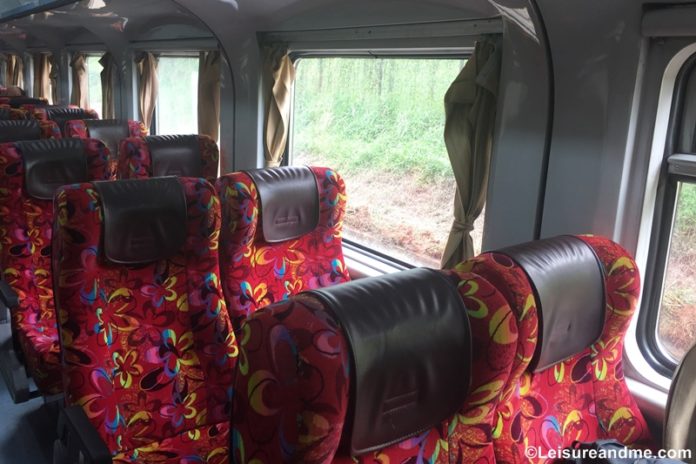 If you are looking for how to travel from Singapore to Johor Bahru by train,then this is a complete guide for you.In case even if you don't know that there is a train service exist from Singapore to Malaysia,read this travel guide.Then I am sure you will pack your bags and book train tickets for a short JB getaway or even for a one day Johor Bahru tour by train!
How can I go to JB by train?Is that your doubt now?Read further.
Traveling to Johor Bahru by train is quicker and easier than traveling by bus. JB or Johor Bahru is one of the popular destinations for a quick getaway for most of the Singaporeans and Singapore residents. It is same with us too. We travel JB frequently, however most of the time we took bus to reach JB which is time consuming. In our recent trips we booked train in advance and reached Johor Bahru easily and quickly without much hassle. Based on our experience, here is how to travel Johor Bahru by train from Singapore including our travel tips.
How to Travel from Singapore to Johor Bahru by Train?
Traveling to Johor Bahru from Singapore is now easier and quicker when you plan your journey via train. Otherwise you need to take a bus, face the causeway jam and wait in a long immigration queue. However, ever since Malaysia's national train operator, KTM, started operating the train between JB and woodlands, traveling between Singapore and Malaysia have become much easier.
Now, you just have to board a train from Singapore (Woodlands Train Checkpoint) and you will arrive at your destination, Johor Bahru(JB Sentral ) within half an hour.
The ride itself will take about 5 mins. However, the total journey will take longer due to immigration checks.
Still, since the train immigration checkpoint is different from that of the bus immigration checkpoint, the whole process will be completed a lot faster. Good thing is that you will clear immigration for both Singapore and Malaysia at the counters located in Woodlands train checkpoint before your board in to the train. It is hassle free and really fast.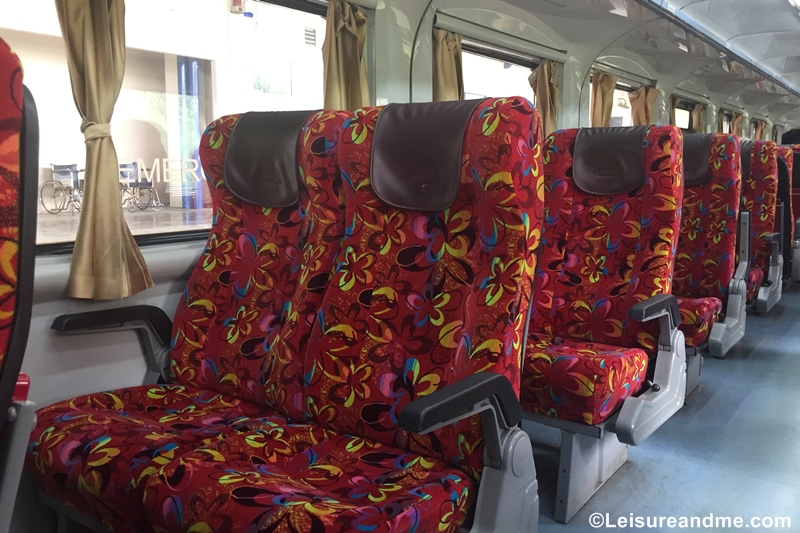 So, even if you are not a Singapore resident but travel Singapore for a holiday, plan a day trip to visit the incredible state of Johor Bahru, Malaysia.Or even you can plan to visit Malaysia other places via Singapore.
How to take train to Johor Bahru from Singapore?
Follow the steps given below in order to travel to Johor Bahru from Singapore via train –
Step 1 : Book your tickets
You can buy your tickets from the Woodlands Train Checkpoint counter. It will cost you S$5 per ticket. Alternatively, you can buy your tickets from the official KTM website.
With our experience, we strongly recommend you to buy tickets in advance using EasyBook.com as most of the time train tickets are fully sold or available train timing is at night time or evening which is not useful for 1 day short trips to JB. You can buy train tickets to JB 1 month in advance. Therefore if your travel dates to JB, Malaysia are fixed, book your tickets earlier. Be sure to buy your return tickets as well.
However even if you don't have fixed travel dates,visit EasyBook.com and check the available train timings to JB from Singapore.

Given below are the easy steps you can take to book your train tickets online.
Visit EasyBook.com and create an account.
Then choose the train tickets from the home page.
After that you have to insert the destination details.
If you are a tourist to Singapore,then I know you may have doubts about locations to enter.
Under origin, select Singapore(Woodlands CIQ) and under destination, select Johor(JB Sentral).
Confirm your departure date and time.
Then, select your train and type in your personal details as written in your IC/passport.
Choose your seats without any hesitation as it is free seating arrangement.
Select your desired payment gateway and pay for it.
Once the payment is confirmed, you can print out a hard copy of your ticket or save a soft copy on your mobile.
Step 2 : Reach the checkpoint and clear immigration
On your traveling date,you have to reach Woodlands train check point before the departure.
Remember you need to clear immigration for both Singapore and Malaysia before you board on the train. Therefore it is essential to reach Woodlands Train check point at least 30 minutes before the train departure.
If you take public transport to reach Woodlands train check point, it is few bus stops away from Marsiling MRT.
How to reach Woodlands train check point from Marsiling?
Take the MRT to Marsiling station and then cross the road. Then, hop on bus 856. Three stops later, you will arrive at the Woodlands Train Checkpoint.

Once you are at the Woodlands train check point, the next step is to go to the KTM ticket office on the ground floor to validate your online ticket booking. You can validate your ticket by showing a soft copy of your ticket too. Once you successfully validate your ticket and exchange to your boarding ticket, head on to level 2 and wait for the boarding gates to open. (or head on to the boarding area by following the directions at the train check point).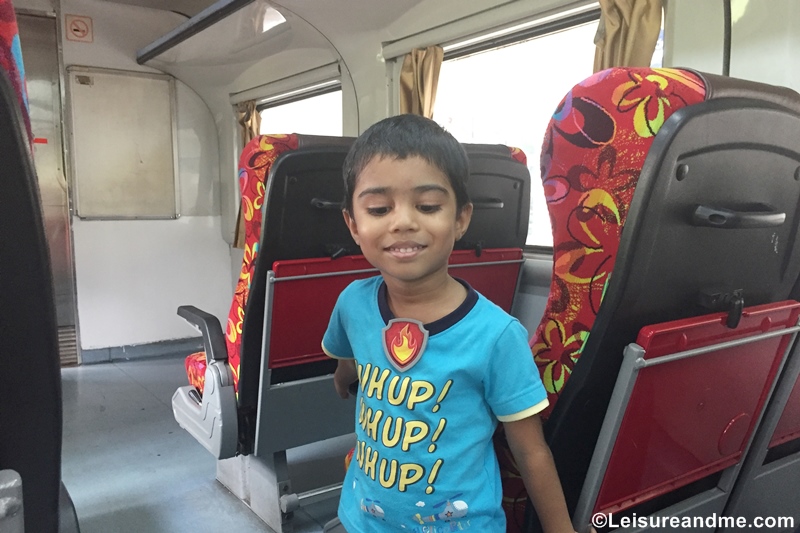 Step 3 : Board the train and enjoy your ride
Once you clear the immigration, just board the train. You can choose any seat you like as it is a free seating arrangement. Enjoy your 5-minute ride to JB Sentral and get off the train. Now, you can explore Johor Bahru to your heart's content.
Singapore to JB by Train : Our experience and Review
With our travel experiences from Singapore to JB by train,we must say that it is faster than traveling by bus.When you travel by train you will clear custom and immigration requirements before boarding to the train.There is no further immigration clearing once you alight at the JB Sentral train station.Compared to the long queues for custom clearance at Woodlands checkpoint and Kotaraya immigration check point when you travel by bus ,we found train travel is much easier and faster.We never found a long queue for our clearances and it was hassle free.
Other than that,the train is comfortable enough to travel to JB.It only took 5 minutes to reach the Johor Bahru train station.If you travel with kids,this train journey is a good experience for them.Our kid enjoyed watching green views outside the windows during the short journey.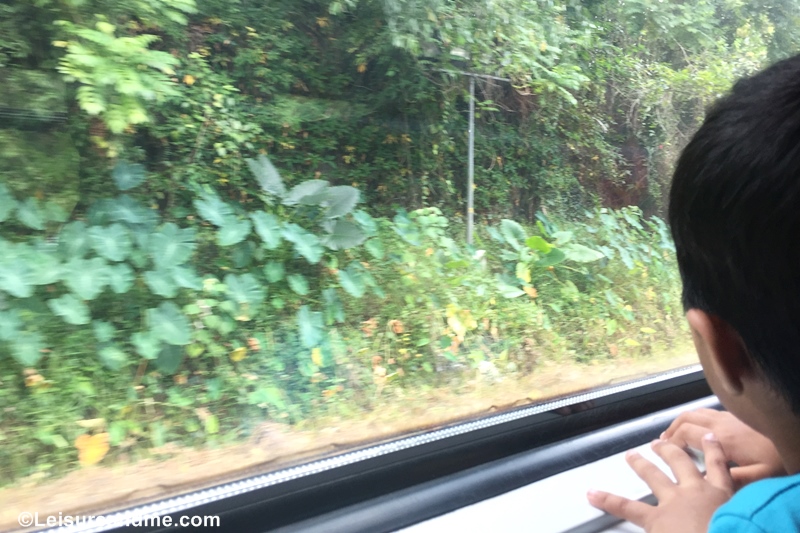 There is one downside of this train journey.That is you have to book your tickets in advance in order to book an early train in case if you plan one day JB tour.For quick decided trips,you may not find the trains as most of the time trains are fully booked.
However,overall train journey from Singapore to JB is enjoyable,fast and comfortable experience for us.
Travel Tips when you take train to JB from Singapore: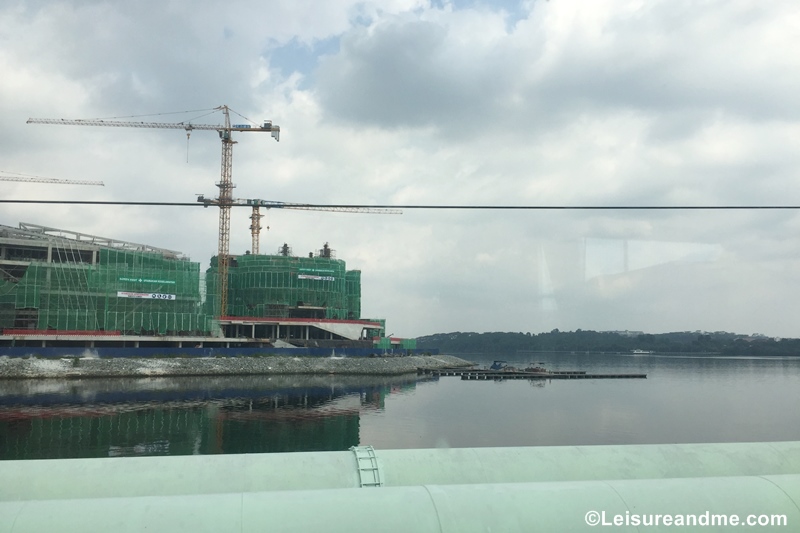 Be sure to book your train tickets online and in advance.
Be sure to be present at least 30 minutes before the train arrival time as it will take some time to clear immigration on both sides. Yes, you will clear both Singapore and Malaysia immigration before you board the train.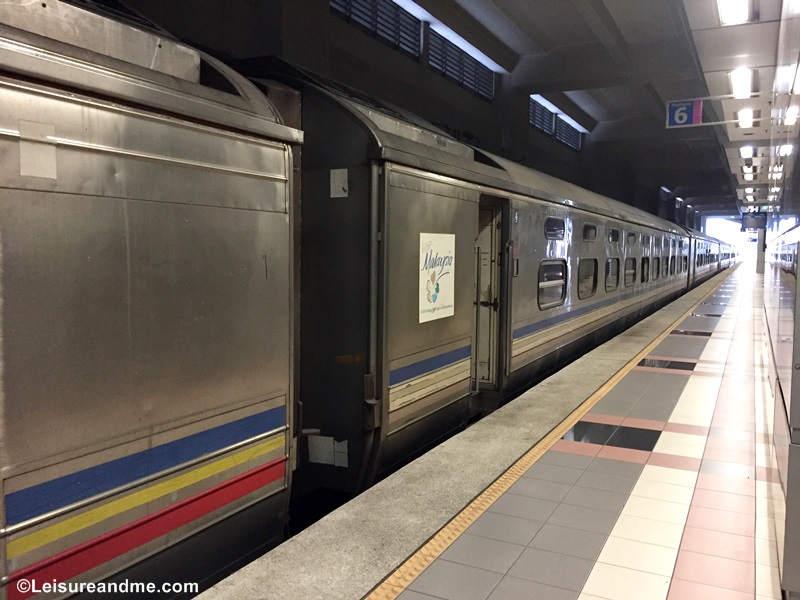 You will reach JB in around 5 minutes.Traveling time is much faster than time for other procedures.
Have you been to Johor Bahru, Malaysia before?If so,please share your thoughts and experience.