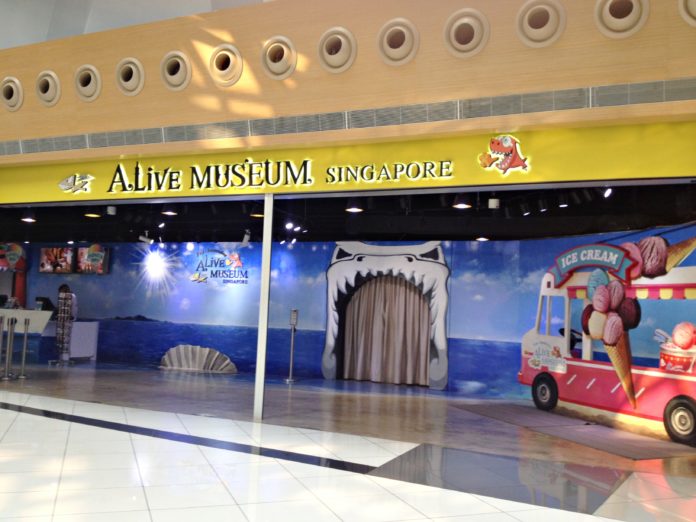 Alive Museum is our recent wonderful experience with Singapore attractions and I have lot of photos to share. Although these photos look fun, Singapore Alive Museum is not a place just for capturing beautiful and funny moments with amazing 4D arts. Instead, spend time to admire those artists and their creativity. So, you will have more memorable time than just taking pictures.
I just wanted to share that because I saw some comments across the web saying that Alive Museum is not worth a visit comparing the ticket prices. Well , with our experience, we really love each and every minute we spent at the Alive Museum.
But, if you only consider Alive Museum as a place to take photographs, you may end up with boring few hours inside the museum. Just imagine taking photos and posing with each and every art pieces there! Actually at the end, I was not so amazed with such routine.
But, when we started admiring the artwork and creativity, we could find lot of many ways to spend our time there with memorable experience. Instead of just using the photo points shown in front of the artworks, we also tried different angles and different poses which finally gave us some memorable photo moments.
Some 3D artworks are really amazing and those could take us to a dream world. I specially like the Live. Laugh. Love zone as that area is full of lovely art.
Overall our experience there was good and amazing. If you wish to visit there, avoid the crowd. When we were there, it was not much crowded, so we could capture moments freely without disturbance.
If you have few hours in your Singapore tour, don't forget to add Alive Museum to your Things to do in Singapore list! You need around 2 hours to cover the Alive Museum leisurely.
Location:
3 Temasek Boulevard, #03-372 Suntec City Mall Tower 4, Suntec City, 038983
Opening Hours:
Opens daily from 10am to 10pm (last admission at 9pm)
Promo code for Alive Museum discounted tickets
Currently there is a promotion going on. This would be a great promotion price for you to visit Alive Museum. Use this link and enjoy 40% off from your tickets.(for a limited period only)
Note: Please check the Alive Museum website before you visit. The museum may be closed for private events.
Do you have any photo story to share this week? I still have more photos from Alive Museum, so still my stories are about our amazing experience there!
Disclaimer: We received tickets to visit the Alive Museum.
Save
Save