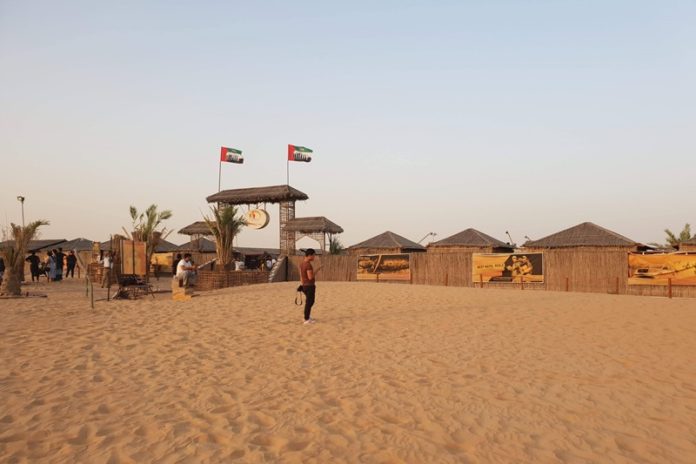 Our recent trip to Dubai is the best mini vacation that we have ever had. We managed to squeeze in as much as we can on this four-day vacation from dining at the imposing Burj Al Arab and spending a whole day at Dubai Parks and Resorts to visiting Abu Dhabi's Louvre Museum and Sheik Zayed Mosque. But what really comes into the mind when I think about my Dubai vacation is our desert journey which was altogether a surprise package.
I have always been fond of exciting stories and movies themed around desert landscape, and my excitement knew no bounds when I got to experience the desert in real and first-hand. Al though I have seen numerous images and videos of desert, seeing its beauty up close and on a grand scale was absolutely indescribable! It was my first ever visit to a desert and am elated that we returned with so much of fond memories to cherish for an entire lifetime. I can still feel the desert's arid breeze sheer silence and striking magnificence.
It all started with a pick up from our hotel!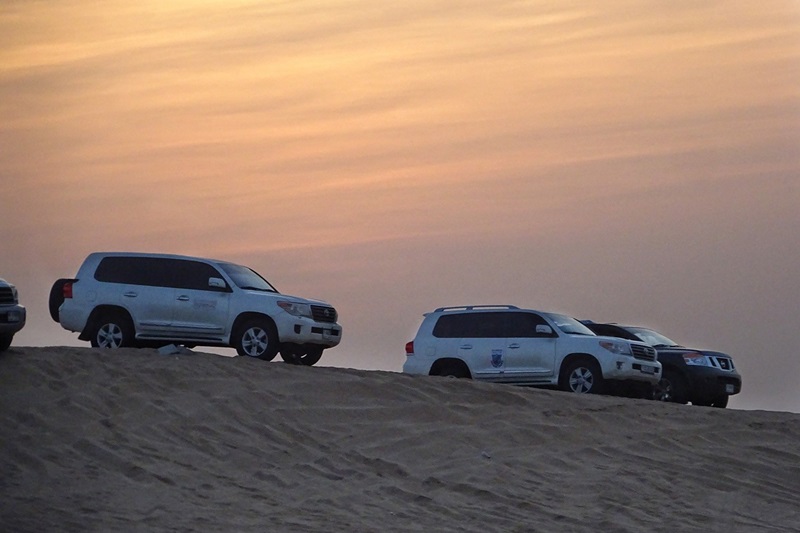 As it was a quick getaway, we contacted a tour company Rayna Tours to organize this experience right from start to end. The choice was made based on the heap of reviews which it received on TripAdvisor. It seems that company has quite a decent track record of arranging diverse desert tours and we find their services both efficient and reasonable. With different transfer options to choose from, we opted for the shared transfer for two of us which directly impacted the total amount of our evening desert safari. Barring a bearable 10 to 15 minutes delay, our trip to Dubai's Al Awir desert region was otherwise hiccup-free. As the crop of glitzy structures began to fade away from the sight, the beauty of the desert landscape became more prominent and wider. It took approximately 40 to 45 minutes from our pick up point to reach the spot.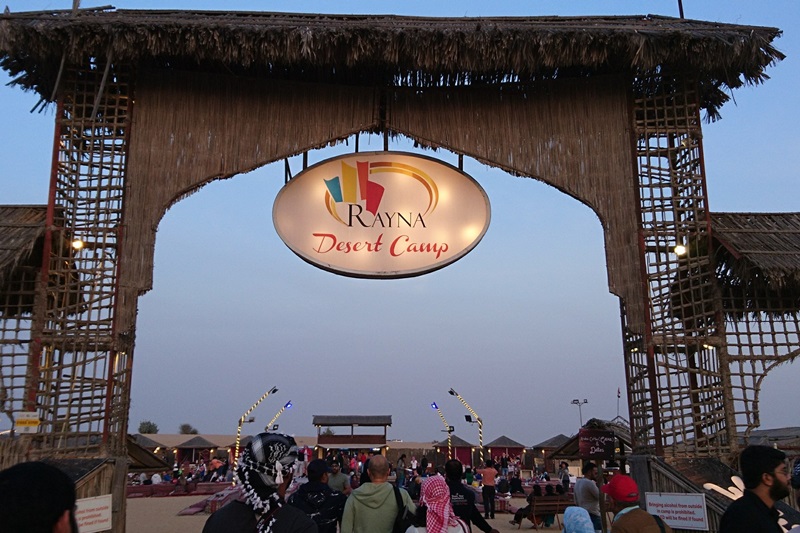 The Real Adventure Begins….
Arriving at the desert, we were introduced to a friendly guide who assured us of safe and professional services throughout. A quick look at the mindblowing desert settings and there we're ready for the adventure of a lifetime. We hopped on to a 4X4 vehicle for the dune bash session. We have already been warned that this is going to be the exhilarating ever drive. But we didn't expect that going completely off-road would be this magical as well J Skimming through the deep lows and extraordinary high golden sands was an overwhelmingly thrilling experience.
We held on tightly as the drive across the endless sand dunes became intense. We even felt at one point the giant vehicle will lose its control, kudos to our skilled driver who ensured that we're well in control and nothing to worry about. Full of stomach churning twists and turns, the experience can be well compared to a theme park roller coaster ride. But this ride which lasted for about 45 minutes was not all about confining into the car or screaming or laughing loud, thanks to brief stops along the way.
And the most exciting stop was to capture the incomparable desert sunset views.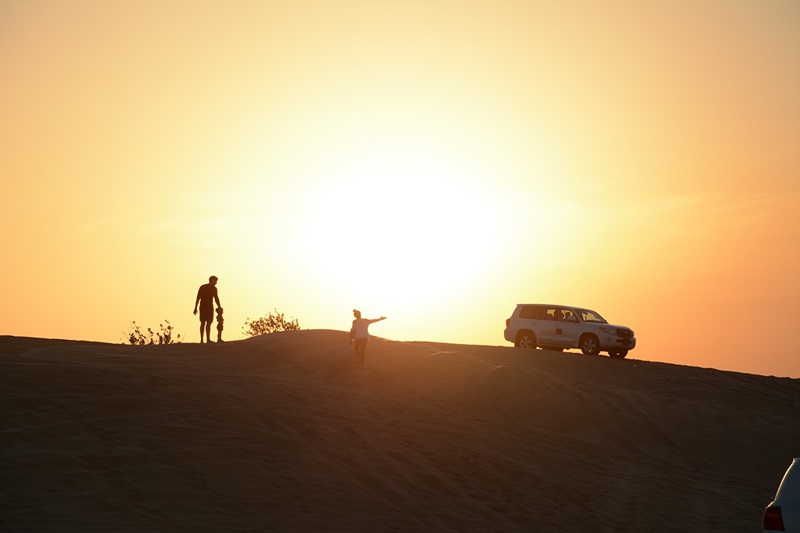 Besides a brief stopover to deflate tires, we were able to step outside and sink in the imposing desert sunset views. With the seas of sands glowing in rose tinted background and the sky washed with a mix of purplish white and golden clouds, it is quite an unequaled experience to be in Dubai's desert at dusk. And we almost crammed our phone / camera in an attempt to capture the perfect desert sunset image. It's sad that none of them did justice to its actual splendor and we moved on pacifying ourselves that at least we got to see this phenomenal sight in real 😉 For most of us, it was also a fun stopover as we skipped and slid down the high dunes. And the kids in our group were in total awe and delight as they gathered handful of finely powdered sands and let them sieve through their tiny little fingers:*
To the Campsite
The sun had almost sunk in when we hopped back to the vehicle and reached the campsite. Somewhere deep inside the desert, this part of our desert safari blissfully disconnected us from the rest of the world. The Bedouin style camp with its down to earth settings and low lying furnishings painted a world away from the contemporary world, so classic simple and unpretentious!!! It's true that we were badly hit by nausea after all fun and thrill on sands but we soon sprang back to action with all those exotic activities on offer in the camp. As a bonus there was ample supply of complimentary refreshments. Some in our group headed straight to the alcohol serving counter but it seemed they paid for it from their pockets only.
More amusement and adventure….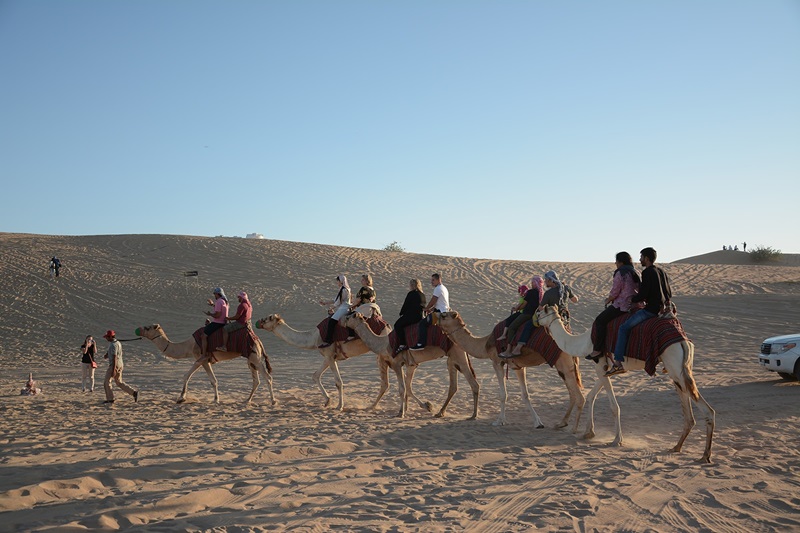 For me the most exciting part was mounting a camel. It was my first ever camel ride and I was all imagining about how the life would have been for ancient settlers when these creatures were the only source of transport and of course food, milk etc then. With just sand and only sand all around, this was something really extraordinary though not exactly a long ride. We next headed to capture some souvenir snaps wearing traditional long free flowing Arabic costumes.  This was followed by garnishing my hands with henna designs; it was intricate but very stunning! Then again came the step back moment when we settled down in the smoking area to try Shisha.
Dining Session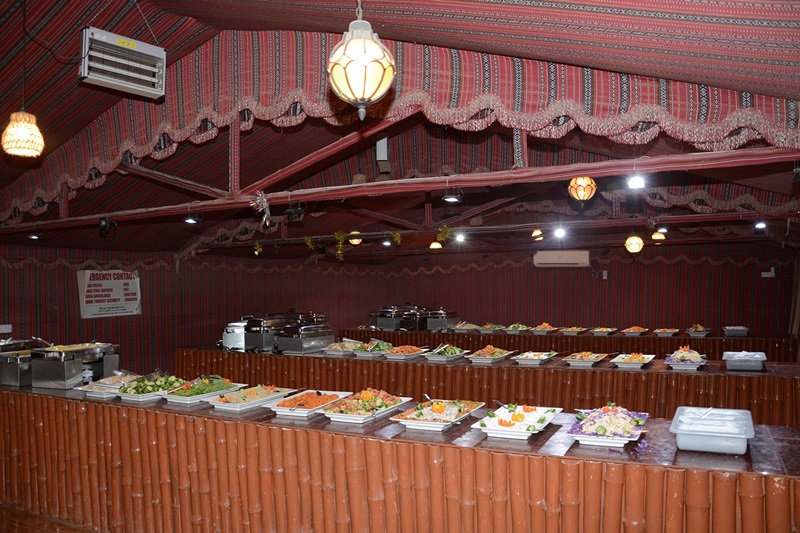 Dining under the desert sky was awesome. There was almost everything to fill up our palate. Arabic bread, Shawarma, kebabs, falafel, raitha, hummus, tabbulah argula, umm ali (one of my favorites) ….well, I don't remember all dish names although the menu was not all about typical Arabic delicacies. From Russian salad and pizza to samosas, it was rather an international menu covering a variety of starters, salads, grilled items, spicy main course dishes along with different types of desserts and pastries. Most of them (sweet specialties in particular) were seriously yum.
 Entertainment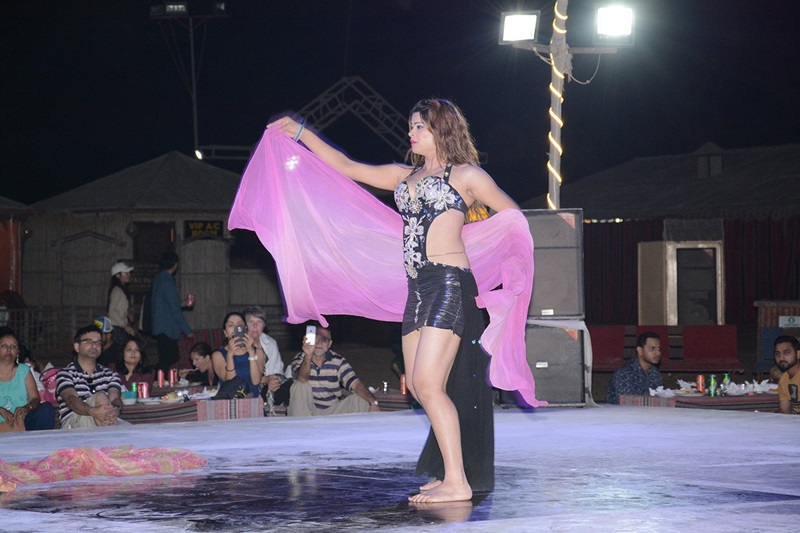 Post dining, we sat down to take in some traditional performances and this surpassed our expectations. The mesmerizing body movements by the gorgeous Lebanese belly dancer left the viewers (mainly men ;)) in absolute awe. But what captivated me was the dizzyingly dervish movements by the Tanura performer. Dressed in vibrantly lighted costumes, he was amazingly effortless despite the astonishingly complicated steps and even invited us to join him along. Some did but retreated to the seats soon after trying their best to swirl and maintain the balance.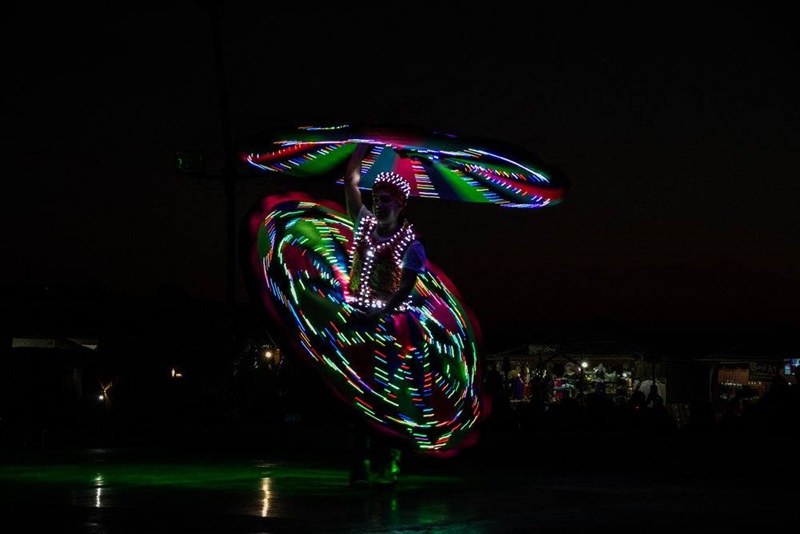 Finally, off to the reality of modern world
Amidst all insanely wild fun and entertainment, we didn't even know that it's time to leave. The return trip to our pick up point was hassle-free though it was difficult to get over the astounding simplicity of Dubai's desert and interesting Bedouin culture. Yes, the desert safari was greatly amazing and I rate this among the best experiences we got to enjoy in Dubai. I am sure that if we had enough time, we would have happily spent the whole night under the desert stars. But no worries, I have saved this for our next trip to Dubai 🙂