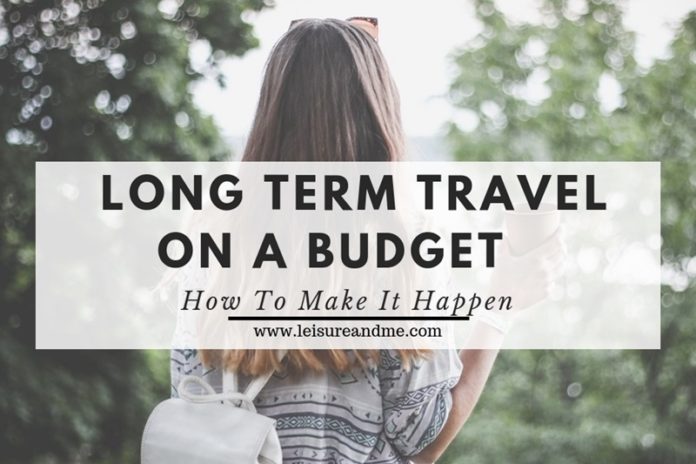 We all know travel can be an expensive venture. In fact, Americans spend an average of $6, 080 on a single trip, SquareMouth reveals. Without unlimited funds, you may be thinking long term travel isn't possible. But nothing could be further from the truth! Whether you plan to live off savings or work on-the-road, long term travel is well within your reach. By keeping a proactive mindset and setting a realistic budget, you can make long term travel happen.
Changing your attitude
Budget travel is possible as long as you have a positive can-do attitude. Embrace making sacrifices to stretch your budget. Hostels and budget hotels can cost as little as $25 per night compared to $150 in a luxury hotel. Use budget airlines and pack light to lower baggage costs. Home-cooking —  or sampling the street food — is cheaper than eating out. Walk or take the bus or subway instead of trains and taxis. Research free activities wherever you are; there's some in every city!
Sticking to budget
Setting a budget for long term travel can be difficult. It depends on your personal finances and country you're staying in. You may want to prioritize visiting cheaper countries. Thailand, Egypt, and Mexico are just some of the countries you can live in for $30 a day. When setting a budget, a good rule of thumb is to multiple the average cost of accommodation in your country and multiply that by three to cover other expenses — or by two if you're frugal. Avoid using credit cards because it's easy to accidentally overspend. Rather, check your bank account everyday to stay on track, Crediful.com advises. If you have debt to pay off, make sure you're still budgeting to make these payments.
Funding your travels
If you have enough savings, quit your job to travel long term. If you want to return to your job eventually, explain to your employer the skills you aim to develop — communication, language, or volunteering, for example — and how they'll help you in your role upon return. You may have the opportunity to take an extended leave of absence, possibly even paid. Alternatively, you can work while traveling. You could freelance, teach English — you can make anywhere between $1000 – $5000 a month depending on the country — or volunteer for organizations that provide room and board.
Lastly, always have emergency savings — even just $400 can help. You never know what life is going to throw at you and it's essential to have money to cover surprise expenses. As long as you're careful sticking to budget, your money will see you through the whole trip.