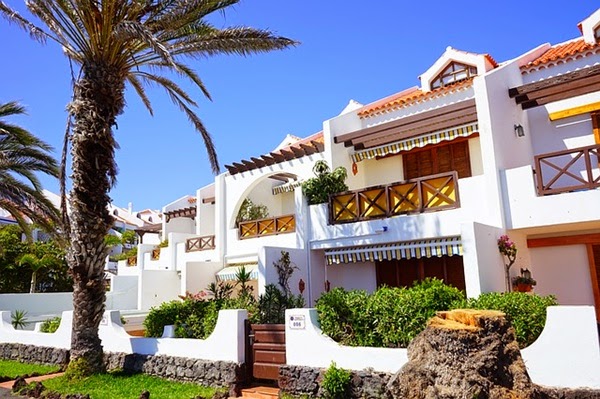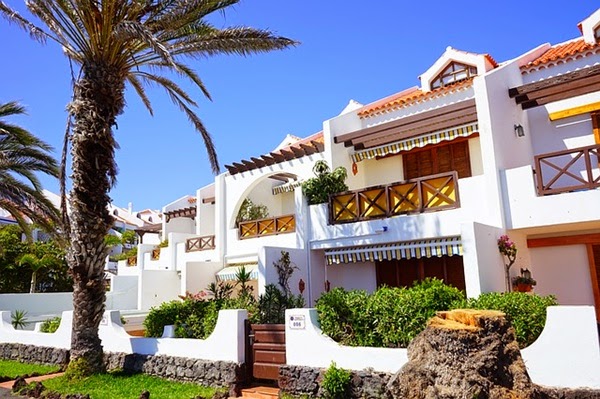 When
planning a trip to any destination, it is essential to book hotels, flights and
other related things like rental cars, transport from the airport to the hotel
in advance. Unlike earlier, nowadays it is really easy because of the online
booking facilities. With many such kind of booking sites, we are able to do
most of our travel planning from home or even while travelling. As last minute
trip planners, we always arranged our trips because of the online booking
facilities. Even just one day before the tour, we were able to confirm our
bookings and plan the trip.
However,
it is important to have facilities like compare airfares before booking any
flight. In this way anyone can find cheap flights for a reasonable rate. It is
same with booking a hotel. If we can compare the prices from different booking
sites, it will ease our decision. Not only the rates, it is also important to
see the facilities that specific hotel offers before any booking. Nowadays
online hotels are popular due to the easiness of the booking that they offer.
Usually
I check the price of the hotel room from their direct website and then compare
the rates with other hotel booking sites.However,EZtotravel.com is a site that
offers the facility of comparing many hotels at the same time including the
different rates from different sites.
Best
Deals on Flights
EZtotravel.com
is a solution to find best flight deals and it saves time on comparing rates
from different booking sites. With one click, it saves time and simplifies the aspect
s of flying by giving easy option to book flights.
Hotel
deals
Interestingly,
with EZtotravel.com, you can see pictures and facilities they provide for the
hotel rooms including other details like distance to nearby location etc. You
are able to see the details before the hotel booking. Just like the flight deals, they
provide an "all under one roof" service for the best hotel deals and options
with a detailed database.
Below
is my experience with EZto travel.com when booking a hotel.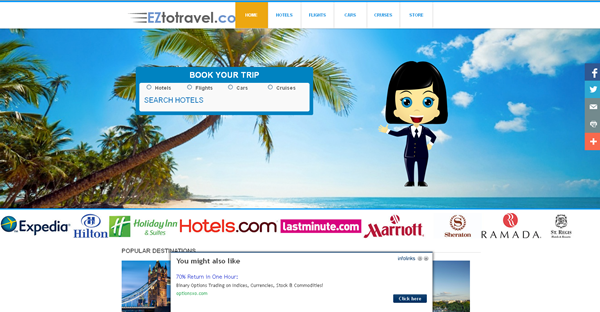 Then
select your requirement whether it is a hotel, flight, cars or cruises.
I
selected hotels.
Then selected my destination
as Malaysia and set the other details.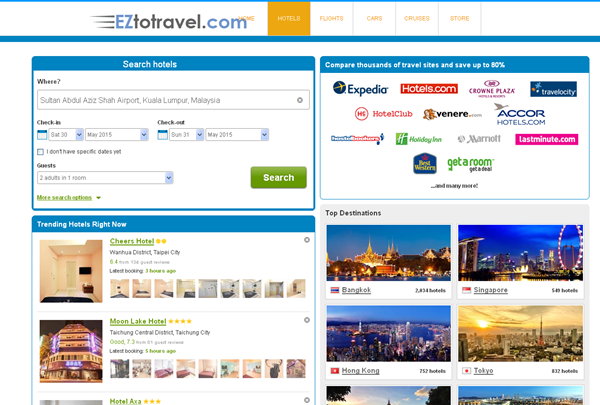 Do you see the result? It
gives me available hotels of the location with rates from different sites.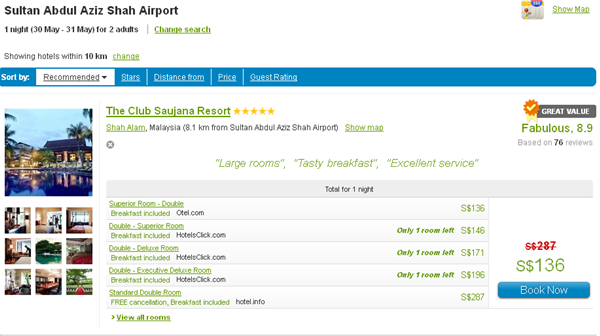 I
only need to select the preferred hotel and the site to book the hotel. Then it
will go to the relevant booking site.
This is an easy option to make a decision,isn't it?
Car Rentals and Cruises
In addition to the facility
they provide for hotel booking and flights, this fabulous site also provide the
facility to book car rentals and cruises online. If you have any choice for one
of these things, it is simply a visit to EZto travel.com and you will get all
these booking facilities under one roof.
If you are planning a trip, then
visit www.eztotravel.com and see the easiness they offer for the travellers to
plan their next holiday or the business trip.From this site,you will also able to buy travel accessories for a reasonable price.Then why wait?Please have a look!