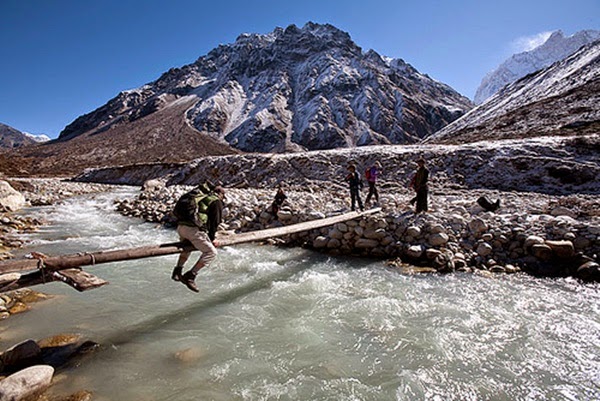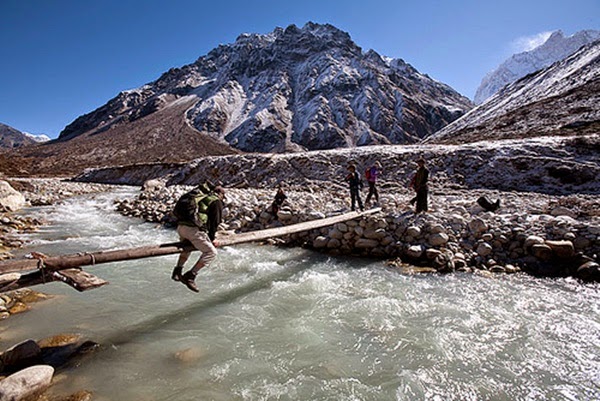 Being a hiker and trekker from Nepal,
I had accomplished most of trekking trails. Kanchenjunga Trek was my recent
adventure on 2014. Almost a month long trek had taught me several new
experiences. On this topic I would like to contrast Kanchenjunga Trek with other
mainstream trekking in Nepal. No doubt it is a strenuous trek in Nepal.
Previous mountaineering experience is recommended for this trek though not
mandatory. You won't encounter higher elevation like Kalapatthar, as the
maximum elevated point is less than 5300 m from sea level.
Approach to Kanchenjunga Base Camp
Being located on isolated eastern part
of Nepal, approach to Kanchenjunga is not that easy. Your first option is to
take two successive flights from Kathmandu to start point of trek. First phase
of flight involve from Kathmandu to Biratnagar. From Biratnagar you need to
take flight via small twin otter to Suketar. Another option is to drive from
Kathmandu all the way to Suketar. You have to spend minimum of two days for
drive options, two whole days. Best idea I recommend it take a flight from
Kathmandu to Biratnagar or Birtamod and drive to Taplejung.
Kanchenjunga Trekking Trail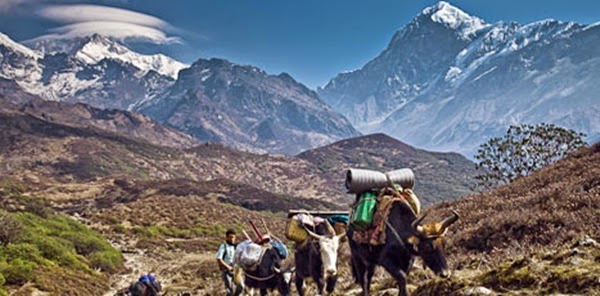 On the lower part of Kanchenjunga you
can find good stable marked trail. It will passes mostly through terraced
fields and settlement of locals. Where as onward from Ghunsa on Kanchenjunga
North trail is highly unstable. Frequent landslides might result on change of
trail at instant. Sele Le area is accompanied by dense forest. Because of this
nature trail is not on your favor. Good ankle boots are most and taking a
walking pole with you is a good idea. Since you can't trek on your own there
will be guide to assist you on finding trail. Sometimes even guide can't figure
out the trail. It happened during monsoon and winter.
Teahouses on Kanchenjunga Trekking Trail
Unlike other mainstream trek here in
Kanchenjunga teahouses is something different. You won't get high standard
guesthouses. Teahouses are very basic. On most the places you can go for
homestay. Teahouses on Kambachen, Lhonak, Pangpema and Ramche there exists only
seasonal stone huts. Don't expect separate kitchen, separate dinning and rooms.
You need to adjust on smoky huts. Share big bunkroom. Better carry a tent and
small mattress. Especially when teahouses is overcrowded or smoky you can just set
your tent and go for tranquil night.
Communication options from Kanchenjunga trail
Local network sim cards won't work
there. Hardly up to first two or three days occasionally you might receive
signals. Onward from there you will be isolated. I have found CDMA networks
works pretty well there. Better get a CDMA phone instead of expensive satellite
phones. On major villages like Ghunsa and Yamphuding you can get V-SAT
telephone. Nepal wireless team in coordination with Mahabir Pun are researching
to setup wireless Internet on the region. One of the most successful projects
carried out by team is wireless Internet on Manaslu and Annapurna. Hope pretty
soon trekkers can enjoy WIFI on Kanchenjunga Himalayas.
Available foods during Kanchenjunga Trek
Dal Bhat Power 24 Hours!
In most of the place there wasn't any
menu available when I was there on 2014. Food was mostly Dal Bhat, boiled
potato, fried rice and noodles. You will hardly get pasta and pizza on the
trail. In some places on request pizza were available. For food Ghunsa was best at least my
experience was good. You can have wide variety of menus. Good food and cozy
lodges make your stay in Ghunsa more comfortable. I wish similar to Namche
Bazar on Everest Trail there should be some pubs and pool house on Ghunsa. It
would be great to hang around especially during acclimatization day in Ghunsa. Pay
high attention to your hygiene. Keep your hand clean, use hand sanitizer when
possible.
Kanchenjunga Trek Information Websites | Blog
Personally I haven't found any good
blogs about Kanchenjunga, except
Kanchenjunga Trek
. This can be most useful and most updated blog about Kanchenjunga.
Their online map is a great asset that you can find on their blog. Apart from
that trail note and relevant information make this outstanding in contrast to
any other blog. They organize frequent trip to Kanchenjunga. If you feel like
you need fresh and first-hand information you can contact them any time.
Enjoy the trek in isolated eastern
part of Nepal!
Go for Kanchenjunga Circuit covering
both base camps I promise you won't regret.