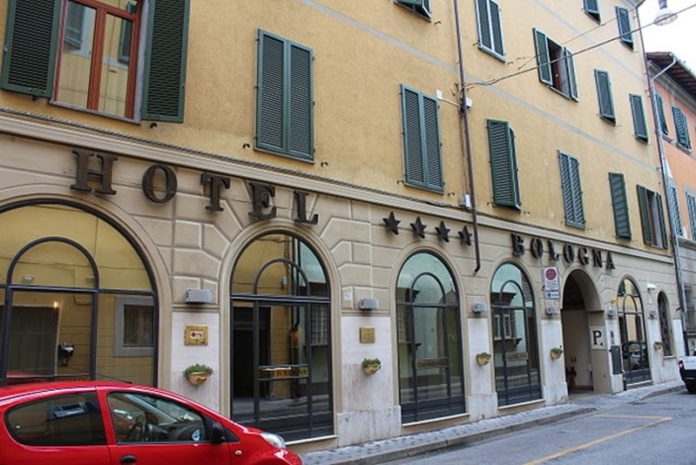 The hotels of Bologna are very diverse. Among them you can find both luxurious 5-star apartments equipped according to the most modern standards, and budget ones, which will be the best choice for those who like comfortable accommodation at affordable rates.
But the list of Bologna's lodgings can be also supplemented with one more category of hotels – the apartments that don't only impress with their luxury or coziness, but also features a unique interior and an incredible design.
So, let's check out Bologna's most amazing lodgings in the following review.
Hotel Metropolitan
It's decorated in accordance with the classical traditions of Eastern countries: the interior is notable for its harmoniousness and restraint. Among thematic ornaments you'll find the Buddhist-style stone statues and interesting handmade wooden wall panels.
Beautiful furnishings, an abundance of light colors and the amazing decorative candle – the Hotel Metropolitan is the best choice for those who are searching for the harmony.
The location of the Hotel Metropolitan is just ideal. The city center, Via Indipendenza shopping street and railway station are within walking distance from it.
The hotel offers "buffet breakfast" with snacks and sweets.
Average price: $116-145/night including breakfast
Coordinates: 44.498430, 11.343112
UNA Hotel Bologna
The UNA Hotel Bologna can easily win the title of the most beautiful and modern lodging in Bologna. It's placed in a very impressive modern building with glass facade.
The interior of the hotel features a diversity of non-standard engineering solutions including a unique system of artistic illumination. Unusual lamps resembling huge pearls, large mirrors with lighting in the bathroom, beautiful carpet and colorful designer furniture – such a variety of different shapes and colors create a very pleasant interior.
The designer's rooms of the UNA Hotel Bologna are equipped with free Wi-Fi and TV with free satellite channels.
The hotel is located near Montagnola Park and just in 20 minutes' walk from Bologna's city center.
Average price: $133-274/night including breakfast
Coordinates: 44.505234, 11.341982
Hotel Bologna Fiera
One of the most unusual Bologna's buildings in the city belongs to Hotel Bologna Fiera. Its exterior is made of transparent glass panels and looks incredibly impressive. The sumptuous facade of the building hides an elegant and noble interior decorated in beige tones.
All the rooms of the Hotel Bologna Fiera feature the abstract-style painting and beautiful dark-wooden furnishings. On the walls of the public areas you can see realistic murals with historical motifs and incredible urban landscapes.
The local restaurant specializes in regional cuisine and offers a wide range of tasty desserts. For the convenience of the visitors, the indoor garage is also available there.
Average price: $119-145/night including breakfast
Coordinates: 44.512765, 11.359079
Hotel Cosmopolitan Bologna
The unique atmosphere of glamor and modern chic is waiting for you at the Hotel Cosmopolitan Bologna. Each element of its decor is a true work of designer art. The walls of all the rooms are decorated with exclusive wallpapers, the interior features bright designer furnishings draped with fine fabrics of noble colors.
In the public areas of the Hotel Cosmopolitan there's a special lighting system: the lighting is embedded not only into the ceiling and walls, but also into the interior items. Decorating of the hotel was carried out mainly by using natural materials making the design more natural.
For lunch and dinner, a restaurant at the Cosmopolitan offers traditional local and creative international dishes. Free parking and free scheduled shuttle service to Bologna exhibition center are also at your disposal there.
Average price: $88-142/night including breakfast
Coordinates: 44.517054, 11.401854
B4 Bologna Tower
The B4 Bologna Tower is an excellent place to spend a few days in a stylish ambience. Its rooms are decorated in creamy shades and feature original designer accessories: furniture of unusual shape, glass panels, airy fabrics and natural flowers. The spacious hotel lobby is decorated by using rare breeds of wood and marble.
The local La Caveja restaurant serves traditional dishes of Bologna – tortellini and tagliatelle.
Bologna Tower Hotel is situated 4 km from the city center and in 10 minutes' walk from Largo Leclaro railway station.
Average price: $95-159/night including breakfast
Coordinates: 44.490955, 11.390802
Art Hotel Orologio
The Art Hotel Orologio allows you to travel back to the unusual atmosphere of the past centuries. It is an amazing lodging located in the immediate vicinity of the Old Town Hall. Each of the 34 rooms is decorated according to the ancient Italian traditions. The rooms feature luxurious carpets of cherry color and furniture upholstered in satin fabrics. The bathrooms are decorated with beautiful marble and natural flowers.
The special design of the hotel is created thanks to the presence of genuine antique jewelry in its interior: vintage watches, table lamps, various statues and paintings.
The Art Hotel Orogolio is situated next to Piazza Maggiore and not far from Bologna Central Railway station.
Average price: $185-305/night including breakfast
Coordinates: 44.493522, 11.341868
Well, all of these Bologna's lodgings feature truly a fascinating design and unique interior details. But in addition, they also provide comfortable conditions for your stay in Bologna and offer very reasonable rates. Consequently, choosing any of the above mentioned hotels, you get both an unforgettable experience and suitable accommodation.
For your convenience, we've specified GPS positions of all the lodgings, so it's recommended to use a rental car in Bologna to reach any of them quickly and effortlessly.
Author Bio: Lily Berns tries to provide readers with useful travel info, especially about travelling by car. She likes to find special places for pleasant vacation in Italy.