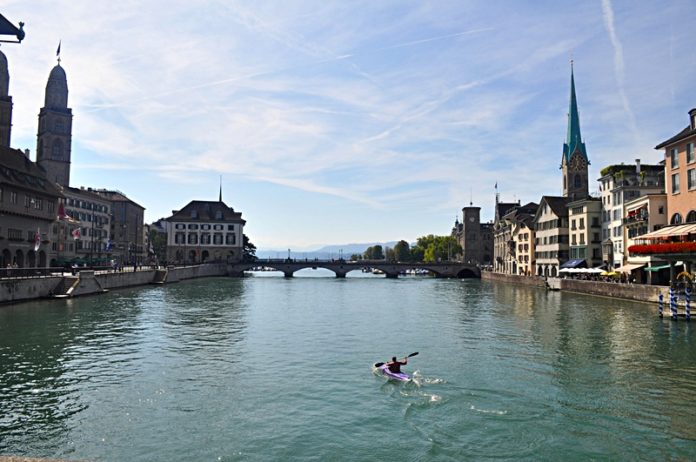 Zurich is a metropolis laying by water with an impressive view of the Swiss Alps on the horizon, offering a diverse mixture of attractions. Clean and neat in any sense, Zurich is a synonym for perfection. A walk in the Old Town will take you back to the centuries, while a boat cruise down the river will create a memorable experience for you.
Zurich also boasts a high standard of living. Also, it's one of the top-ranking countries worldwide in terms of quality of life, which makes the place all the more riveting. Due to this reason, this city is popular with expats as they enjoy reliable transport connections, amazing healthcare facilities, and high-quality accommodation. If you're new to the city, fret not, as there are service providers willing to help you find a place to stay.
In addition, Zurich is an excellent city for digital nomads and remote workers. Digital nomads looking for a great city to call home will be amazed at the incredible sights, sounds, and opportunities offered by Zurich. From its proximity to the Alps and stunning natural views to its lively and exciting city life, Zurich is truly an ideal destination for those with an entrepreneurial spirit. Furthermore, digital nomads will have access to outstanding co-working spaces such as Impact Hub or Coworking 16, offering convenience and comfort during work sessions. And when it comes to accommodation, digital nomads have plenty of options ranging from Homelike apartments in Zurich to Airbnb listings. There's never been a better time than now for digital nomads to explore what this wonderful city has to offer!
Before your visit to Zurich, it's good to be well prepared with the essential info about the city, so here are the five things you should know prior to your trip.
#Transportation options
In line with the famous Swiss perfection, the transportation system in Zurich is well organized and easy to handle. Zurich airport is considered one of the best airports in Europe and is the main hub for international flights in the Zurich area. The airport is located fairly close to the city (around 13 km), so you need 10-20 min to get there, depending on the transportation and the traffic.
The public transport system in Zurich comprises of bus, railway, and tram network with regular lines from and to the airport. There is a dedicated bus terminal with regular bus lines to the city and Zurich region. The preferred transport type is the train, as the journey takes only 10 minutes and the trains are always on time.
Airport taxis are available as well in Arrival 1 and 2 areas. There are many Zurich airport taxi providers you can book online prior to your arrival.
#Attractions
St. Peter's Church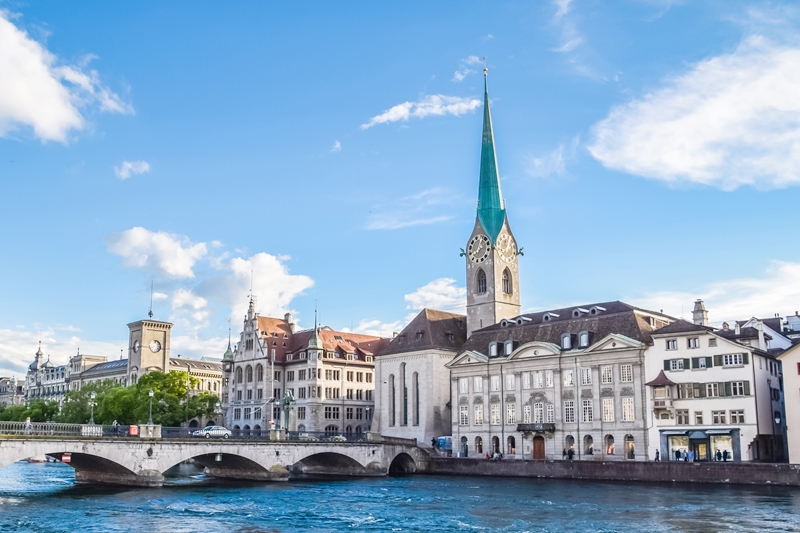 Located on a little hill in the Old Town, St. Peter's Church is the oldest parish church in Zurich. The original foundation from the 9th century can be seen under the minister. In the tower are located five bells dating from 1880. One of the most well-known landmarks is the largest clock in Europe, 8.7 m in diameter, dating back to 1538.
Grossmünster
The Grossmünster dates back to the 12th century, and it is believed that it was built above the graves of Zurich's patrons Felix and Regula. One of the two towers is open to the public, so you can climb the stairs and enjoy a majestic panoramic view over the city. The seven stained glass windows designed by the German artist Sigmar Polke are a piece of art that will attract your attention.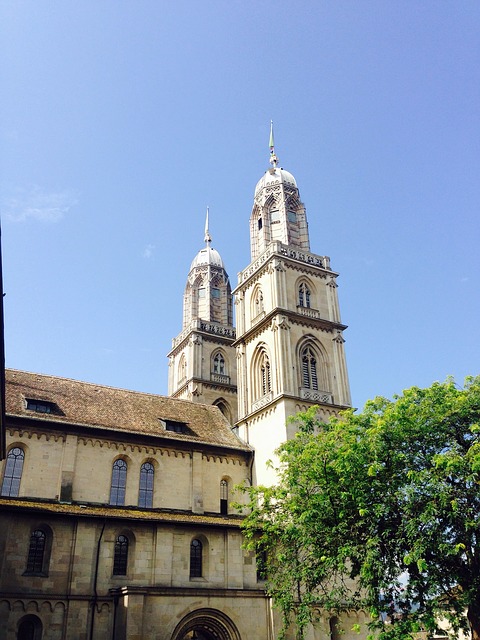 Rietberg Museum
The Rietberg Museum is placed in a beautiful neoclassical villa that used to be a meeting place for Zurich intellectuals. It is the only art museum of its kind in Switzerland featuring non-European art collections. Here you will see collections from Asia, Africa, and North and South America. The museum is located in Rieter Park, so you can combine the visit to the museum with a nice, relaxing walk in nature.
FIFA Museum
You'll enjoy visiting this museum if you are a big football fan. It tells you about football's history, with big video screens showing football in different countries. In addition, the FIFA Museum is filled with various FIFA World Cup and FIFA Women's World Cup mementos. Take time to bask in all things football!
#Restaurants and bars
Although the temptation is high to try all those tasty meat delicacies in Zurich, go vegetarian for one day and visit the oldest vegetarian restaurant in the world, the "Hiltl." Opened in 1898 as a family restaurant, today is a small empire with a two-floor restaurant, bar, cooking classes, and shop. Their menu features over 100 delicious delicacies, and there's even a vegetarian version of the most famous Swiss dish, 'Geschnetzeltes' (veal in a creamy sauce).
One of the most famous spots for tourists is the Jules Verne bar which features a 360-degree view over the Zurich rooftops. Located in the Urania observatory, it's a perfect place for a romantic date with your loved one. The place is usually crowded, but it will be worthwhile to wait for a table by the window.
With a 150-year-old tradition, Sprüngli House is locals' favorite stop for Swiss chocolate delicacies. This confectioner's café located on Paradeplatz with its delicious window display of truffles, cakes, and bonbons will draw you inside instantly. You must try their signature macarons called Luxemburgerli. On the ground floor, there is a retail shop, while on the other floor, you can sit and enjoy their desserts.
#Fun things to do
Sunday brunch with the locals
Every city has its own traditions and lifestyle. In Zurich, the Sunday brunch ritual is popular among the locals, so it's getting really busy around noon, and you may need to make a reservation in advance in some of the most popular venues. If you like a casual-style place where you can read your Sunday paper, then head straight to Kafischnaps or Café des Amis. A really popular hot spot with a perfect view over the lake is Quai61. With its vintage ship interior and diverse menu, you will have the best Sunday brunch experience.
Explore Zurich West
What used to be a decaying area with run-down warehouses, Zurich West, is becoming a new hot spot in town. The old railway viaduct, which runs between the Limmat River and Hardbrücke station today, is home to trendy stores, bars, and restaurants. Between the piled-up containers and old factories, there is a small garden with a café, restaurant, and Saturday market. Frau Gerolds Garten is another cool hangout and shopping spot you need to visit in this area. It's a unique mix of shopping and pleasure.
Sightseeing on a river boat
The boat trips on the Limmat River will give you a diverse overview of the city. The one-hour round trip starts at Landesmuseum station, and you will be able to see the beautiful sights of the Old Town and head to Zurich Lake. If you prefer a different dining experience and combine sightseeing with delicious food, then go on a fondue or barbecue cruise organized by Dreamboats departing from Bürkliplatz.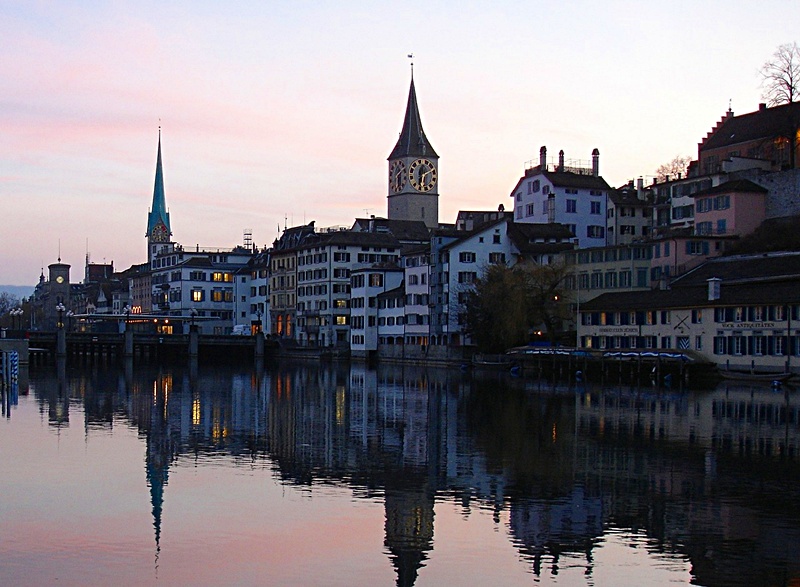 #Shopping
Zurich deserves its reputation as a shopping city, for sure. In the heart of the city runs one of the most exclusive shopping streets in the world, Bahnhofstrasse. This 1.2 km long street connecting lake Zurich and the Central Station has plenty of designer stores, trendy boutiques, and Swiss watch stores for everyone. Smaller stores and antique shops can be found in the Niederdorf, located in the Old Town area.
The best places to feel the spirit of the city and mingle with the locals are flea markets. One of the most popular flea markets in Zurich is located in Bürkliplatz, where you can find interesting antiques and jewelry.
It's always exciting to explore Zurich, so if you have something to add, let me know.
Author Bio
Marija Keleshoska writes the travel blog for City-Airport-Taxis.com, an online booking agency for airport transfers. She likes to explore new travel destinations and their hidden gems.