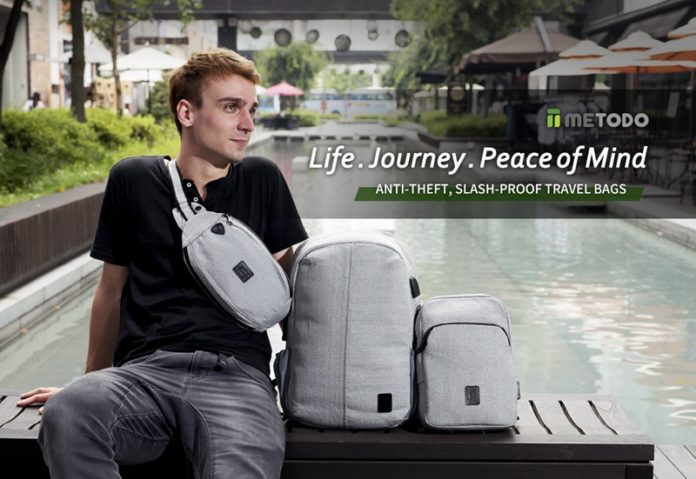 Travelling is interesting and exciting. We dream about spending relaxing time in a new destination among all the good things around. Beautiful sceneries, good food and leisure time are the most wanted things in our travel dreams. But, have you ever thought about travel safety? As a family who travels frequently, we always worry about travel safety when we plan our trips.
We experienced the fear of keeping our belongings safe during our recent trip to Phnom Penh. As we were advised to keep our belongings safe we even didn't take our smart phones out. I was always worried about my bag when we were visiting the attractions. But this was not possible when we were in crowded areas such as local markets. I missed many photo opportunities as I was thinking of the bag and the belongings inside.
Don't forget that most of the pick pocket incidents occur in the crowded areas during day time!
Finally, I came across a solution!
An anti-theft bag can be the perfect solution to spend a worry free holiday!
But, as there are different anti-theft bags in the market, how to find the perfect one which can really help to travel safely? It all depends on the features of the anti-theft bag!
Metodo Anti-Theft Bags will give you peace of mind!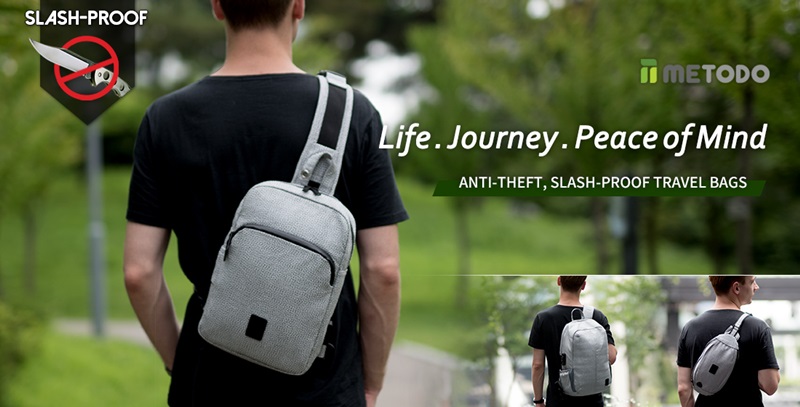 Recently I came across the Metodo anti-theft bag and it has many features that are really helpful to keep the belongings safe. As I am interested in having such an anti-theft bag, I hope it is a good idea to share the features of this bag with you all. So, you know what to buy for your next holiday!
Metodo is a cut resistant bag which makes it a perfect bag for travel with peace in mind. It is stylish and versatile. Why I am highlighting about the style in a post that we are talking about travel safety? Do you like to carry a huge bag with no style at all for the sake of travel safety? So, before checking its features as an anti-theft bag, I also checked the available designs and style.
Metodo anti-theft bags come in beautiful 3 designs. You can find it as medium cross bag, the large cross bag or as a larger backpack. All these bags are stylish and come with the features that are anti-theft!
Features of Metodo Anti-theft bags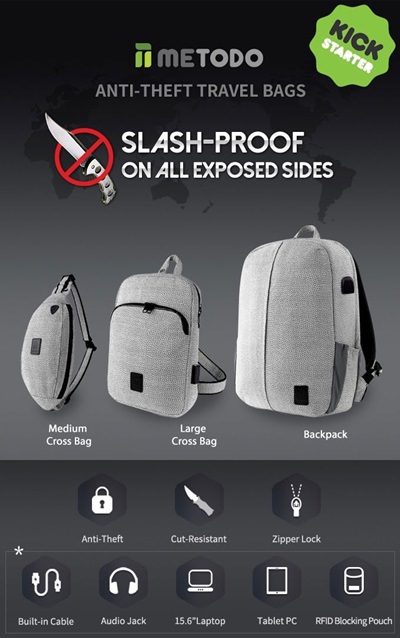 Certified Level 5 Cut Resistant
Metodo Anti-theft bags are made of material which is Certified Level 5 Cut Resistant UHMWPE (Highest Level by EN388 European Testing Standard).
Level 5 Cut Resistant material costs 40% more than the Level 4 UHMWPE material. Most of the Anti-theft bags on the market are made of the Level 4 cut resistant standard material. However Metodo stands out from the other brand as a secure bag which uses Certified Level 5 Cut Resistant UHMWPE material for the product!
Slash Proof on All Exposed Sides
Metodo is an anti-theft bag which is slash proof in all sides. Most other bags in the market are not cut resistant in all sides. Some backpacks are with a panel or two of UHMWPE combination which doesn't make those as perfect anti-theft bags with cut resistant feature.
However Metodo comes with most costly material on all exposed sides.
Many other unique features
Metodo backpack comes with many other features that make it a perfect solution for anyone to travel safely. It includes an integrated TSA combination lock, two side pockets for bottles and umbrellas which are necessary for traveling, ports for USB and audio.These features make this bag user friendly!There are many other features that you should check in their KickStarter Campaign page!
With all above features, you can easily preorder your perfect Metodo anti-theft bag! When you preorder you will receive the Early Bird rewards which include the RFID pouch and attractive savings.
How to buy your Metodo anti-theft bag?
Metodo is available for pre ordering. You can check more features and details before ordering including the videos of Anti-Theft Cut Resistant Bag Cutting Tests.
Grab your own Metodo Anti-theft bag on KickStarter when it is just out from the factory!