Update: Later I found this site/service no longer available.
We travel other countries and places. But, any time did you want to talk with a local? Have you find it is difficult to connect with locals and to learn their culture and the lifestyle because of the language barrier? Just think of it. How if we can talk with locals and spend more time with them while in another country? Finally, this is the most memorable experience in any tour.
But, learning a new language is not that easy task. Although there are online sources to learn new languages, how to practice your newly learned language? The team at Speakbud has come up with an innovative idea by creating a place to connect language learners and native speakers. With this new concept, now language learners can connect with native language speakers and start conversation with them while practicing the new language.
What is Speakbud?
Speakbud is a place to connect language learners with native speakers. You can simply browse profiles of native speakers of any language you prefer and find a partner to practice your language skills. You can talk with them and see how fluent you are with your new language.
How it works?
Using Speakbud is really easy and simple. If you are learning a new language and looking for a partner who speaks the language you are learning, then simply browse the profiles available. You can find a partner as you wish even you can select a male partner or female partner to speak with. Once you select your language partner, then you can easily practice the new language by talking with him or her.
Sounds interesting, right?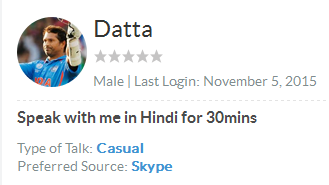 How to earn money with Speakbud?
Speakbud is not only a place for those who like to learn new languages. If you are a native speaker of any language and if you like to speak with others who likes to learn your language, then you can join with Speakbud as a native speaker.
Can you imagine talking with someone who tries to learn your native language? This can be really a wonderful experience. On the other way, you are helping for someone to learn a new skill and it is your native language. I guess this is a good way to connect with the world.
So, if you like to talk with others with your native language simply sign up with Speakbud.com and create your account.
Here are the simple steps to follow if you are a native speaker.
-Signup with Speakbud.com and create your account for free.
-Add services which you can offer
-Add your PayPal account to receive money
-Start talking with language learners and earn money
Check this new concept of Speakbud and see how you can join with the language learning community. You can join either as a language learner or as a native speaker. Check Speakbud.com for more details.