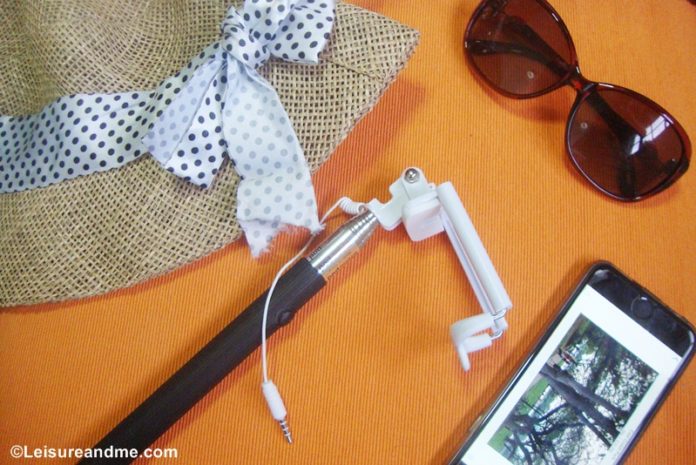 If I ask you what to pack in your travel bag, be it a day out or a few days overseas trip, there are many things in any common travel check list. Any travel packing list includes travel documents and other accessories and equipment to enjoy your time in the destination. Sunscreen, sunglasses and a good camera are the most important things you should not forget to pack in your travel luggage.
However, time has changed. Over the few years phone cameras are more popular than other cameras. Selfies are the most fun way to capture moments in any location which shows the excitement. Considering other photos, selfie captures are unique way of telling the story of the holiday or day out you spent.
Hard time taking selfies
But, you need to know some tips on taking perfect selfie if you really like to have cool shots that others will admire. Well, for me, I am not perfect with selfies. I always end up with selfies which I don't like to share with others in social media or over the blog. Why? Have you noticed your selfies which you have taken with phone camera end up with funny facial expressions? I've seen many such selfies in facebook which my friends share. 🙂 I feel those selfies are not worth sharing over such social media because those selfies are really ugly when you change the facial expressions at the time you press the phone button. 🙂 These selfies show how hard it to take a selfie.
Sometimes, selfies end up with the big hands of you than sharing the background of the place.
How to take a perfect selfie?
Answer is simple. Instead of trying different selfie tips and tricks for a better shot which again ends up as a funny picture, use a selfie stick! A selfie stick is the great way to capture professional looking selfie which shows the beautiful background together with the members in the photo. When you own a selfie stick, you are with endless opportunities to take beautiful and creative selfies.
That is why with any other things in your travel check list; you must pack a selfie stick with your smart phone in order to spend a fun and exciting time in any place anywhere!
Monopod Selfie Stick Review
As I tried taking selfies with a latest selfie stick and as my results are really awesome, I thought it is helpful for introducing that selfie stick through this blog post. When you read the features of this selfie stick, I am sure you want to own one and you want to take better selfies than before!
Few years ago I tried another selfie stick and reviewed it here.But,now after some years,this selfies stick comes with more advanced features.If you compare the both,you'll know what I mean!
This selfie stick comes with a shutter release button. That is the best feature of this selfie stick which helps you to capture more beautiful selfies. You no longer need to worry about pressing the camera button or using the timer. My experience with this selfie stick is really awesome! It is seriously user friendly!
Features of the Selfie Stick
This selfie monopod is the only selfie stick which you can find in Singapore which has a shutter release button. It also owns below features to help better selfie experience.
Easy one touch shutter release button will help you to take better selfies.
It is 100 cm long once extended. This is claimed as one of the longest selfie monopods around.
It is only 100g and ultra-light weight. Easy to carry anywhere.
No charging required.
There are foam pads that help to protect your phone when you use the selfie stick.
This selfie stick is compatible with all smartphones.
It is easy to use and easy to adjust according to the photo view you want. You can adjust the Phone bracket through 270 degrees of rotation which allows you to be creative with your selfies.
Our Experience and Review of this Selfie Stick
We really enjoyed taking better selfies and I experienced all the above mentioned features of this selfie stick. It is really easy to carry anywhere and even it fits well in my handbag. Below are some of the highlighted features which we like in this monopod selfie stick.
Shutter release button is on the handle and it is really easy to take pictures without using the timer.
Tapered phone bracket holder is really good to hold the phone more securely. So, we don't have to worry about falling down of the phone while planning our selfie.
1 m long stick is really helpful to take selfie with more people in the picture.
Overall we are happy with this selfie stick. In our future trips and days out I will definitely carry this in my bag.
How to buy Monopod Selfie Stick?
If you are interested in buying a selfie stick, it is better to buy a selfie stick with latest features such as shutter release button on the handle. As this selfie stick comes with such latest features, you can read more and buy from Monopod Singapore.
When you buy your selfie monopod with Monopod Singapore, you will get below benefits other than the selfie stick which has all latest features.
You will get 7 days return/refunds period.
There is a 3 months guarantee.
Standard free shipping with other shipping options.
Read more information about this selfie stick by visiting Monopod Singapore.
Coupon Code to buy this Selfie stick with discounts
As NDP is also right around the corner, you would love to capture your selfies at the NDP celebrations with family and friends. Monopod Singapore is happy to give a discount on your selfie sticks to all readers of Leisure and Me.
Simply use LEISUREANDME at check out to enjoy 10% off all Monopod Singapore products, in addition to free shipping.
Also there is no minimum to spend when you use the code LEISUREANDME.
Please visit Monopod Singapore to read more details!
Enjoy your holidays and NDP celebrations with flattering selfies!
Disclaimer : We received this Selfie Stick for review purpose.However,all opinions are my own.
Do you like taking selfies?If so,do you use a selfie stick?
Which is your favourite selfie from the above?Selfie just with a phone or selfie with a selfie stick?Please share your thoughts.
Save
Save
Save
Save
Save
Save
Save
Save
Save
Save
Save
Save
Save
Save
Save
Save
Save
Save
Save
Save