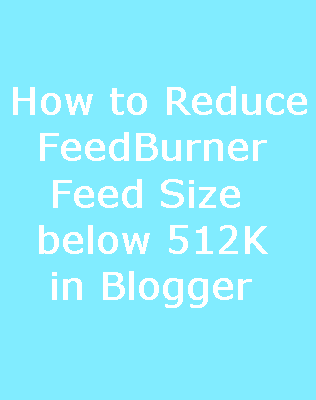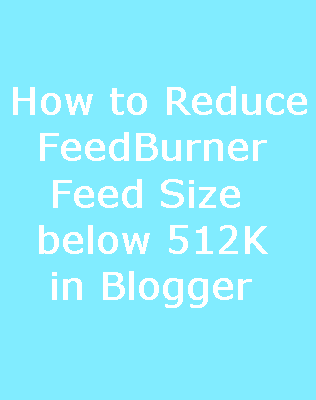 Last week I noticed a sudden drop of traffic for my blog Food Corner.Then I noticed that no much comments for my  latest blog posts.This is unnatural because most of my blog posts get a good number of comments and views once posted.Then I noticed that I did not receive any post via email too.After checking,I found that there is a problem in Food Corner's blog feed.
When I try to check the feed of Food Corner,a message appeared saying
'You're about to be redirected
The blog that used to be here is now at http://www.foodcnr.com/feeds/………………
Do you wish to be redirected?'

oh sigh!! I tried a lot to solve the problem and finally this is what worked for me.
Sign into the feedburner.
Then click the link at the bottom which leads to feedmedic alerts.
Once I clicked the above link,I found that Food Corner feed has a problem.

Once I clicked Resync,I got the below message.
Your feed filesize is larger than 512K. You need to reduce its size in
order for FeedBurner to process it. Tips for controlling feed file size
with Blogger can be found in Tech Tips on FeedBurner Forums, our support
site.'
Now,here is how I fixed the problem.
1.Sign in to your FeedBurner account.
2.Click the title of your FeedBurner feed which you face the problem which is on the My Feeds page
3.Then click the Edit Feed Details on the feed management page
4.Once you click 'edit',check Original Feed Address field.
It will appear something like,
http://example.blogspot.com/feeds/posts/default
Then change the address like the following:
http://example.blogspot.com/feeds/posts/default?max-results=3
Then Save Feed Details.The problem with blog's feed was solved and Feedburner started to burn new feeds.