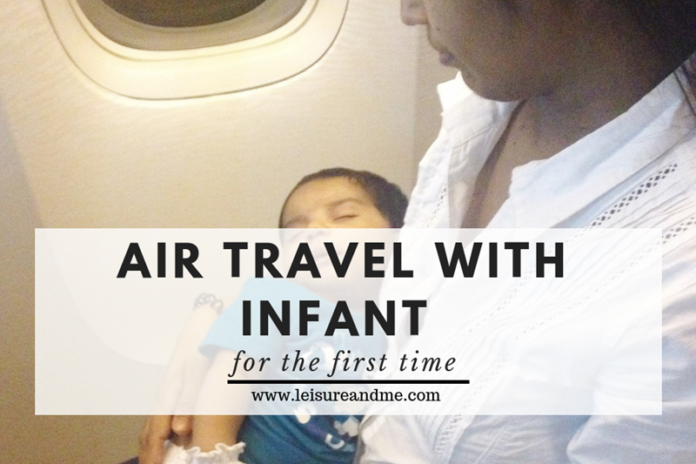 Traveling with an infant needs a lot of preparation. However if you are a first time mom, then you will have many doubts when you plan your first air trip with your newborn. This is why air travel with infant for the first time sounds stressful for many new moms.It was same with me during our first family trip by air.
As a first time mom you don't have previous experience with parenting a kid and even traveling with a baby. This was my situation before 5 years ago when I was preparing to travel with my newborn for the first time. As a first time mom I had to undergo lot of stressful situations while planning our first trip. My infant was just 2 months old and as a first time mom, I had lot of doubts before we fly. But, with lot of preparation we had an exciting journey to Sri Lanka with the our baby.

In case if you struggle with lot of doubts on traveling with infant you can always seek counseling.First time moms undergo lot of phobia and fear on traveling with infants for the first time.I know this with my first air travel experience with infant.In such case you can even seek counseling from professionals easily.The best thing is that you can seek online counseling and get advice on your fear of traveling with infant sitting on comfortable space in your home.
Below are some of my tips if you plan your first air trip with a newborn.If you look for tips on air travel with infant for the first time these advice may help you specially if you are a first time mom.
You need lots of preparation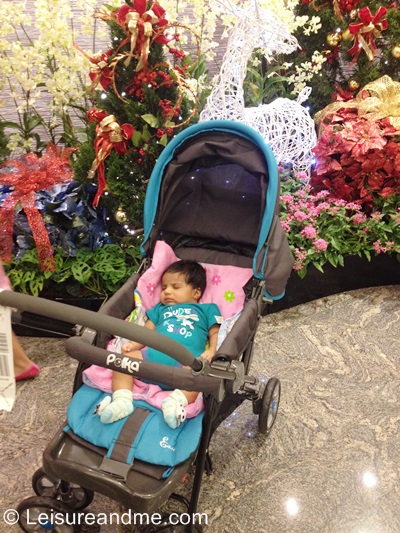 As a first time mom, you need to well prepare for your first time air travel with the newborn baby. These preparation include from preparation of diaper bag to planning of your accommodation at the destination. In your diaper bag, don't forget to include must have necessities such as diapers, portable diaper changing pad, Diaper cream, enough tissues, thermometer, necessary medicine and hand sanitizer. Other than these essentials, you need to pack your bag with necessary clothing. Although you can buy diapers and some essentials at the destination, it is always good to pack extras in your luggage which is good enough for at least 1 day when you reach the destination.
When you are in the flight, you can ask for diapers from the cabin crew. Most of the airline services provide essentials for the baby on board. However preparing with your own essentials will avoid unnecessary stress on you as a first time mom.
Also don't forget to bring an infant stroller which can convert into sleeping position, baby carrier and a breastfeeding cover in case if you breastfeeding. These items are really helpful when travel with an infant.
Get advice from your friends and family members
When you are a first time mom, the help and advice you receive from friends and family members are really valuable. These advice include their real experiences. They will explain you where they did wrong and how they did right. Therefore contact your friends or family members who recently flew with kids. Their experience will be valuable advice for you to travel with infant without any pressure.

Below are some of the advice I received from my close friends when I contacted them. I still remember how helpful those were on my first journey.
During the take off and ladies babies cry usually due to change of pressure. This change of pressure hurts their ears. One of my friends advised me to breastfeed during the take-off and landing to avoid such discomfort. It worked for me and baby was in a good sleep in our first trip. We also had the fear of having a crying baby on board. We know some babies and even toddlers cry during the whole journey until landing. In order to avoid such experience we planned our trip during the night. We booked a night flight and we all had a good sleep for the most of the duration as the baby didn't give us trouble.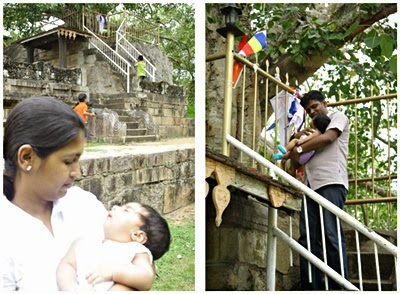 Talk to your airline provider
As a first time mom you can always get helpful tips when you talk to your airline provider. At the time I was traveling to Sri Lanka with my newborn, I had lot of doubts. I talked to airline to clear my doubts. You can even book the baby bassinet and keep your hands free while on board.
Usually families with young children get the opportunity to get to board first. Therefore you don't have to wait in a long queue to board on plane. In most airlines, passengers can bring the strollers till the gate. However these facilities can differ from airline to airline. Therefore it is better to call your airline provider and clear your doubts. These pre-planning helped me to stay away from lot of unnecessary doubts and our first air travel experience was exciting with the newborn baby.
Above are some of the tips from our first air travel experience with the new born and as a first time mom. With proper planning and proper preparation we could enjoy our first flight with the baby. Therefore plan your trip properly thinking of everything you need. Forget about any fear you may have to fly with a baby.