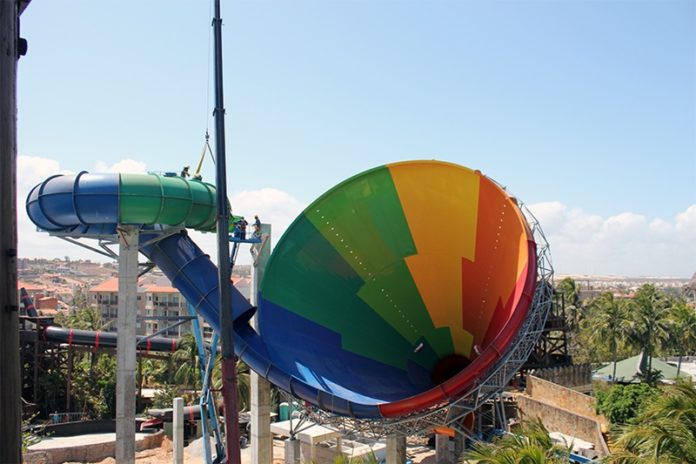 Do you know the world's largest whirlwind water slide? It is Vaikuntudo .The first phase of Vaikuntudo is opened recently with luxury shopping facilities. The first phase of Vaikuntudo which is Vila Azul do Mar, includes luxury shopping, dining and entertainment facilities.
Vaikuntudo is the latest project launched by Beach Park which is Latin America's leading water park. This expansion and new launch is part of the innovation program of Beach Park which aims offering new and innovative leisure experiences for its guests. With new expansion, the management of Beach Park expects of attracting one million visitors in 2016
If you are in Brazil or if you travel Brazil, then, Vaikuntudo will be one of your favorite spot for family travel and leisure. Just imagine the excitement when you stand six stories high and take your ride through the world's largest funnel! It would be a thrilling and memorable experience for anyone who loves to engage in water activities and fun games. In Vaikuntudo, you will experience this pleasure of engaging in thrilling water sports.
Vaikuntudo creates a cozy environment to its guests by delivering lot of amenities inside the park area. Beach Park has invested nearly R$ 20 million for this new complex to make it more comfortable and luxury Water Park for family travel which has many opportunities for both adults and children.
Throughout the year 2016, you will see the expansion and it will include the below facilities.
New addition will includes four retail shops which sells apparel, swimwear, accessories and toys.
You will find Dilleto Ice Cream Parlor in this new expansion
Beach Park Beach Card sales kiosk and Beach Park Vacation Club kiosk will be in this new addition and these kiosks will be great for those who seek more leisure activities.
Kids' area with space for up to 20 children will definitely be a hot spot for kids who visit Vaikuntudo.
There are many other facilities included for this new expansion. You can visit www.beachpark.com.br and read more about this new project.