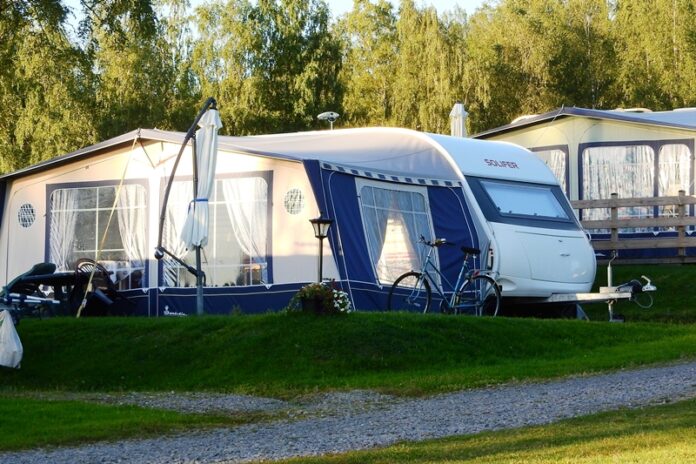 While seeing nature and the road onboard your caravan is satisfying, you're missing out on the full caravan experience when you don't have awnings from Australia's leading caravan awning suppliers.
When you get to your destination, of course, you will head out to explore the surroundings. However, after that, you have to go back to your caravan to eat, hang out, and relax in the presence of mother nature. While you can still enjoy your RV, you have already spent the rest of the road in it, and you can use a change.
If you have caravan awnings, you can get a new experience when you travel as you can have a good and comfortable time outside. But, sometimes, we want more privacy even if we are outdoors, and that can be provided by an annex.
If you're interested in getting an annex, we have compiled some of the best ones that you can get on the market.
Orbit® AIR Comet Annex
The Orbit AIR Comet Annex is one of the best out there. An inflatable annex, it's easy to install since you just have to fill it up with air through a single inflation point. Also, even though it's inflatable, this annex is very rigid because it has a roof air beam structure. It's also easy to take down and doesn't take up space upon storage.
In terms of comfort, it has good ventilation, UV protection at UPF50+, and a Waterproof 300D micro-weave poly-cotton canvas that also helps in making the annex look good for a long time. It also has an LED sleeve that you can use if you need extra lighting.
For protection, it has a wind skirt, groundsheet, and dirt skirt that adds to its stability, which you really need outdoors especially when you encounter rains and storms. It also has a 3-layered window system and a secondary door canvas.
Furthermore, it has the optional Orbit Air Capsule Extension Room for extra space.
Coast awning wall kit
Different from traditional annexes, coast awning wall kits suit rollout awnings more. Rollout awnings are attached to caravans and can be pulled in and out when needed. With this awning wall kit, you can easily add walls to your rollout awning for added privacy and shade while also adding stability.
It can add more protection to your awning as it protects you from the element. Also, it's made from polyester that makes it long-lasting. Furthermore, its surface is very easy to clean, and it's not a surface that mildew and mold can form on.
Also, you don't have to worry about the annex being cramped, especially when there's a lot of people inside, as it comes with three door panels, which makes it easier for people to come and go as they please without disturbing each other.
The kit includes two bags for easy transportation and storage. Inside the bags are poles, rubber ties, rafters, and tent pegs.
Coast Kirra Annex Awning And Inner Tent Kit Set
This annex isn't a high-end product, but it offers good value for money at its very modest pricing.
First, it's a drive-away annex, meaning it's easy to attach it to your RV. It's a good option if you use rope tracks as it has a removable hook & loop spline that makes it easy to remove the annex from your vehicle. It's also easy to store.
It has a large fly screen window, helping it with airflow while still protecting you from small insects, especially when camping. It also has a sealed zip-in tubed flooring that keeps your space secure and safe from small animals.
It's also very spacious with an 8 ft. ceiling, and according to the manufacturer, 2-4 people can comfortably sleep inside it. This product is also easy to access with two dual-access doors on both sides.
Fiamma privacy room
If you want complete privacy, you seriously need to consider Fiamma's offerings.
Fiamma's products can easily cover your awnings. But, if you just want more shade or if you need air inside, their products all include windows that you can open and close upon your liking.
If you need to open your windows, especially at night, you don't have to worry about mosquitoes as well because the windows are fitted with screens that can keep small insects from disturbing your good time.
In terms of looks, Fiamma annexes will fit well with your caravan as they are all made with neutral colors to complement all kinds of designs. Also, you don't have to worry about it getting uglier over time as all panels are UV-resistant and waterproof.
Furthermore, they have multi-panel designs, and you can arrange them in many ways.
When it comes to the ease of setup, the Fiamma privacy room is easy to install, and it comes with the Fiamma Fast Clip System for a more firm and sturdy structure.
Find the perfect caravan annex with RV Parts Express
With so many options out there when it comes to caravan annexes and so many things to consider like annex type, material, design, and other features, it can be very confusing and easy to pick the wrong product. Also, you would have to consider if the products you're looking at have good value for money.
At RV Parts Express, one of Australia's leading caravan awning suppliers, we have a wide selection of all things caravan, from awnings, appliances, and caravan covers to chassis equipment, gas equipment, and other accessories. If you're looking for annexes, we will make sure to find the best product for you.