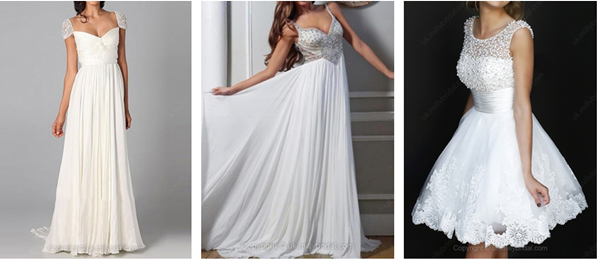 *This is an Advertisement
Do you want to look pretty and gorgeous in your next prom night? If you like to appear as a princess, then try a white prom dress. White is a charming, clean and classic colour which makes it great for a prom dress! A charming design which is well matched with the prom dress will surely make you look like a princes. If you find it difficult to find a stunning white prom dress, below are some ideas I found from Milly Bridal. You can find latest designs of White Prom Dresses from their store.
They sell wedding dresses too, but you'll surprise their white prom dress collection include fabulous dress collection which doesn't look like a wedding dress. So, you don't have to worry if you decide to wear a white prom dress for a party. You can select a white prom dress which doesn't look like a wedding dress.
This A-line One Shoulder white prom dress is decorated with Sequins. If you like to wear a floor length Prom dress, definitely this would be a great suggestion.
If you don't like to wear a floor length prom dress, then here is a suggestion. Above prom dress is perfect for anyone who likes to wear a short prom dress. Above is made of Organza and embellished with Beading and Ruffles. It is perfect with a young girl.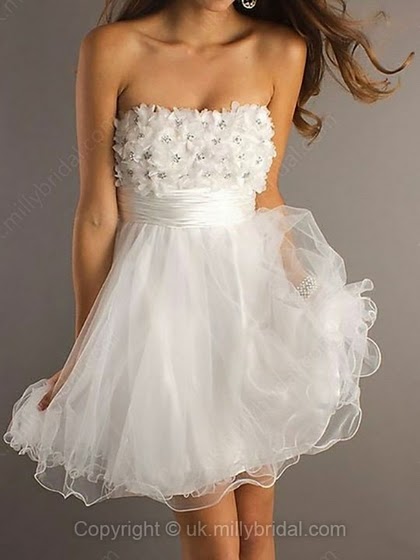 Want to dress gorgeous, but in a tight budget? If you look for a cheap Prom dress to buy, why don't you consider the above white prom dress? Although it is not very expensive, the design is really beautiful. This A-line Strapless Short Prom Dress is embellishing with flowers and beads. This dress will sure give a charming look for any girl and will be stunning on a prom night!
This is my favourite white prom dress found from Milly Bridal. If you have perfect curves, then why don't you flatter your body with this body hugging white prom dress? This Spaghetti Straps Prom Dress is decorated with Rhinestone to make any girl look stunning!
Now here is good news for you if you look for plus size prom dresses. Milly Bridal will not disappoint you as they have designs for plus size too. They have special designs for those who look for plus size. These special designs will hide your shortcomings and you will not look fatter with a prom dress.
Above are some of my favourite white prom dresses.
For more designs, check Milly Bridal They have a huge collection of white prom dresses to match with any size and choices.