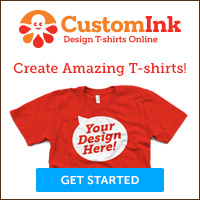 **This
post contains affiliate links and I will be compensated if you make a purchase
after clicking on my links.
Remember,
few days ago I shared a post on how to design a T shirt? Creating a custom T
shirt online is the easiest solution
among others as it takes few minutes for the design.
Now
with CustomInk, Creating a T-Shirts is really
easy!
It
is summer and there are lots of fun summer events around from Family
reunions, day camps, fun runs, kickball tournaments and lot of things… the list
goes on.
For all these fun
summer events, a special shirt is perfect to unite the crowd and commemorate
the moment.
CustomInk
is an online custom t-shirt service that offers a
hassle-free design and order process. They provide helpful customer service and
free shipping! For all of these reasons, you can think of to create a t-shirt
with them. Their design lab has fonts and artwork ready to inspire your ideas.
Below is a commercial to help you get to know more about
CustomInk
.Watch it, you will get an idea on how they can
help you outfit your next event…