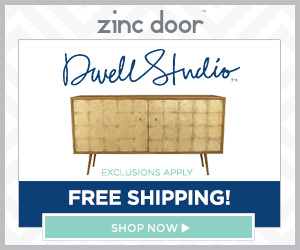 15% Off Entertaining Essentials, and Free Shipping for Items from the Jonathan Adler Collection
Just in time for the peak of party season, Zinc Door
is offering 15% off serving sets, glassware, table linens and other
entertaining essentials! You can also receive free shipping
when purchasing items from the collection of featured designer, Jonathan
Adler.
Offer: 15% off Entertaining Essentials | Code: ENTERTAIN | Runs: 12/16/13 – 1/14/14
Offer: Jonathan Adler branded items receive free shipping | Runs: 12/16/13 – 1/14/14
Peak party throwing season is upon us! Don't miss your chance to receive 15% off Entertainment Essentials at Zinc Door, 12/16 – 1/14, with promo code ENTERTAIN.
Beautiful serving sets, sparkling glassware, elegant table linens …
everything you need to entertain with style. Be sure to check out Zinc
Door today!