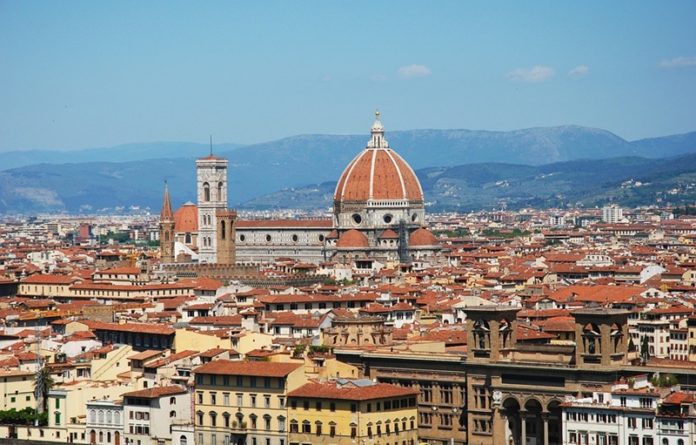 Let's pretend that your impressions from visiting Florence the last year turned out to be unfinished, wrong. What can you do? There is a good advice on this subject: if you have a missed impression about something, you should go there one more time and find it in the best way. Generally speaking, Florence is a city you should visit just because of unbelievable sightseeing of Tuscany from the window of your car or bus, getting to Florence. High hills, cypresses, vine groves are really worth seeing. As the result, here are TOP 10 things, or places you shouldn't forget to do and see in Florence just in one day.
Duomo Santa Maria del Fiore
Your hunting starts right here, next to Duomo Santa Maria del Fiore. This dignified cathedral is widely thought the third biggest in the world. You should walk around the ancient building for many times to take pictures of its Southern and Northern frontages. Going inside the building you never mind of its poor inner decor – that is the real Florentine Gothic at its finest. The famous wall painting, featuring the scene from Dante Alighieri's Divine Comedy, is the first you meet. It is told that every true Florentine should have this book at the bed-side table.
Campanile di Giotto
As you can see, the plan of your trip is simple: you should have time to walk the city for one day. The next step you should do is near here. Hunting the impressions, you may climb the Campanile di Giotto, one of the highest places in Florence. It costs about 6 EUR, but the impressions you get are really worth money: the lordly city spreads before your eyes – lanes, domes and red tile roofs wherever you look. It's amazing! But what's the next step then?
Piazza dei Signori
Let's go to Piazza dei Signori, walking the narrow Italian lanes, picturesque patios. Here is the well-known sample of Gothic architecture Palazzo Vecchio – a place, where all the historical events were happened. Here you can see all the famous sculptures of Loggia dei Lanzi. All of them are originals and this fact glitters the most. Don't miss Galleria degli Uffizi – it is a looker, no doubt about this!
Galleria degli Uffizi
This is a miracle of miracles in Florence – Galleria degli Uffizi. There is a big crowd of tourists here – this is not a reason to miss something interesting. You can find here everything g you've heard about, beginning with a painting revolution of Giotto di Bondone, his first steps of Renaissance, the hall of Botticelli, the self-portrait of Raphael, Titian's paintings – everything is unforgettable. This gallery is full of beauty and history, making you completely happy. Don't forget to buy a picture on return.
Embankment of Arno River
Walking down the lanes between Piazza dei Signori and Piazza del Duomo you realize that Florence is a stony city. There are no trees and flowers in the center of the town – they are hiding in the patios and backstreets across from Arno River. Where are you going to? You can meet a house of Dante Alighieri, the famous church, where he met his love Beatrice. Then you should go to Piazza di San Firenze, looking at fusion of architecture styles and preferences.
Look, on the right corner is situated an interested Middle-Aged building dated of 23rd century – the ex-prison and the famous museum now. Crossing the street you meet a place where Leonardo da Vinci lived and worked. Finally, at the square, there is a beautiful building in baroque style. You know, it is a rarity in Florence to meet baroque – it is not a typical city design. What is the most exciting is walk down the streets, thinking of nothing else, but the beauty of Florence.
Ponte Vecchio
The next point of your hiking is going to be the destination between Piazza dei Signori and Ponte Vecchio. This supposed to be a pleasant pause of your walk – time to stop and drink the best chocolate in the whole Florence. Admiring the view of the famous bridge, don't forget to buy a souvenir to remember the golden Tuscany. It's true that the choice of jewelry's really wide – it really makes you dizzy to choose the ring or bracelet you like.
Trattoria la Casalinga
It's time to eat. All you need is to find the little cozy restaurant – Trattoria la Casalinga (the home-made food) and try something alla fiorentina there. The tastiest dish can be that spicy chicken with mushrooms and Tuscan home-made wine. Don't forget about Italian ice-cream – it looks good.
Mercato Nuovo
Full of energy, you can reach Mercato Nuovo and find the lovely Fontana del Porcellino. To rub the snout of this shiny pig and put the coin there is worth doing, as it helps to grant the greatest your wish, frenzied dreams. In the interest of the cause you shouldn't regret of any coin.
Piazzale Michelangelo
To get the Piazzale Michelangelo you can by bus, or renting a car from anywhere. Walking the city, it is important to get a good rest for your feet sometimes, not to making your enjoyable trip into the grueling race. The time pressure is the main trouble for those tourists, who came to Florence for one day. It is impossible to pass round the Rosy Garden and David statue. Finally, at the end of your walking trip try to stop for a while and relax, looking back into past, saying Good Bye to Arno River, Florence with its dooms, towers and red tiled roofs.
Finale
There is one more thing to do! Travelling Florence, don't forget to buy a bottle of a good Italian wine. Chianti – is a traditional Florentine drink of wine lovers. You are in Italy! This fact is a big holiday on its own!
Do you understand that this time you've spent in Florence is not the last time? You'll come back here more than once to get the best impressions you've ever had, walking the night Florence from the left side of Arno River straight to the Piazzale Michelangelo – the unique way, helping to understand Florence, the historical part of a big Italy.
Author Bio: Lily Berns is a travel writer and tries to find the best and brightest things to do, for your travel in different cities of the world. For the best deals on renting a car for your trip she recommends rentalcars24h.com