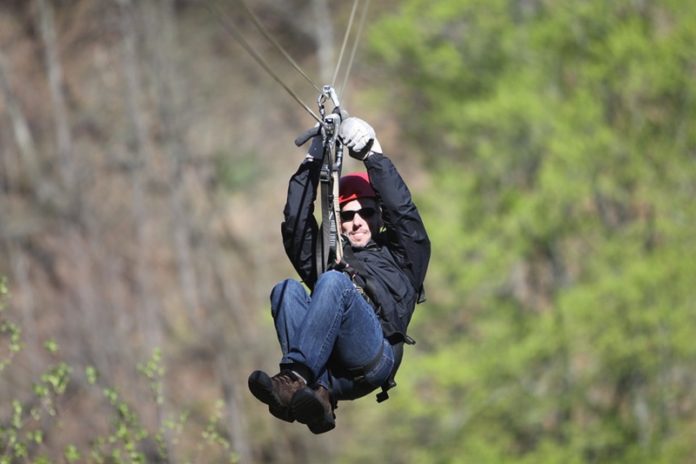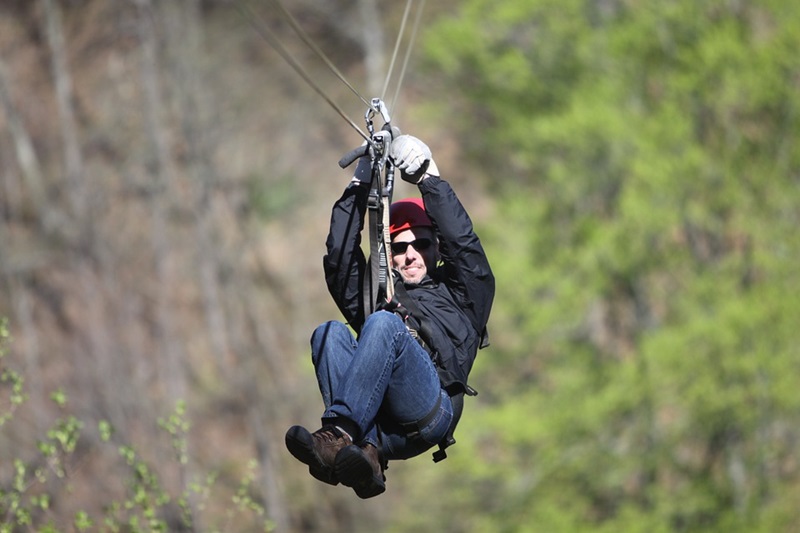 Zip line canopy tours of Blue Ridge is just a few minutes' drive from the red apple cabin. The owner's dogs will greet you as they follow you all most the whole trip. The large log lodge that the tour meets in, is beautiful, and has a small shop inside where you can purchase shirts and your pictures that the guilds take of you flying through the trees. There you can find your inner thrill seeking self as you fly over the Smokey Mountain tree line and over lakes filled with trout.  There you can pick from a one or two hour tour. I say go Big, we went for the 2 hour tour and were so happy we did, it included about twice as many zips. Our guilds were very well seasoned and provided comic relief for those who were nervous… I will say, bring a light coat, you are up so high, and the winds really pick up. All of our equipment was provided and a short informational demo at the start of the tour was most helpful. I will say, eat some POUND cake before you go, cause if you do not weigh much you have a hard time getting to the end of the line. However, the guilds will laugh and come rescue you! The grounds that the zip line course is on are surrounded by the Blue Ridge Mountains and lies within acres of the Chattahoochee National forest.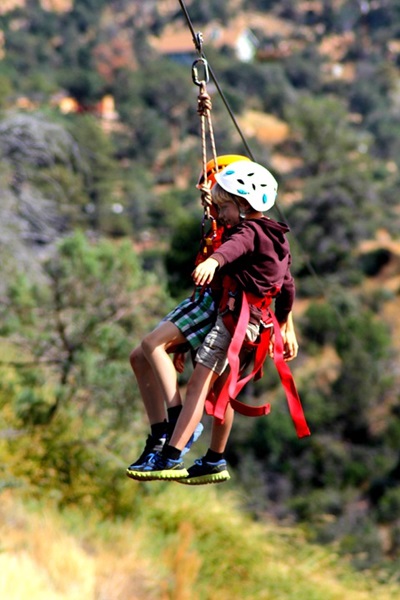 Our group was made up of about 12 people, young and old. All there to help each other stay untangled and help with the ropes. Be ok with getting close to others, because the landing docks are small and you come flying in pretty fast. There are a few flights of stairs you will have to climb, but you are after all looking out at some of the most beautiful countryside, so take your time and take it in, because once you start your zip you can reach speeds of 35 MPH and everything goes right by.
We always stay at the Red Apple Cabin when we vacation in Blue Ridge. This log cabin on top of Prince Mountain is only five minutes by car to the zip line course and less than fifteen minutes to downtown Blue Ridge Georgia.
I think my favorite part of the tour, are the three-foot bridges you must walk across. They are a somewhat shaky experience but lend for some great laughs and give you that sea leg feeling when you are done for the day.
This trip I did with my 13-year-old daughter, as a Christmas gift. She absolutely loved it, had no fear and wants to return. I think I was more scared for her, sending my daughter down a zip line above the trees was a little nerve racking, but the guilds assured us all of all the safety measures before we even started the hike up the hill.
The Zip line Canopy Tour group also offer an offsite rope course, river rafting, tubing, kayaking and paddle boarding. I have yet to do the rope coarse, but hear it's a trill and even has had grown men tearing up, can't wait. I hear that the tour has a haunted Halloween zip line tour, sounds spooky and fun. The best time to fly through the trees is, dare I say, Fall! The colors of the autumn trees are amazing in November, and I can only imagine the beauty they would lend to your zip!