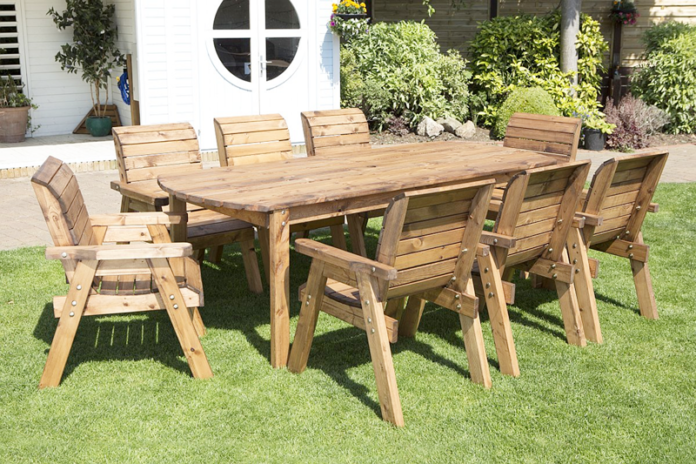 Whether you are moving into a new home or refurbishing your existing one, the more you kit out the place both on the inside and the outside, the more homely it will feel. Many people put in so much effort indoors in a new home and forget that when the suns out, there should be a comfortable place for them to relax outdoors as well.
Having a garden or backyard that has the bare necessities, doesn't need to entail investing a lot of money into it. You can keep it simple and with the right furniture, you can do wonders in transforming a dull space into a fun and welcoming one.
One of the best things you can do for your outdoor space is to purchase the right patio or deck furniture to enhance the aesthetic as well as comfort factors. Below are a few options that you can choose from when it comes to this.
Patio Furniture Based on Material
The materials you choose for your patio furniture will make a huge difference now only in comfort, and cleaning but also in weatherproofing. Typically you can get furniture that comes in a variety of materials which include:
Plastic or Resin
Aluminium
Wrought Iron or Steel
Synthetic Rattan
Wooden
Natural Wicker
When choosing the right material you should consider a few factors. With all of the above materials, each one is unique to its characteristics. We look at the basics of these below.
Steel or Wrought Iron
Wrought iron is a highly refined type of iron alloy. Click here to read more about this. It is one of the strongest and most durable options to get in outdoor furniture. Once in a while, it may need a coat of paint. Because they are heavy, they may not be easy to move around and should be placed in a space where they will stay permanently. These are all-season materials so need not be moved indoors when it rains.
Aluminium
This is one of the least heavy materials and is easy to clean, as well as rustproof. It may not require any painting or treatment done to it and comes as is. The advantage of this is, you can easily move it around the decking to wherever the sun is or you can move it indoors when the weather is not so pleasant. Cushions may be needed with these to make it more comfortable.
Rattan Synthetic
A very popular choice amongst a lot of homeowners is synthetic "rattan" furniture. Rattan is made from woven plastic coated strands and is both affordable and lightweight. It is also weatherproof and easy to clean. This material does not need any treatment or paint. Highly resistant to all weathers including harsh sunlight, frost and water, they can last a long time and their color does not fade quickly. Many people get it mixed up with Wicker, but there are slight differences between the two.
While rattan refers to a material resembling the palm tree, wicker is considered a technique of making furniture and items such as baskets and woven fabrics: https://www.homedit.com/what-is-the-difference-between-wicker-and-rattan-furniture/
Resin or Plastic
The most affordable option is resin or plastic patio furniture. It is lightweight and cheap and the majority of them are weather-proof too. They also have a long life span however if they are of a different color apart from white, the color may fade over time if left in the sun continuously. They are comfortable but sometimes require an additional cushion for comfort sake.
Wooden
Wooden garden or patio furniture is also another popular choice and many invest in it for its natural look. It is a good looking material and blends in perfectly with any outdoor space. It does however require treatment to keep it in shape. Options you can choose, from clearance patio furniture online websites include redwood, cedar, cypress and teak. You can varnish them and paint them too, however, the best effect is a natural one.
Choosing The Right Style
Apart from the right materials, you can also choose a particular style to match your home. This will depend on the space you want to add it to, and whether it will sit on the grass or wooden decking. The heavier options are best left to the deck, while the lighter ones would suit grassy areas. You can decide from the list of different furniture styles from the list below:
Garden benches
Garden chairs
Armchairs
Deck chaise lounger
Ottoman Rattan Chairs
Adirondack
Camping chairs
Dining chairs
Hammocks
Patio Stools
Make a day out of it, when you're shopping for the right ones. Choose something that will be long lasting, good looking and comfortable so you can reap the rewards of enjoying the outdoors comfortably. Add a barbeque grill to the mix and call your friends over!