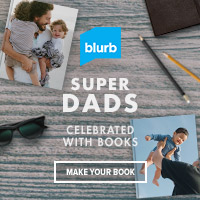 Get a Sweet Deal from Blurb and Save 15%!

Everyone Feels the Love with a Valentine's Day Book from Blurb!
If you were to believe the advertisements this time of year, you'd think
that Valentine's Day is strictly a couple's holiday. But really, it's a
day to show your love for anyone that means the world to you. I think
that one of the best ways to do that is with a book made by you (with a
little help from Blurb).
To sweeten the experience, Blurb is offering 15% off on all printed
books until Feb. 7th! Just type in the code: LOVEBLOOMS at checkout.
Here are four ideas for all of those special someones in your life, made with love and Blurb:
1. A book for your parents. Celebrate their love for each other (and for
you), with a photo book. Just drop in photos, stories, quotes… Get a
little inspiration from "Bob and Rose" by Millicent Harvey.
2. A book for your pets. OK, your pets won't really love the
book (though they might chew on it), but making a book with photos of
your animal companion is super special. Check out "Bunnies We Love" by Kent and Stephanie.
3. A book for your kids: A book made for your kids—whatever age
they may be—makes for a beautiful reminder of how much they matter to
you. Take a look at "Audrey Goes to Europe" by Tom Sewell for ideas.
4. A book for your city: Places matter to us. So think about a
valentine for your city or town. What do you love so much about where
you live? Take a queue from Thomas Michael Alleman's "Sunshine and Noir"
.
There is a lot of love to go around, and no matter what your
relationship status is set to, it's a good time of year to think about
the people, places, and pets that mean so much. Of course, these are
custom gifts that have to be printed and shipped, so you'll want to pay
attention to the order deadlines below:
United States:
February 3 (Standard shipping)
February 6 (Priority shipping)
February 7 (Express shipping)
Canada:
January 31 (Standard shipping)
February 4 (Priority shipping)
UK:
February 4 (Standard shipping)
February 6 (Priority shipping)
AUS:
January 31 (Standard shipping)
February 3 (Priority shipping)
Happy Valentine's Day shopping!