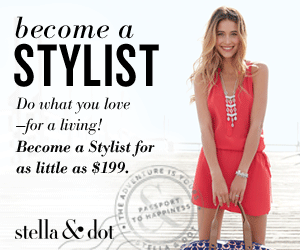 **This post contains affiliate links and I will be compensated if you make a purchase after clicking on my links.

Becoming a stylist at Stella & Dot is really easy.
As a stylist you will share fabulous accessories by having trunk shows, share online or in-home.
Benefits:
-You'll receive accessories to share
-Able to earn some extra money to spend or
even a six figure income
-Get paid up to 35% commission weekly
-Free accessories
-Trips to amazing destinations
-A warm community of inspiring women
-All the essential tools and training
How to become a Stylist at Stella & Dot
Deal for June
You will get free
accessories worth of $450.Now through the end of June, when you sign up to be a
Stella & Dot Stylist, you will get an additional $100
($450 total) in free accessories! All you have to do is sell, they take care of
everything else.
For additional
details and to sign up, visit: www.stelladot.com/stylist.