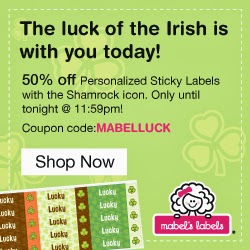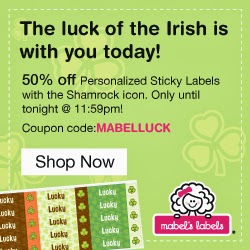 It is St.Patrick's Day.Do you celebrate it?If so,how is your
plans?Here is something you may interested in!
Everyone can have a little luck in this St. Patrick's Day.Do you
know why? because
Mabel's Labels
is
offering 50% off Shamrock Sticky Labels. In addition to using
shamrocks to decorate gifts and cards, these iconic labels are a fun way to tag
your kids' belongings while giving them a little luck.
Starting 5am EST and ending 11:59pm EST, Mar. 17th, use the coupon
code MABELLUCK to receive 50% off of your purchase of Shamrock Sticky
Labels.
Plus, receive free shipping on all orders!
Hurry – before this offer ends!
FTC Disclosure Statement: This
post contains affiliate links and I will be compensated if you make a purchase
after clicking on my links.